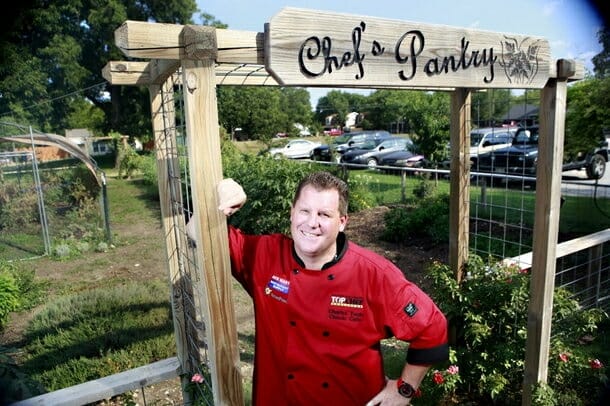 Meet Chef Charles T. Youts
A Chuck-Wagon Approach to a Drive-Thru World
Growing up just outside of San Angelo in the small town of Grape Creek, Chef Charles learned at a young age that hard work, a genuine love of the outdoors, and a hands-on style of cooking can make for a delicious life. He actively participated in FFA, raising both livestock and growing produce for competition. With his family, he enjoyed frequent hunting and fishing trips in West Texas. During this time, Chef Charles also began competing in chuck-wagon cookout competitions, cooking everything from chili to brisket to complete meals in open fire Dutch ovens.
While these early competitions fired his passion for cooking, Charles recognized that he would need formal training to develop his culinary skills and techniques. He enrolled in the Art Institute of Dallas and in 2001 completed his Associates of Applied Science degree in Culinary Arts. However, it was those initial lessons he learned creating meals around the campfire that influenced his approach to professional cooking, teaching, and serving his community.
The Classic Café at Roanoke
Independent restaurateurs, Chris and Curtis Wells opened The Classic Café at Roanoke, the premier dining experience in Northeast Tarrant County and Denton County. Located just between Fort Worth and Denton, The Classic Café at Roanoke offers DFW residents exceptional service and outstanding flavors that emphasize quality and freshness. Chef Charles' menu draws heavily from his early love of open fire cooking and he routinely smokes many of his restaurant's staple dishes like smoked pork tenderloin and smoked salmon. Diners at the Classic Café can expect Texas cuisine that pays homage to the great outdoors even as it tips its hat to southern classics as well as the flavors of the Carribbean and the Pacific Rim.
The Kitchen is a Classroom
Chef Charles enjoys helping others develop their culinary skills, whether they want to take those skills back to their home kitchens or out into the professional culinary world. At the Classic Café, patrons have the opportunity to take hands-on cooking classes on everything from basic grilling to smoking a whole pig to classes geared toward kids. In addition, Chef Charles mentors students at Byron Nelson High School's Academy of Culinary Arts & Hospitality and teaches classes at Colleyville's Market Street and Southlake's Williams-Sonoma. Chef Charles is well known in the Metroplex as a laid-back, unpretentious teacher who emphasizes fun and accessibility in his classes.
Giving Back to the Community
In addition to serving as Executive Chef of The Classic Café at Roanoke and teaching classes, Chef Charles puts his skills to use serving the DFW community at events such as:
Safe Haven's Celebrity Chef charity event
Taste of Denton
The Lena Pope Home's Sweetheart Dessert Fantasy event
Metroport Meals on Wheels Annual Wine Dinner
When you visit The Classic Café at Roanoke, you will experience for yourself the rich flavors and incredible service that Chef Charles and his staff are proud to provide. While there, you can take a look at the Chef's Pantry garden, where Chef Charles grows many of the vegetables and fruits that make their way to your plate. You can also inquire about some of the wonderful classes Chef Charles offer throughout the year.
[button link="https://www.frugeseafood.com/marinated-calamari-salad/" newwindow="yes"] Marinated Calamari Salad[/button]
504 N. Oak Street
Roanoke, TX