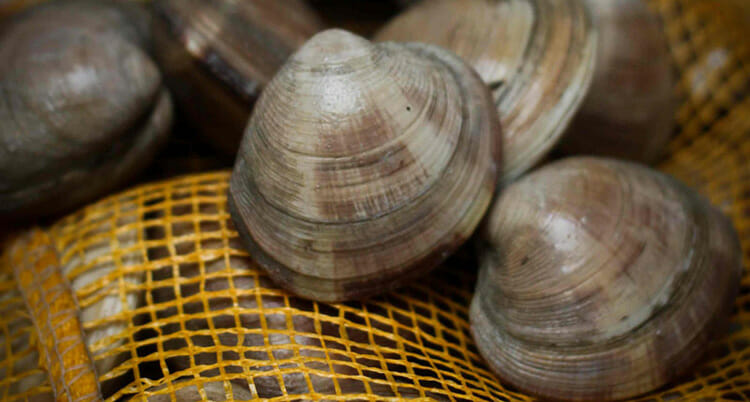 Clams:
Littlenecks, Cherrystones and Manila
The hard-shell clam is characterized by two hinged shells and two siphons. One siphon exists to intake algae and plankton for nourishment and another for expelling filtered water.
Littlenecks are the most tender and more expensive. They are eaten raw on the half-shell, as are cherrystones, which are medium sized. Manila clams are the sweetest and probably the smallest hard-shell clams you will find in the market, making them the favorite of many professional chefs.
Do not mix the different types of clams in the same dish unless you cook them separately — Manila clams need only about 3-5 minutes to steam open, while Pacific Littlenecks require 10-12 minutes. Also, for quality control, you need to know that a live hard-shell clam closes tightly if it is tapped. If it opens easily or stays open, it should be discarded, as it is dead, and dead clams are unsafe to eat.
As an interesting fact, in the past some species of clams were used as a type of currency.
Notes From Our Buyer
Thought from the buyer:
It has come to my attention that restaurant managers and owners alike still think that Gulf shrimp is swimming in oil.  I guess since I am so close to the action, I forgot that people still think this way.  I don't understand how we are selling so many Gulf oysters, which do not move around like the shrimp can, if people think the Gulf is full of oil.  One way that you and I can help our economy is to sell products from the good old USA.  Gulf shrimp is perfectly safe, good for you, and delicious.  If you would like to check out our delicious Gulf shrimp, please contact your sales rep so we can get a case in front of you.  Once you taste it, I am sure you will want to get it in for your customers.
September is going to be a rough month for sack oysters.  We will do our best to keep you in stock.  And be assured, we will be taking care of the loyal customers who stick with us year to year.  We value our partnership with you and hope you feel the same way.
Manila Clams and Mediterranean Mussels
We are bringing these two products in directly from the West Coast.  Take a look at them.  They would make a great featured appetizer.
Poor weather hurt the fishing early this week.  We expect Coho for the weekend.
Closed areas 1 and 2 are open and producing now.  Dry scallop prices are changing weekly and wet prices will change as soon as they get some processed.  Quality is outstanding!!!
The availability of tuna this week is much better.  Prices are still high, but our 60+ tuna will be here all week!!!
Beautiful farm-raised Texas striped bass is a perfect sustainable option for any menu!  The fish is kept below 38 degrees from the time it is harvested from the water to the time it hits your door.
Mongchong, Opah, and Barracuda
Looking for something from Hawaii???  We have a great partner over there that supplies us with fantastic fish from the Hawaiian waters.
This is the time to get your crab on!!!  Catches are high, and prices are great.  We also carry live blue crabs.  Let us know what you need by Tuesday and we can have it to you on Thursday!
Catfish continues to be tight.  The drought is not helping things at all.  The sizes that are the most plentiful are 3-5 and 5-7.
We are seeing more sea bass in the market, which is causing the price to come down a bit, but not enough to really notice. Hopefully with the lack of sales because of the high prices, the price will drop significantly soon.  We will just have to wait and see.
Frugé has a wide variety of East Coast oysters available.  We send out an availability list each week of what we have to offer.  If you are not yet receiving this list, please get with your sales person and they will gladly add you to the email list.
Halibut is very tight right now, and prices are high.We will have some beautiful fish for the weekend.
These East Coast treats are a great change to your feature board!  With the movement of business travelers and transplants from all over, you don't want to miss out on some great valued fish to add to your menu or feature board.  We only bring in what you want, so get your pre-orders in now.
We offer a full range of sizes of live lobsters straight from Maine and Canada.  Order today and we will get them to you tomorrow.
Steelhead is back and looking good!
Nice, great-priced swordfish directly from Costa Rica and high quality cold water Canadian swordfish is here and ready to impress.
Trout is very tight right now.  All the major farms have to let their stock grow out.  Relief will be here hopefully in late September.
We are going to have a great season, at least that is what I am hearing.  The problem now is the season is not here yet.  Ecuador has shut down fishing mahi due to the terrible season they had last year.  They can catch it as a by catch, but not as a main target.
Prices have stabilized for the past few weeks.  Hopefully we will continue to see these lower prices through the wild salmon season.
Amberjack is being caught now, but prices are high.  We should see the price drop as the amount of fish being caught increases.
The grouper is looking great, plenty now and for the weekend.
Fresh and frozen tilapia have both seen price increases.  The increase on the fresh is due to higher feed and fuel costs.  The frozen is a combination of higher costs and flooding in Indonesia and China, where the majority of frozen tilapia is produced.
The 2-4 pound fish that everyone loves is not available right now.  We hope to see some for next week.
Our redfish is farm-raised right here in Texas and is another great sustainable option for the menu.  Everyone knows its name, and it is very easy to sell.  It cooks up great any way!
Black Drum
This is a fantastic fish.  Great blackened, fried, baked, grilled, or any way you choose.  It is also great on the food cost!!!
Branzini is also known as Branzino or European sea bass.  It is best served braised whole and makes an awesome presentation on the plate.