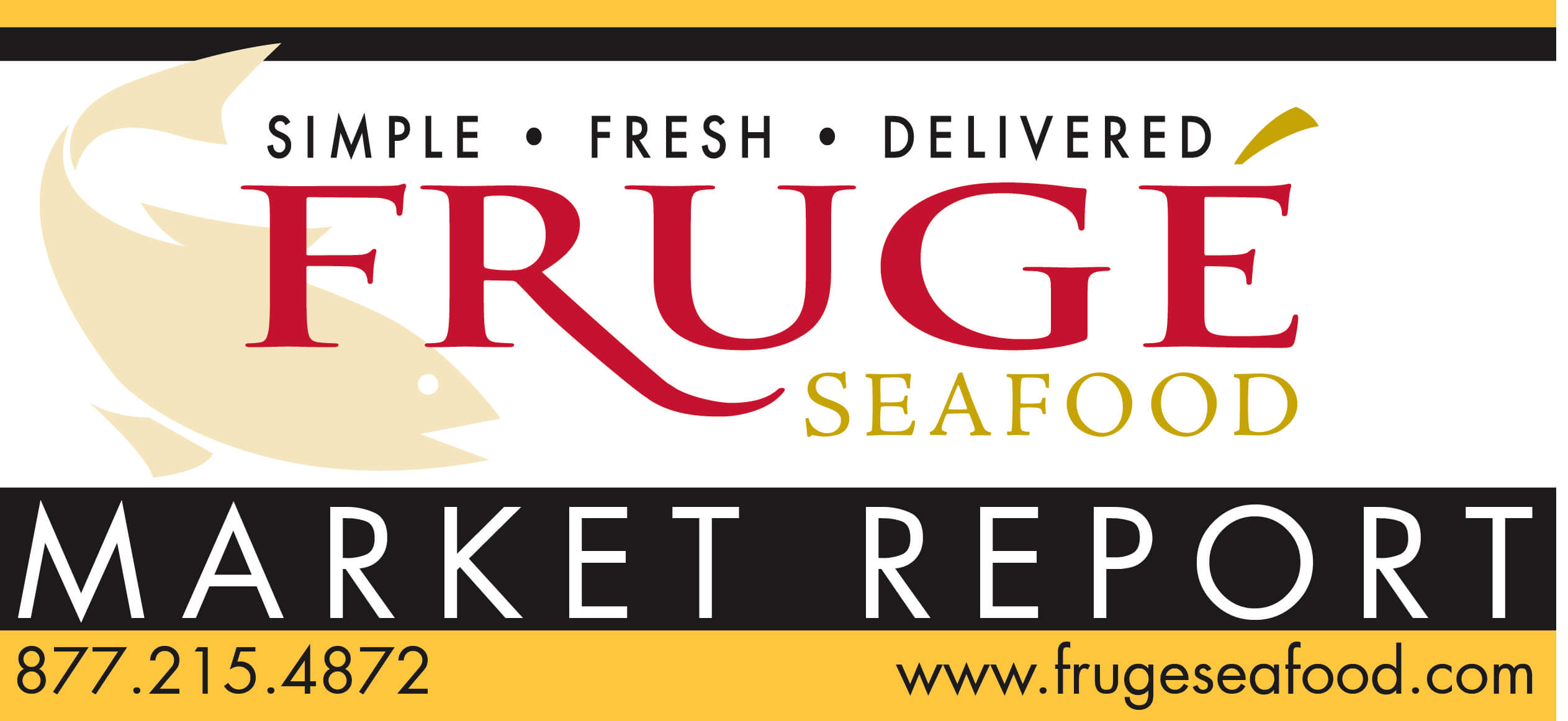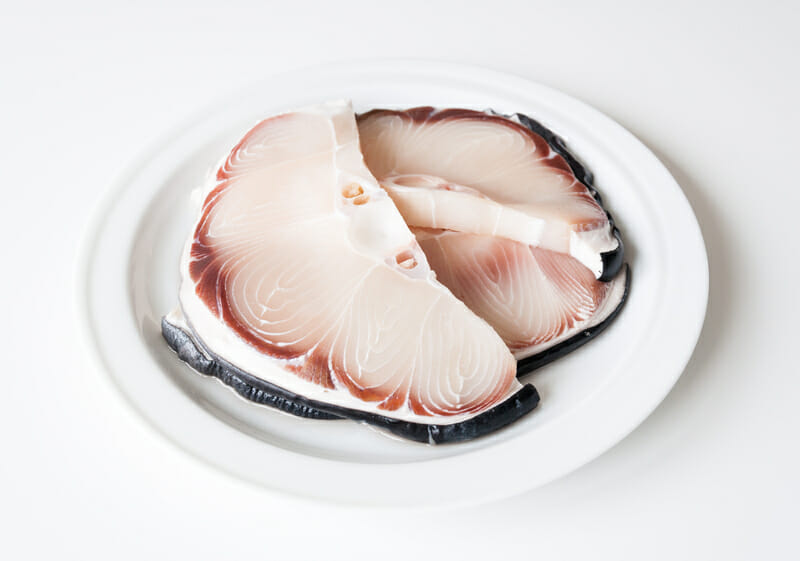 –
It's Shark Week at Frugé Seafood

It's not just on the Discovery Channel this week, find a delicious selection of shark at Frugé's. Shark has become one of the most popular meats in the last several years. We are featuring two distinctive varieties: Mako and Thresher.
Mako shark is moist and slightly sweet, with a full-bodied, meaty taste. Both flavor and texture are similar to swordfish, but the flesh of the mako is moister, and the meat is not as sweet. Fresh, raw mako is very soft and ivory-pink or a muddy, reddish color that turns ivory white and firm when cooked. While the lean, dense meat looks very similar to swordfish, it lacks the whorls of the swordfish steak.
Mako can be marinated, blackened, cubed for use in soups and stews, or chunked for kebabs. Wrapping or covering the meat during cooking keeps the moisture in. Trim red meat away before cooking, since bloodlines can impart a bitter taste.
The thresher shark is another popular variety that is used in a host of different cuisines. It is popular throughout North America, Europe and Asia. It often serves as the base for a number of soups. This shark has a stronger taste than other species. Thresher has firm, mild flavored meat and performs great on the grill. Its texture makes it a natural for skewering, and it pairs well with bolder marinades, sauces and sides.
Take a bite out of your competition and serve shark. It's a delicious treat that your customers are asking for.
________________________________________________________________________________________________
[button type="big" color="red" newwindow="yes"] Reminder[/button]
Orders must be placed by 4:00 PM for next day morning delivery.
All orders placed after 4:00 PM will be delivered the next business afternoon.
If you have any questions please give us a call at 877-215-4872.
________________________________________________________________________________________________
[button link="https://www.facebook.com/FrugeSeafood" newwindow="yes"] Like us on facebook[/button]
________________________________________________________________________________________________
Notes from our buyer
Wild Salmon
We have Alaskan sockeye available.  This is a seasonal product, so make sure you are maximizing this fantastic product on your menus while it is available. Coho salmon will be readily available in about two weeks.  Please let your Frugé Seafood sales representative know your needs.
___
Several varieties of east coast oysters are available.  Ask your sales rep about your options, and they can also assist you with flavor profiles.  It is suspected that the Blue Point recall was a necessary precaution due to a small amount of product that may have experienced temperature abuse.  The waters have tested clear of the Vibrio bacteria, and none of the product that caused illness was linked to our suppliers.
____
Redfish
As many of you may have heard, the Texas redfish farming industry has taken a hit due to weather, and the harvest is limited.  We will continue to monitor the situation and keep you updated.  Contact your sales rep for more information.
____
Halibut
The Alaskan halibut supply has improved. We have 20/40 and 40/60 product available.
____
Soft shell crabs
We have some beautiful soft shells – whales and jumbos – for your feature board.  The whales are limited right now, but the Jumbo are a great option.  Get them while the season lasts.
____
Steelhead Trout
Shortages from Chile are causing this product to be more expensive and less available.
____
Cod, Sole, and Haddock
We bring these delicate fish direct to our customers from Boston and only order what you need in order to provide you with a beautiful, fresh product every time. Get your pre-orders in early.
____
Salmon
Chilean salmon prices are improving.  We are expecting the trend to continue through the wild salmon season.  There have been reports of really low prices on Chilean product due to a large retailer backing out of an order.  This product may flood your market – Buyer beware!  We are also getting in large whole salmon from the North Sea (country of origin can be Scotland, Faroe Islands, or Norway).  The shortages in Europe appear to have stabilized a little as well, but we are only seeing moderate improvements in price.  Ask your rep about New Zealand Farmed Ora King Salmon.
____
Summer is here and oysters will continue to be tight.  Public seasons are closed, forcing our vendors to turn to their private leases.  This means that there are fewer areas to fish from and a more limited supply to sort through.  We will continue to support our loyal customers, as always, through this challenging time.
___
Product continues to be tight, but we do have them.
___
Though price has increased, demand for scallops has not decreased in the market.  We continue to have the larger product available, but also offer a U/12 product for customers who are more price-sensitive.
___
Our tuna is great. Prices are very nice right now.  Get it while it lasts.
___
Mahi prices are still high, and supply has not improved.  There aren't large quantities of the fish, but our great suppliers keep us with product.
___
Grouper is really coming in now.  Prices are nice.
___
Our farmed striped bass is from right here in Texas.  It is harvested, transported, prepared, and shipped under controlled temps.  This increases the quality and shelf life for you.
Many of you may be considering black drum as an alternative to redfish.  The product is available, but can be limited in the summer, so make sure we know your needs.
We are seeing some domestic meat now.  Get your pre-orders in, and we will do our best to fill them.
___
Lanes are here and are beautiful.
___
Prices are up, but quality is great!!!  Farmed right here in Texas.
___
Mongchong, Opah, and Barracuda
Looking for something from Hawaii?  We have a great partner over there that supplies us with fantastic fish from the Hawaiian waters.
We have a variety of seabass options.  We have H&G sized 20-30 kg as well as fillets cut from that size.  Get with your sales rep for details.

___
We offer a full range of sizes of live lobsters straight from Maine and Canada.  Order today, and we will get them to you tomorrow.
___
Rainbow 'Green', Golden, and Ruby trout
Green trout is what the guys on the farm call the regular rainbow trout.  Since they have ruby and golden as well, it is just a term they use to distinguish between the three.  Our 'green' trout is what every sales person calls rainbow trout.