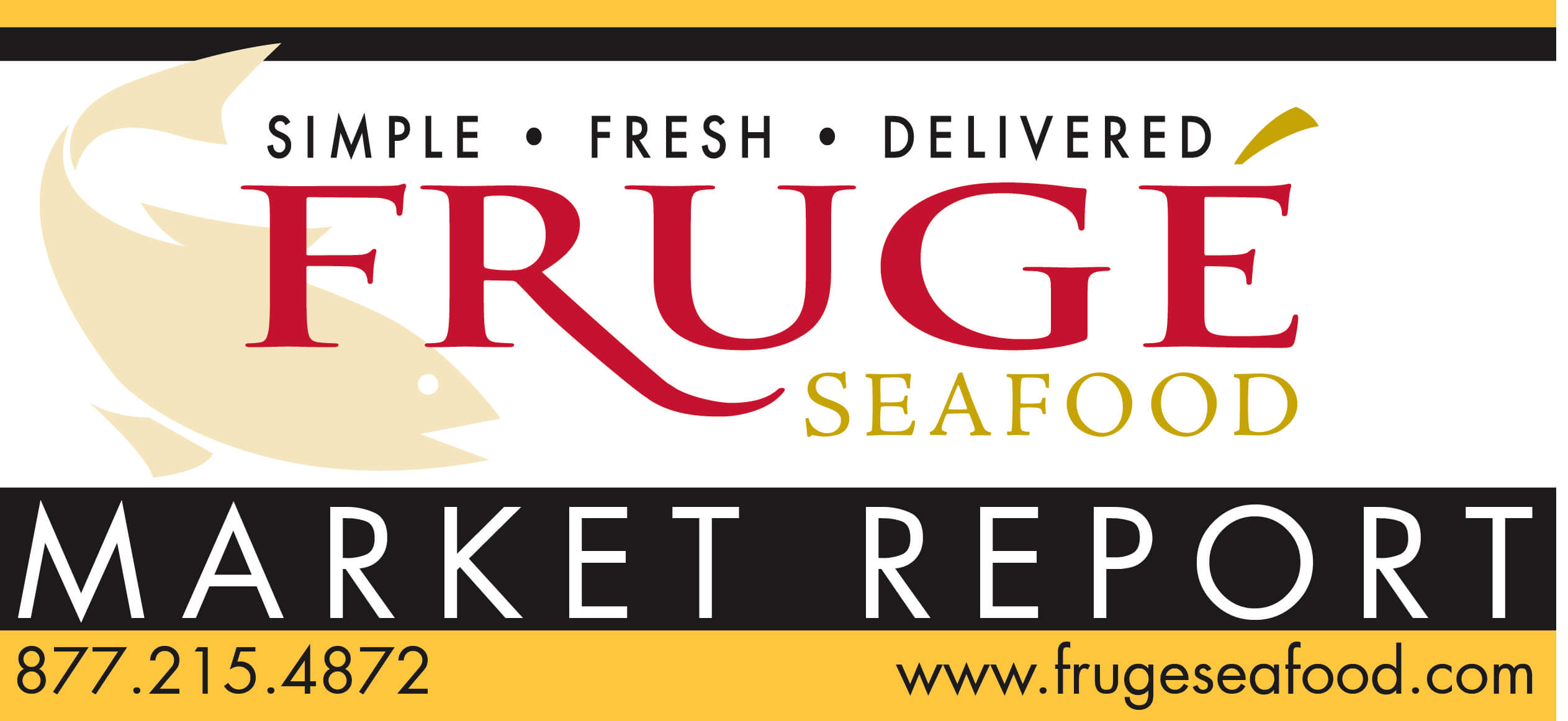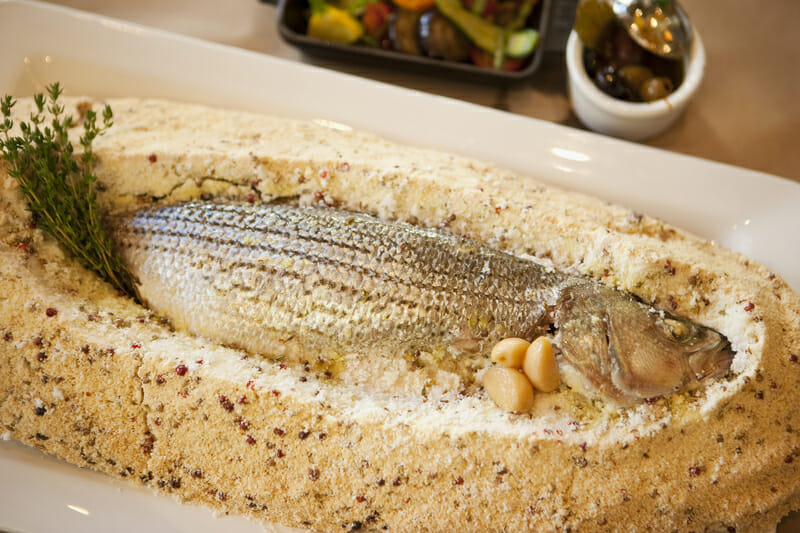 —
Striped Bass
No antibiotics. No hormones. No pollutants. Striped bass is a cross between marine striped bass and freshwater white bass resulting in a fish with desirable characteristics of both species. They are silver-white skinned with distinctive black horizontal stripes. They are mild, delicate, and slightly sweet with flesh that is bright white, flaky and moderately firm. Delicious prepared baked or steamed, grilled, pan seared, or fried. At only 115 calories and less than 3 grams of fat, striped bass make a great healthy menu choice, and a wonderful alternative to redfish that are in so short a supply. A delicious switch.
#FrugeSeafood
________________________________________________________________________________________________
[button link="https://www.facebook.com/FrugeSeafood" newwindow="yes"] Like us on facebook[/button]
________________________________________________________________________________________________
Notes from our buyer
FRUGE SEAFOODS is proud to announce it will now be the exclusive distributor of PureFish sustainable seafood products for Texas, Oklahoma, and Louisiana. We will now be offering their full line of sustainable and Organic seafood items with direct shipment from Europe to ensure top quality and freshness for our customers.
Wild Isles Organic Salmon – this E.U Certified Organic salmon is unlike any other farm raised salmon where it is raised in the open ocean of the Shetland Islands, and not in a Loch or Bay like other farms raised salmons. Its certified sustainable aquaculture methods are free from all antibiotics, hormones, & GMO, and its feed is certified organic and uses no synthetic coloring or pigments added. This allows for the quality, taste, and texture of a Wild King salmon to be available year round. You and your customers will taste and see the difference.
Wild Isles Ocean Trout – All Natural Ocean Trout (Steelhead) begins its life in fresh water land based closed containment recirculation tanks, once these rainbow trout reach maturity, they are then transferred to wild water off the island of Skye in Scotland where the continue their grow-out in salt water until they reach a harvest size of 7-12 lbs each. The result is an amazing sashimi quality ocean trout with a higher fat content then salmon and a great flavor that lends itself to any type of cooking or smoking. This sustainably raised ocean trout is a more sustainable and lower costing than a similar Tasmanian Ocean Trout.
Anglesey Aquaculture Mediterranean Sea Bass (Bronzino) – Unlike any other Mediterranean sea bass, this is truly sustainable.  Welsh sea bass is raised in a ZERO WASTE land based recirculation farm in Wales, UK. From egg to harvest every detail of its life cycle is cared for and highly monitored to produce the best tasting sea bass using no antibiotics, hormones, and feed free from all GMO's. Sustainable aquaculture and a zero waste policy (all waste from farms is collected and sold as organic fertilizer to local Welsh farmers) ensures that this sea bass is truly the world's most sustainable bronzino. You and your customers will truly take the difference and have a boutique product that is only available in 3 cities in North America.
___
Mahi is still strong this week out of Ecuador and Costa Rica. Prices are looking decent for this week.
___
Amberjack-
Gulf Amberjack is in the building and is looking great!
___
American Red Snapper-
We are getting very nice product out Louisiana this week. Size are 1-2, 2-4 and 4-10 whole fish.
___
Sheepshead-
Small amounts showing up on Snapper boats, this fish goes quick- get it while its here!
___
Bell Farms Steelhead Trout
We have Bell Farms Steelhead Trout in 10lbs increments. Fillet sizes are 7-9oz skin on boneless fillets. Bell Farms Trout has been designated Best Choice by the Monterey Bay Aquarium's Seafood Watch® Program.
___
Clams & Mussels
Once again, another storm has East Coast shellfish on hold for now due to the brutal weather pounding the upper East Coast. Supplies will be tight all week.
___
Cod, Sole, and Haddock
Haddock is showing up as all sizes of Cod are scarce. These East Coast fish will be tight until fleets can resume fishing once the second stow storm moves through. Expect shortages until the end of next week.
___
Flounder
Nothing out of the East Coast this week- we are waiting for news once the storm blows through.
___
East Coast Oysters
Another 1-2 feet of snow hit Massachusetts over the weekend, depending on your exact location. Temperatures have been around -2 to -6 degrees. The result is a lot of frozen bays in Mass, RI, and Maine.
___
Redfish & Striped Bass 
No changes here, the trend continues with jumbo sized redfish (2.5-3lb) being extremely tight right now, Extra Jumbo (3lb and Up) are in decent supply. Striped Bass is a better option this time of year.
___
Salmon
Chilean salmon prices begin to creep up as enter the Lenten season. We also stock North Sea and Canadian product in whole and fillet form. Check with your sales rep for case discounts if you are a volume user.
___
Gulf Oysters
Gulf sack prices are on the rise, supplies are steady but not abundant, we are seeing a good supply of gallons with most of our oyster coming out of Texas. Select gallons are a great product for oyster stuffing. Gulf Appellations are available call today to get yours ordered!
___
Scallops
Scallop prices are up and availability is tight due to the East Coast weather. Expect shortages until the end of next week.
___
Tuna
Prices are starting to rise on #1 and 2+ Tuan. Availability will be somewhat tight as we get through the week
___
Sword
Sword is still in short supply, prices are still on the rise this week. Expect shortages in the coming weeks.
___
Grouper
There is a grouper closure in Mexico every year from Feb 15 – Mar 15…the boats are in and we will have grouper through the end of this week but then it will start to really tighten up.
___
Black Drum
Drum is tight this week. We have limited product in the 2-4 and 4-8 whole sizes.
___
Fresh Crabmeat
Domestic Crabmeat prices are up, and availability is very poor. This time of year is very difficult for all crab sources.
___
Seabass
We have a variety of seabass options.  We continue to carry H&G 20-30 kg as well as a smaller 10-20 kg if that is more of what you're looking for. Prices are moving up and that trend will continue through Lent.
___
Rainbow 'Green' and Ruby Trout
The trout supply seems to be stable. The variety of the cuts and sizes of this fish never cease to amaze me. There are many options to meet your menu specifications