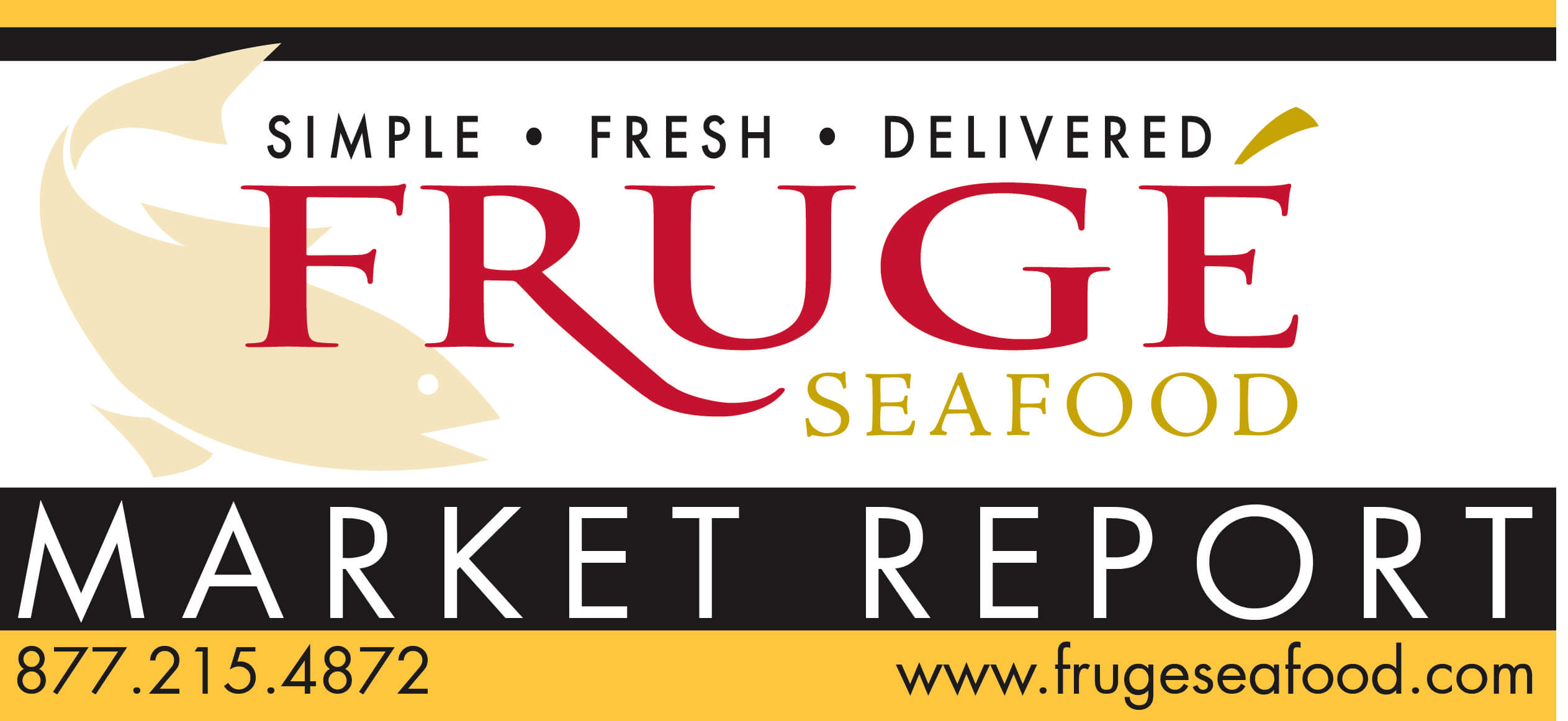 –Blue Runner
Blue runners, a frisky little fish also known as hard tail, yellow mackerel, jack or just plain "runner", were once considered a nuisance fish but now have become quite popular. Blue runners are very abundant in the Gulf. They grow and mature fast and reproduce all year long.
Blue runners are small, with flesh that looks like albacore tuna more than anything else. In taste, they are more like a strong mackerel or even a herring. They have a strong fish flavor which require an acquired taste, but to a connoisseur its a treat. Delicious scaled and steamed in curries as well as poached, but you can also bake, broil, deep fat fry or pan-fry.
#FrugeSeafood
________________________________________________________________________________________________
[button link="https://www.facebook.com/FrugeSeafood" newwindow="yes"] Like us on facebook[/button]
________________________________________________________________________________________________
Notes from our buyer
Canadian Salmon
Canadian salmon supply seems to be better but prices are still high due to the pressure from the Chilean and European markets. We expect this to stay high for a few weeks and then flatten out mid-February. It appears that the farms are starting back up and running production.
___
Several varieties of east coast oysters are available, including Chesapeake Bay, Wellfleet and Blue Points.
____
Redfish supply has picked up and we are able to get our hands on all sizes. This product is grown right here in Texas, which give you the freshest fish possible. A new shipment of product is schedule to arrive on Thursday.
____
Chilean salmon prices are out of control, highest that I have seen them in a long time. The strikes in Chile have really caused some real problem with supplies, most of the farms are unable to get product exported out of the country.
____
We are seeing a good supply of sacks and gallons with most of our oyster coming out of Texas. Sizes are a little small right now but still great quality. None of our product was affect by the recent FDA warnings. Texas oyster are safe!
___
American red snapper is hard to find in the market right now. We hope to have product by the end of the week. Lane snapper seems to be limited but available.
___
Scallop prices remain high and are going to stay high. We don't see any end in sight on the cost of scallops. There is a good supply of the larger scallops but it is tight on the smaller stuff.
___
Tuna seems to be soften up, especially on the domestic product. We have been able to pull some beautiful Yellow fins in from Coast Rica. Prices remain high, but expect them to fall over the next few weeks.
___
Mahi Mahi and Sword
Mahi supply is great, once again this week, prices reaming steady. Additionally there seems to be a lot of Sword available. Sword prices remain steady.
___
Red Grouper is tight in the market place this week, so we have brought in some great looking Black Grouper. Grouper market will stay tight with the Mexican season closing Feb 15 through March 15.
___
Our farmed striped bass is from right here in Texas, this allows us to give our customers the longest possible shelf life possible.  Prices have soften a little and we feel that they should remain stable through the end of the year.
Many of you may be considering black drum as an alternative to redfish.  As the temperature states to fall we are seeing a better supply of drum. This time of the year we seem to see more smaller fish 1-4 lbs.
The domestic crabmeat is hard to find right now, once again. It is that time of the year that domestic crab is hard to come by.  Venezuela crab is available and coming in every week.
___
Our catfish is farmed right here in Texas.  Prices have remains flat and the farms seem to have all of the supply issue worked out. The larger fillets are the only item that seem to be in question.
___
We have a variety of seabass options.  We continue to carry H&G (20-30 kg) as well as a smaller 10-20kg if that is more of what you're looking for. The Seabass is on the rise and will continue to increase as the Chilean quote was cut by almost a third of last year.
___
We offer a full range of sizes of live lobsters straight from Maine and Canada.  Order today, and we will get them to you tomorrow. Lobster prices are on the rise: lobster are moving into deeper water and not as active as before.
___
Rainbow 'Green', Golden, and Ruby trout
Ruby trout supply is much better. The only shortage is on the larger golden trout fillet from Idaho.  The water supply is back up now, and the product will be more plentiful in the near future.