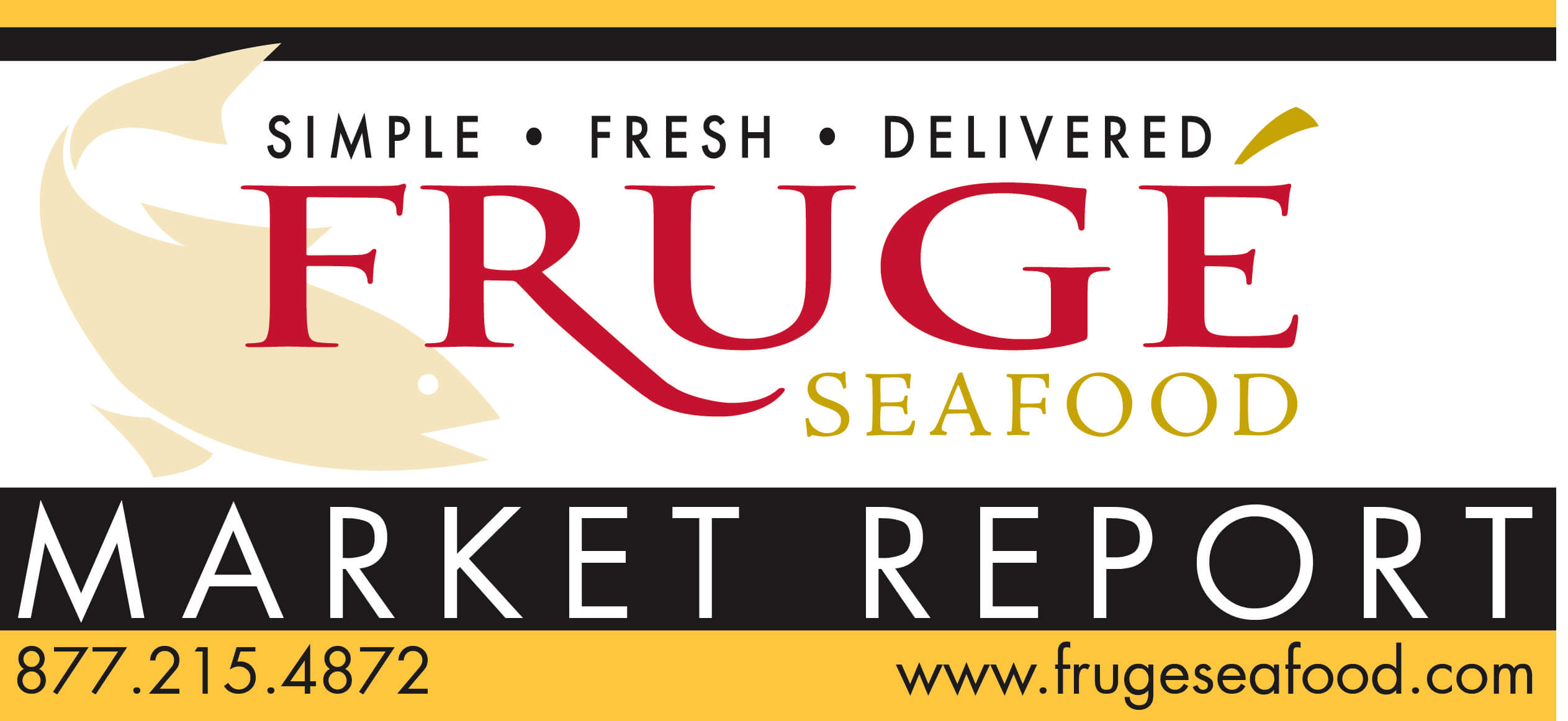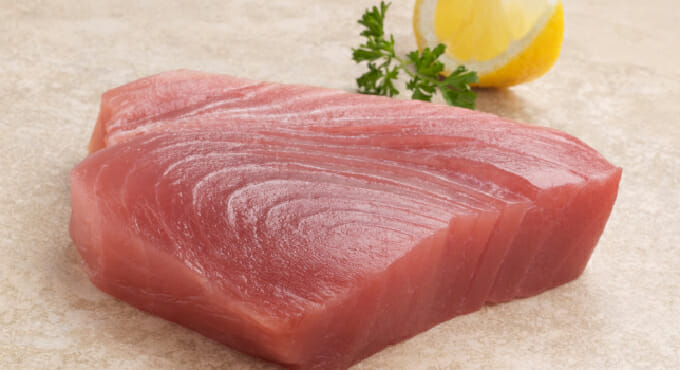 —
Opah
Opah have large disc shaped bodies with blue and a deep red-orange upper body fading to a rosy color on the belly, with white spots covering the sides and bright redish-orange fins.  Opah can weigh 150 pounds.
Fresh Opah, also called Moonfish, has translucent pinkish flesh and beautiful multi-colored skin. The tender top loin of Opah is a light salmon-orange or pink-rose color and is often used for sashimi. The flavor of the top loin is sweet & lean with a texture somewhat like tuna.
The side and lower flesh of Opah is the same light salmon-orange color at the top but fades to a paler color at the bottom and is too fibrous to be used for sashimi but still becomes very tender after cooking.  With a robust flavor similar to tuna or swordfish, the lower loin is higher in natural oil than the top loin and has a fat content which can be higher than Salmon.
The cheek meat is dark red.  And the breastplate flesh is bright red.  All the flesh turns white after cooking except for the breastplate which turns brown.
#FrugeSeafood
________________________________________________________________________________________________
[button link="https://www.facebook.com/FrugeSeafood" newwindow="yes"] Like us on facebook[/button]
________________________________________________________________________________________________
Notes from our buyer
Halibut
Halibut landings are slowing up with the fisherman concentrating on Wild Salmon. Pricing is still looking good. Call your sales rep today to place an order.
Mahi prices continue to stay up and fish is limited. Call your sales rep for pricing and availability.
American Red Snapper
New fish just in from Galveston, TX. Whole fish ranging in size from 1-2, 2-4, and 4-8.
Fresh Crabmeat
We have Fresh Domestic Crabmeat and Fresh Non Domestic Crab from Mexico. Call your sales rep today for pricing and availability.
We have Littleneck Clams and Pei Mussels arriving twice a week. Call your sales rep for availability.
Availability is looking good this week. We have shipments arriving twice a week.
Arctic Char is a unique strain of saltwater char sustainably farm-raised in Iceland. Often compared to salmon and trout, Arctic Char has a distinct, sweet buttery flavor and firm pink flesh that sets it apart from other fish on the market.

East Coast Oysters
We have a great selection of oysters this week. Make sure you are on our East Coast oyster list that we send out every week. We have access to several varieties each week.
Gulf Oysters
Gulf sack prices are holding steady with a good supply. We are also seeing a good supply of gallons with most of our oysters coming out of Texas.
Redfish & Striped Bass
Extra Jumbo Redfish (3lb and up) are starting to tighten up due to the warm temperatures. The availability on jumbo sized redfish (2.5-3lb) has improved.   Striped Bass is a great option this time of year as well.
 
Salmon
Chilean Salmon prices are holding steady with good availability. Canadian Salmon prices are holding steady. North Sea Salmon fillet prices are still up due to limited harvests from Norway.
We have fish arriving direct from Alaska twice a week. Sockeye Salmon is also available from areas in Alaska, such as Copper River, Resurrection Bay, Barkly Sound, and Cook Inlet.
This E.U Certified Organic salmon is unlike any other farm raised salmon where it is raised in the open ocean of the Shetland Islands, and not in a Loch or Bay like other farms raised salmons. Its certified sustainable aquaculture methods are free from all antibiotics, hormones, & GMO, and its feed is certified organic and uses no synthetic coloring or pigments added.

Scallops
U10 Dry Scallop prices are starting to rise. We expect decent supplies for the coming weeks.
Tuna
Tuna availability is looking good, with prices holding steady. We will have great 2+ and #1 fish arriving this week.
Grouper
Red, black, and yellow edge grouper are available in the market. Call your sales rep for prices and availability.
Black Drum
The catch is looking good this week on Drum out of Hackberry, LA. Great blackened, fried, baked, grilled, or any way you choose. Get with your sales rep for an order, this fish sells fast!
Seabass
We currently carry H&G 20-30 kg Chilean Seabass. Seabass prices are on the rise. And we don't see them coming down anytime soon.
Swordfish
Swordfish pricing is up with decent availability.
Rainbow 'Green' and Ruby Trout
The larger sizes of the Ruby Trout are more available than they have been. For the next few months 8-10 oz and 10-12 oz Ruby will be available, but limited.
The rainbow trout supply of 6oz Natural trout is starting to tighten up due to the warmer temps.. Call your sales rep for availability.
Wild Isles Ocean Trout
The All Natural Ocean Trout (Steelhead) is an amazing sashimi quality ocean trout with a higher fat content then salmon and a great flavor that lends itself to any type of cooking or smoking.