Mako Shark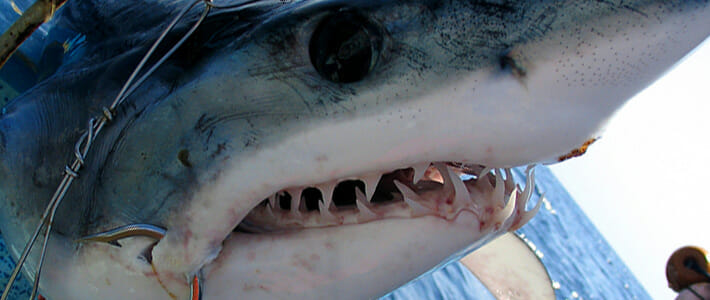 The mako shark has deep blue coloring on its back, a white underbelly, and a forked tail. It is found in waters between New England and Florida, throughout the Gulf of Mexico, and from California to southern Alaska. The mako shark has a medium full-bodied and slightly sweet flavor with a firm texture. Harvesting shark is extremely dangerous, and many fishermen have been badly wounded in the process. As even a severed mako head has been known to bite, makos are not considered safe until on ice in the ship's hold.
Notes From Our Buyer
Copper River Sockeye Salmon
The catches seem to be good right now. The fish is selling like hot cakes. Beautiful, deep red flesh. Great tasting fish for the feature board!!!
Wild Alaskan King Salmon
Beautiful Alaskan King Salmon will be in the building shortly. These 10+ pound fish were troll-caught from Prince William Sound and shipped right to us. You might want to call for pre-orders.
Gulf Oysters
Gulf oysters have been consistent so far (knock on wood). It still does not look good coming up, so stay with Fruge so you will have oysters when it dries up.
16/20 and 26/30 Sea of Cortez shrimp
We have beautiful Sea of Cortez shrimp. Our new partner has been in business for almost 50 years and is still a family-owned operation. If you are looking for some high quality Mexican shrimp, please get with your sales associates.
Amberjack
Only small amounts of AJ are being landed in Miami, and all of it is going out local.
Alaskan Halibut
Prices are strong, but the quality is great!!!
East Coast Soft Shell Crabs
We will have whales and jumbos in for the weekend. Call for a pre-order, they will be going fast!!!
Striped Bass
Farm-raised striped bass is a great sustainable fish for your menu and is harvested in Danevang,Texas! Serve it whole or fillet. This fish is a must for your menu!
Lane Snapper
Prices are still strong, and availability is pretty good.
Mahi Mahi
Prices are strong again because of very little product in the market. There is a bunch of small Mahi in the market which means good news for the upcoming season.
Farmed Irish King Salmon
Looking for something to spice up your special board, then look no further. This high quality Salmon is farmed in Bantry Bay, the most south-westernly situated farm in Ireland. This exposes the salmon to the strong currents and natural elements of the Atlantic. Please get with your sales associate for details.
Swordfish
Prices are up a bit due to low catches, but the quality is great. Great looking markers for the weekend.
Live Lobsters
We have live lobster every day of the week. They are domestic or Canadian depending on where they are received. All sizes are available and they are kicking when they get to your door.
Arctic Char
Our arctic char is farm-raised from Iceland in saltwater, making it a higher quality than char raised in freshwater. Char's mild but rich flavor is more pronounced than that of trout and less than that of salmon. They have firm flesh and a high fat content that allows them to stay moist in cooking, and can be successfully broiled or grilled.
Steelhead
Steelhead is back. Product is looking great!!!
Atlantic Salmon
Prices are coming down a bit. Wild salmon is helping make the market drop, but Chile is coming on strong again. I hope it lasts.
Fresh Crabmeat
We should be getting some good looking crabs in this week. If you need live blue crabs, please call your sales associate for details.
Yellowfin Tuna
I spoke too soon on the summer tuna, prices are stronger today and have been all week.
Golden and Ruby Red Trout
Golden and Ruby Red trout will give a kick to any menu. The red flesh will change things up for your regular trout consumers. This is great for a weekly feature or daily contest.
Sea Bass
The market on sea bass is crazy right now. Prices keep going up as demand continues to increase. I don't see any relief in sight.
East Coast Oysters
Please let your sales people know about your East Coast Oyster needs. We are able to get whatever you want. Ask for an East coast oyster list if you are interested.
Manila Clams
These sweet, even-cooking clams are the predominant clam on the West Coast. This would be a great addition to your menu in order to attract new customers or give your existing customers a variety.
Scallops
Our scallops look fantastic! The price is high, but scallop harvests all over the world are looking thin. We will do our best to keep the prices consistent and will drop them as soon as we see some relief from our vendors.
Mediterranean Mussels
One of our newest items, direct from the West Coast. If you are looking for something to set you apart, then look no further. Mediterranean mussels have a slightly different look and an outstanding flavor. Try them, and I am sure you will not want to go back.
Redfish
Redfish is the latest victim of the feed and fuel price increase. I know it is still one of the best options out there for high quality, delicious entrees. Keep telling the story on how and why redfish is the fish for your customers. Raised right here in Danevang,Texas, very sustainable and FRESH, FRESH, FRESH!!!
Drum
Our drum has landed in Hackberry, LA. Definitely the best fish with the worst name. Beautiful red bloodline, nice firm flesh, great cooked any way!!! We will be receiving a good amount for the weekend as long as the wind does not blow the fisherman off their boats.
American Red Snapper
We will be seeing a good shot of 2-4 lb American Reds for the weekend.
Branzini
A silver-skinned fish that goes by many names including European sea bass, spigola, loup de mer, and lubina. It has a firm, white, delicate-flavored flesh and few small bones. It's a prized fish in Greek, Italian, and Spanish cuisines, and is often prepared grilled, baked, poached, steamed, or braised whole.
Cod, Sole, and Haddock
Haddock is a great deal this week, and Cod is coming down. We are seeing some flounders from the Georges Banks area and they are looking great!
Marlin
Marlin is looking great for the weekend. Prices are nice, and the product is fantastic.
Grouper
We are seeing more Grouper out there, but prices are still strong.
Tilapia
Tilapia is getting back to normal production. Prices are stable, for now.
Catfish
Prices are up again on catfish. I wonder if catfish sushi is coming soon? LOL