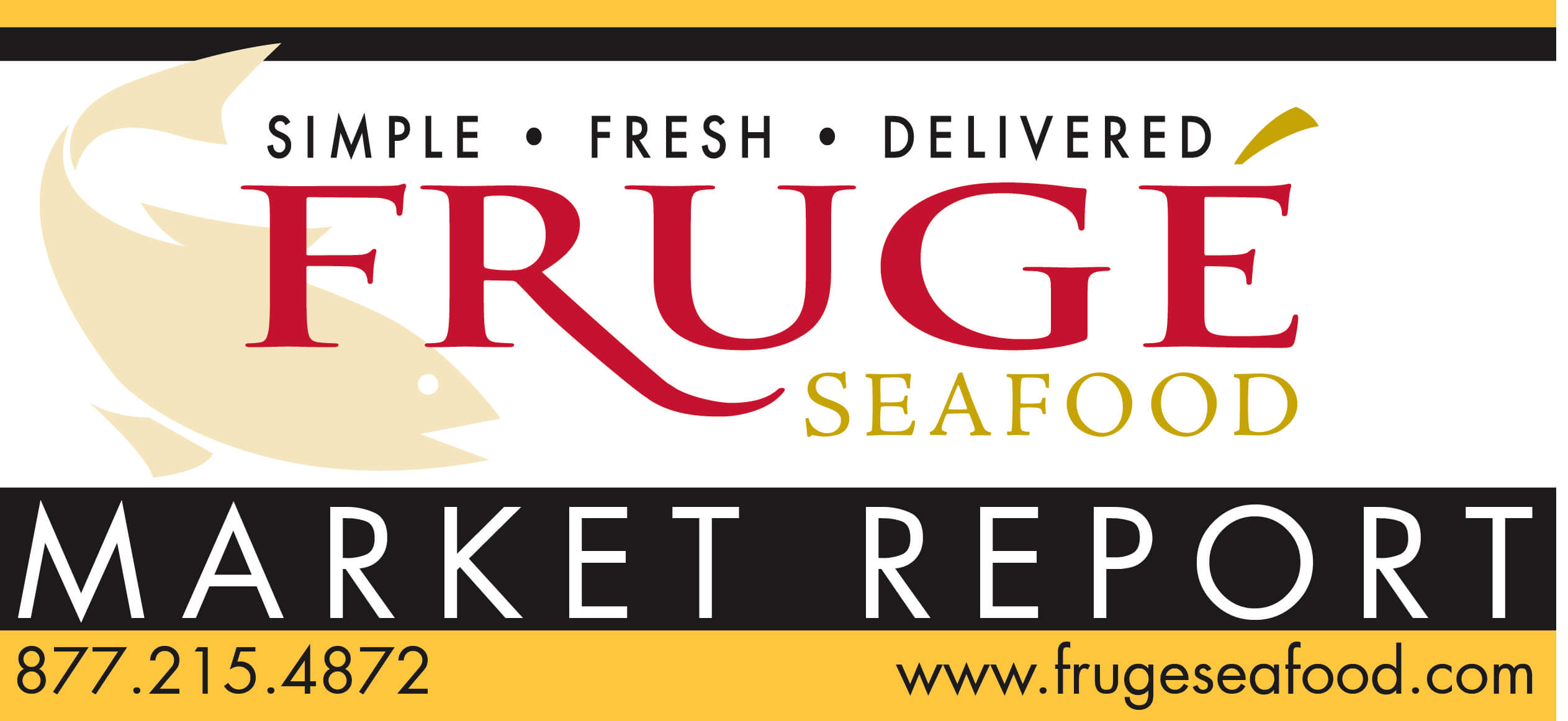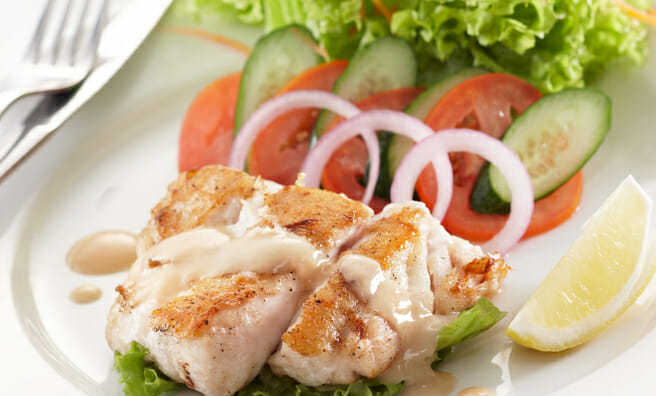 –
Grouper

Found in the waters of Florida and the mid-Atlantic states as well as South America, Central America, and the Gulf of Mexico, grouper belongs to one the largest fish families in the sea, the seabass family. The most popular being red grouper (found in most markets/restaurants), there is also black, yellow edge, scamp, and snowy grouper found in limited quantities. Grouper has a mild but very unique flavor, somewhat of a cross between bass and halibut. Red grouper is not quite as firm and has a milder, sweeter flavor than the black grouper. Grouper meat cooks up very firm with big flakes and holds its moisture better than many other fish. Since red grouper is a leaner fish it may need basting when broiling or baking.
________________________________________________________________________________________________
[button type="big" color="red" newwindow="yes"] Reminder[/button]
Orders must be placed by 4:00 PM for next day morning delivery.
All orders placed after 4:00 PM will be delivered the next business afternoon.
If you have any questions please give us a call at 877-215-4872.
________________________________________________________________________________________________
[button link="https://www.facebook.com/FrugeSeafood" newwindow="yes"] Like us on facebook[/button]
________________________________________________________________________________________________
Notes from our buyer
Crawfish are still here! Although the catch has dropped, we are still seeing nice crawfish on a regular basis. We also have domestic tailmeat available. Call today to get your share!
____
Copper River Salmon
There were not any openings early this week.  They are taking samples today and should announce the next opening within the next 96 hours.  It does not look good for this weekend.
____
Halibut
The halibut looks fantastic – size 20-40 and 40-60 directly from Alaska.
____
Soft shell crabs
We have some beautiful soft shells, whales and jumbos, for your feature board.  Get them while the season lasts.
____
Salmon
Global demand coupled with lower production has salmon prices rising, especially in Chile.  Several farms have overharvested to avoid the ISA and other issues.  This has left these farms with little to no product.  Several large frozen programs continue to scoop up a large amount of salmon as well.  We are hoping to see more production in the next two months, but we will have to wait and see.
____
Summer is here and oysters will continue to be tight.  Public seasons are closed, forcing our vendors to turn to their private leases.  This means that there are fewer areas to fish from and a more limited supply to sort through.  We will continue to support our loyal customers, as always, through this challenging time.
___
We have some beautiful snapper in.  Catches are up a bit and prices better.
___
Looks like U/10 dry scallops are going to be tight for the next two years.  The quotes are shrinking, and the product projections are not looking good.  Prices have already begun to rise.
___
Our tuna is great. Prices are very nice right now.  Get it while it lasts.
___
Prices have dropped a bit.  Looks like catches are up.
___
Blue Points continue to be hard to get.  Our Rhode Island guys have begun fishing again, but prices are up.  Connecticut has moved to some new beds, but the state has limited them to five hours fishing.  That means two hours out, fish for one, and two hours back.  Prices are up as well.
___
Grouper is really coming in now.  Prices are nice.
___
Our farmed striped bass is from right here in Texas.  It is harvested, transported, prepared, and shipped under controlled temps.  This increases the quality and shelf life for you.
This is a fantastic fish for any application and is consistently the freshest fish we have.
Prices are steady now.  Product is fantastic.
We are seeing some domestic meat now.  Get your pre-orders in, and we will do our best to fill them.
___
Lanes are here and are beautiful.
___
Prices are steady but quality is great!!!  Farmed right here in Texas.
___
Mongchong, Opah, and Barracuda
Looking for something from Hawaii???  We have a great partner over there that supplies us with fantastic fish from the Hawaiian waters.
We have a variety of seabass options.  We have H&G sized 20-30 kg as well as fillets cut from that size.  Get with your sales rep for details.

___
We offer a full range of sizes of live lobsters straight from Maine and Canada.  Order today, and we will get them to you tomorrow.
___
Rainbow 'Green', Golden, and Ruby trout
We are expecting a price increase on the golden, ruby, whole, and tail on trout in the next 30 days.  Transportation costs have risen.