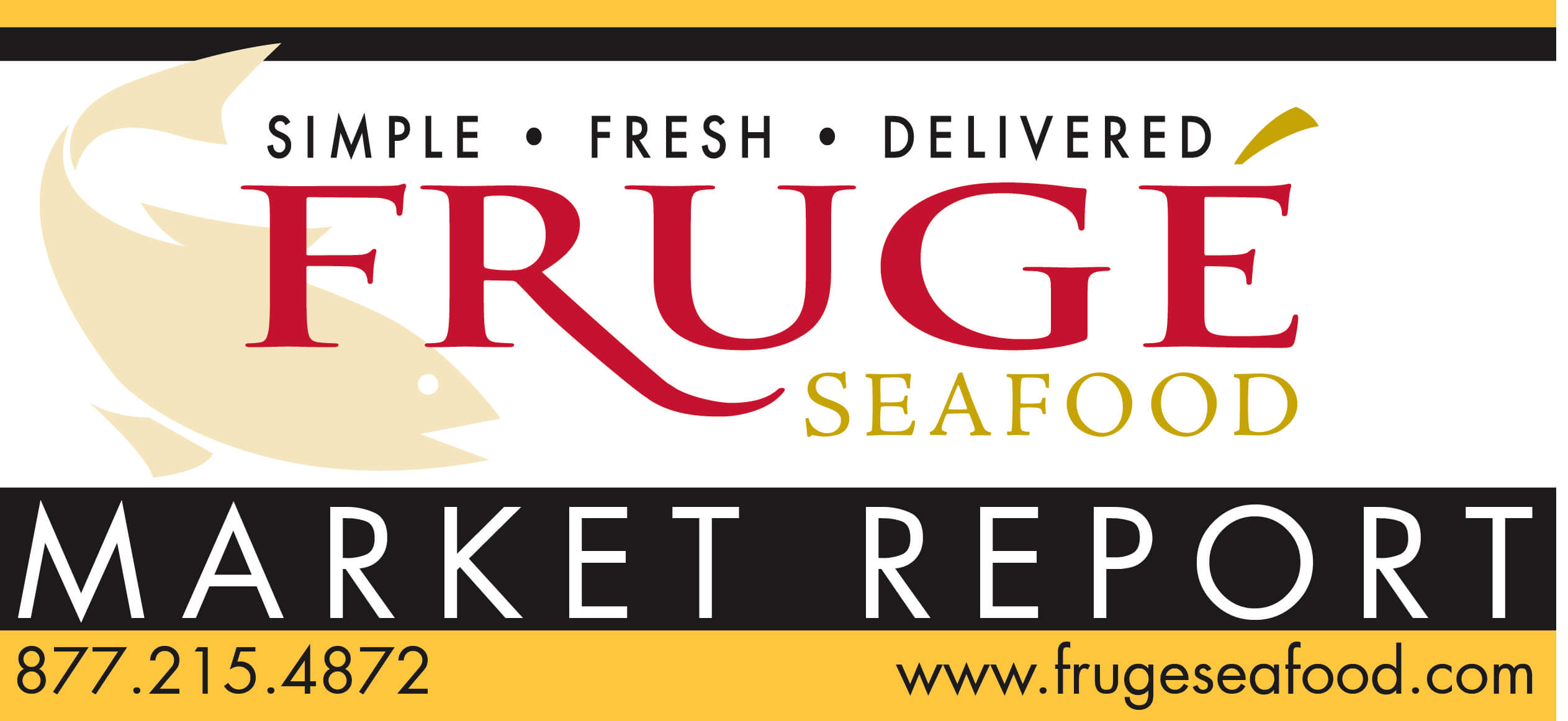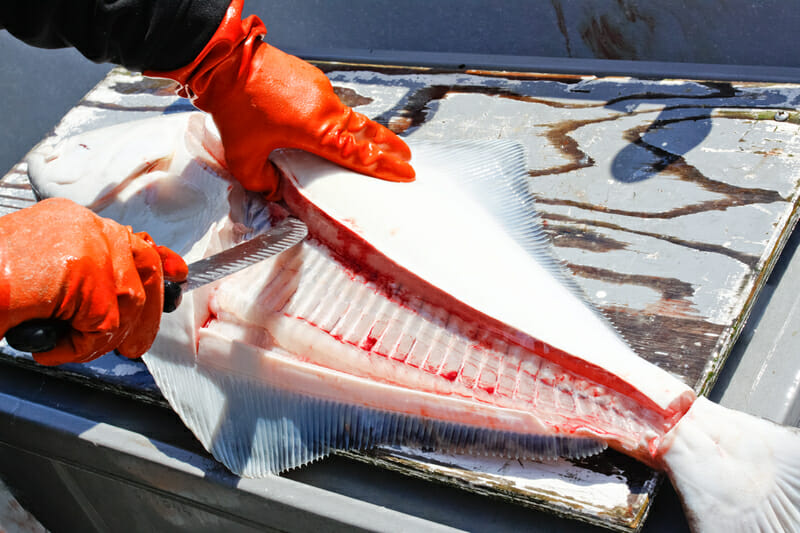 –
Halibut

Halibut is king among the flounder family. The fish can live up to 40 years and sometimes weigh up to 700 lbs and measure as long as 9 ft., though 50 pounds is the average weight.  This firm, white-fleshed fish is widely available fresh and at its best from spring through mid-fall.
Halibut is prized for its delicate sweet flavor, snow-white color and firm flaky meat. It is an excellent source of high-quality protein and minerals, low in sodium, fat and calories and contains a minimum of bones. Halibut is very versatile in the kitchen, as well, with many recipes for baking, broiling, pan-frying, deep-frying, poaching or barbecuing.
Halibut weighing in at more than 100 pounds are often called "Whales", "Soakers", or even "Barn Doors", while smaller halibut, less than 20 pounds, are often called "Chickens".
________________________________________________________________________________________________
[button type="big" color="red" newwindow="yes"] Reminder[/button]
Orders must be placed by 4:00 PM for next day morning delivery.
All orders placed after 4:00 PM will be delivered the next business afternoon.
If you have any questions please give us a call at 877-215-4872.
________________________________________________________________________________________________
[button link="https://www.facebook.com/FrugeSeafood" newwindow="yes"] Like us on facebook[/button]
________________________________________________________________________________________________
Notes from our buyer
We are headed into the final stretch of the 2013 crawfish season! Seasonal high temps in June usually start to slow production down. We will start seeing  a decrease in the catch sizes. As always we will continue to deliver product as long as mother nature keeps them coming!
____
Copper River Salmon
Sockeyes and kings are finally here.  Get these fantastic fish on your menu ASAP.  They are only around for a few months.
____
Halibut
The Halibut looks fantastic – size 20-40 directly from Alaska.
____
Soft shell crabs
We are seeing our first whales today, and we should have more for the weekend.  Get with your sales rep for pre-orders!
____
Salmon
Canadian and North Sea salmon fillet prices continue to be high due to high demand.  I hope to see some relief with the opening of the wild salmon season, but it does not look good.
____
Prices are up on 100 count sacks and four pound gallons.  In May, the oyster harvesters must have their oysters under refrigeration within four hours of harvest in order for them to be sold as shell stock (100 count sacks).  This will prevent the smaller companies from having 100 count sacks available.  This also drives the market up.  We will have product available for our loyal customers.
___
We have some beautiful snapper in.  Catches are up a bit and prices better.
___
Looks like U/10 dry scallops are going to be tight for the next two years.  The quotes are shrinking, and the product projections are not looking good.  Prices have already begun to rise.
___
Our tuna is great.  Prices are much better this week.
___
Prices have dropped a bit.  Looks like catches are up.
___
We are seeing more varieties with the weather improving.
___
Grouper is really coming in now.  Prices are nice.
___
Our farmed striped bass is from right here in Texas.  It is harvested, transported, prepared, and shipped under controlled temps.  This increases the quality and shelf life for you.
This is a fantastic fish for any application and is consistently the freshest fish we have.
Prices are steady now.  Product is fantastic.
We are seeing some domestic meat now.  Get your pre-orders in, and we will do our best to fill them.
___
Lanes are here and are beautiful.
___
Prices are steady but quality is great!!!  Farmed right here in Texas.
___
Mongchong, Opah, and Barracuda
Looking for something from Hawaii???  We have a great partner over there that supplies us with fantastic fish from the Hawaiian waters.
We have a variety of seabass options.  We have H&G sized 20-30 kg and 30+ kg, as well as fillets cut from those sizes.  Get with your sales rep for details.

___
We offer a full range of sizes of live lobsters straight from Maine and Canada.  Order today, and we will get them to you tomorrow.
___
Rainbow 'Green', Golden, and Ruby trout
We are expecting a price increase on the golden, ruby, whole, and tail on trout in the next 30 days.  Transportation costs have risen.