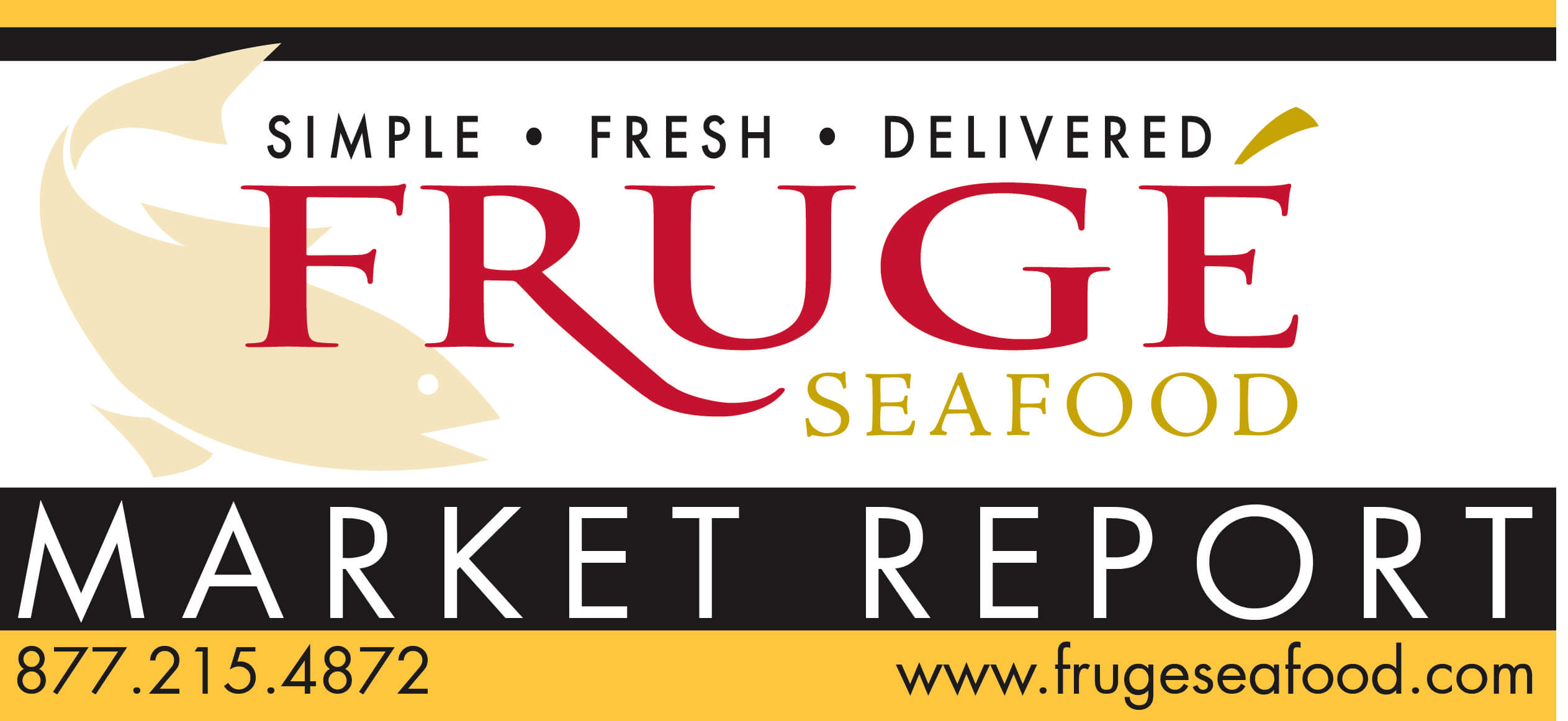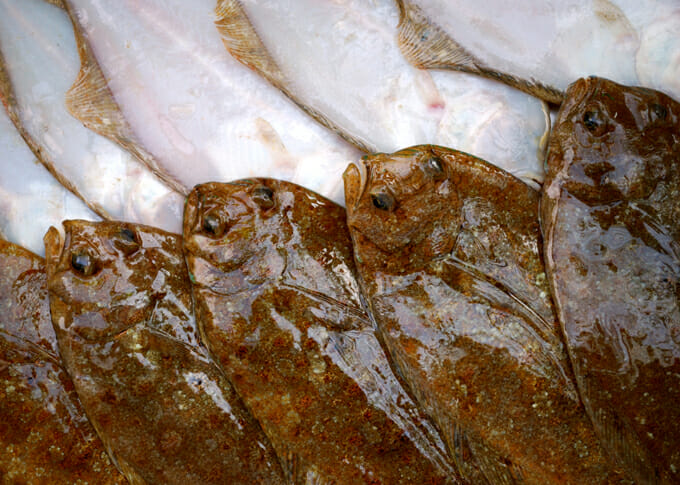 – Gulf Flounder
The Gulf Flounder is a very unique looking fish that cannot be confused with any other fish but another type of flounder. Flat, with both eyes on the same side of the head, and numerous darker and lighter splotches. The blind side is an almost milky in color. Gulf flounder lie on the bottom often partially covered by sand or mud waiting for a prey to come near and then strike suddenly.  Gulf flounder hatch looking like a typical fish, but then the right eye migrates over to the left side early in life.
They are an excellent white meat fish with light flavor. A favorite amonst fish eaters.
#FrugeSeafood
_______________________________________________________________________________________________
[button type="big" color="red" newwindow="yes"] Reminder[/button]
Orders must be placed by 4:00 PM for next day morning delivery.
All orders placed after 4:00 PM will be delivered the next business afternoon.
If you have any questions please give us a call at 877-215-4872.
________________________________________________________________________________________________
[button link="https://www.facebook.com/FrugeSeafood" newwindow="yes"] Like us on facebook[/button]
________________________________________________________________________________________________
Notes from our buyer
Wild Salmon
We will have Coho and Kings in this week. Also bring in some Ora Kings  this week for some of our select customers as a great menu option. Please let your Frugé Seafood sales representative know your needs.
___
Several varieties of east coast oysters are available, including Chesapeake Bay, Malpeque and James River. Blue Points are back, we have a good supply of them this week.
____
Redfish
Redfish is a great farmed product for your menu. Quantities are limited, but we have been able to fill all of our customer's needs. Please get with your sales team and place your orders.
____
Halibut
Beautiful fish direct from Alaska are still in stock, prices are increasing as the supply is still tight but the larger fish are still available (40-60). The Alaskan Halibut season ends November 15.
____
Cod, Sole, and Haddock 
We bring these delicate fish direct to our customers from Boston and only order what you need in order to provide you with a beautiful, fresh product every time. Get your pre-orders in early.
____
Salmon
Chilean salmon prices continue to fall. We are also getting in large whole salmon from the North Sea (country of origin can be Scotland, Faroe Islands, or Norway).
____
The Gulf is open! We are getting a good supply of sacks. The shucked gallons is still slow due to the limited labor. This is just one of the many areas that are feeling the effects of the government shut down.
___
American red snapper supply remains good and we should start to see some of the larger fish. This supply should remain good for the rest of the year. We are bring most of this product in right of the coast of southern Louisiana. We also have beautiful lanes and yellowtail snapper as a great alternative.
___
Scallop prices have remained flat. Our sources seem to still have a great selection of product available ranging from U/10 all the way down to pieces.
___
The market is improving and quantity doesn't seem to be a concern. We have had a good selection of Yellow Fin this week, including #1 and 2+.
___
Mahi is still looking good, this is a great menu option.
___
Grouper prices are down a little; let's hope this trend continues.  There seems to be a good supply of fish this week, the tropical storm Karen had very little impact.
___
Our farmed striped bass is from right here in Texas, this allows us to give our customers the longest possible shelf life possible.  Prices have soften a little and we feel that they should remain stable through the end of the year.
Many of you may be considering black drum as an alternative to redfish.  This product is another one of the many that we are buying right from the boat.
The domestic crabmeat has started to pick up with the cooler weather, but supplies are still limited.  Venezuela crab is available so ask you sales team is your looking for a softer price.
___
Our catfish is farmed right here in Texas.  Prices are rising and supply is limited. Predictions say that there is about 50 million less pounds of domestic product this year than last year.
___
Escolar, Opah, and Barracuda
Opah landed this week from Hawaii! If there is something that you looking for from that regions let us know.
We have a variety of seabass options.  We continue to carry H&G (20-30 kg) As always we are happy to cut fillets from that size.  Get with your sales rep for details.
___
We offer a full range of sizes of live lobsters straight from Maine and Canada.  Order today, and we will get them to you tomorrow.
___
Rainbow 'Green', Golden, and Ruby trout
Trout supply seems to remain tight. The low water supply this summer has created a shortage on the larger red meat fish from Idaho.  The water supply is back up now, and the product will be more plentiful toward the beginning of October.