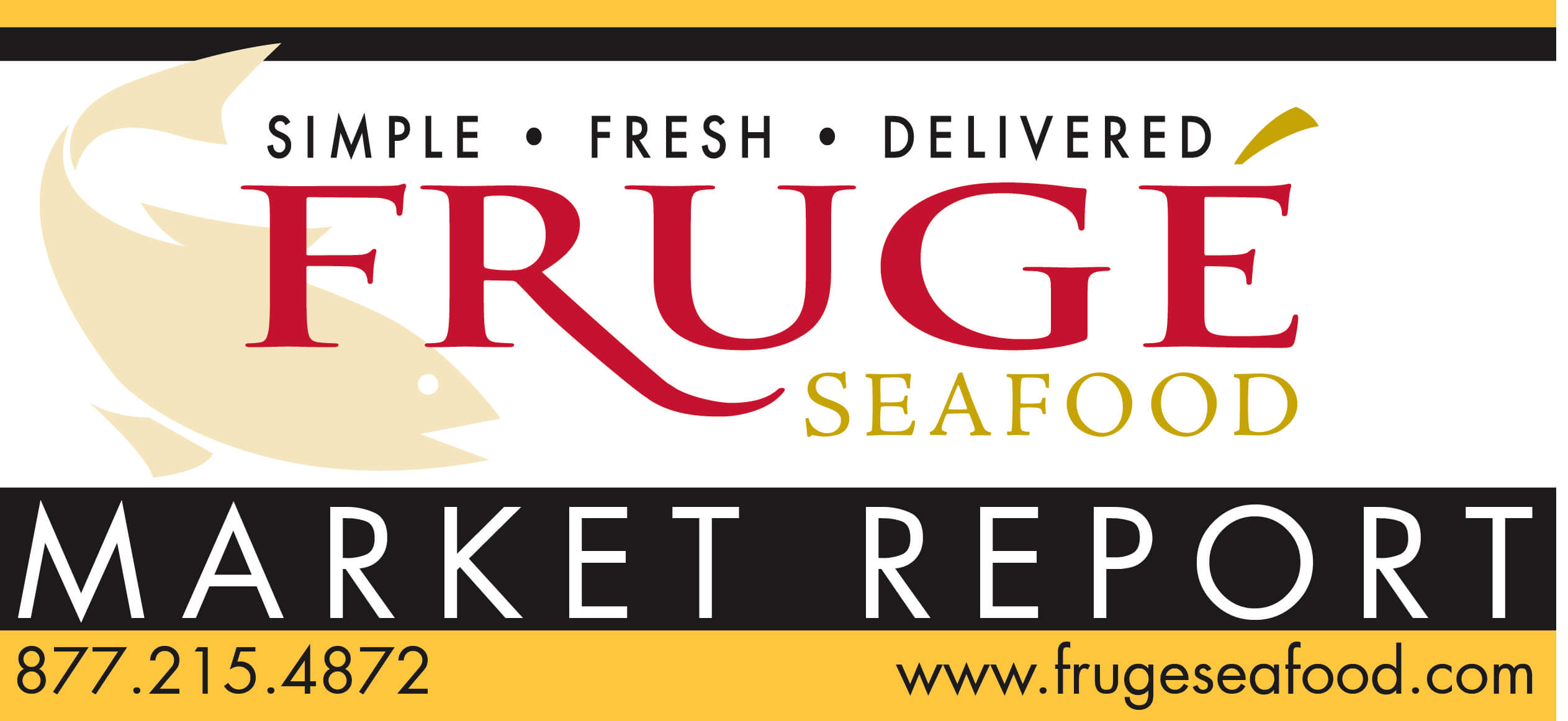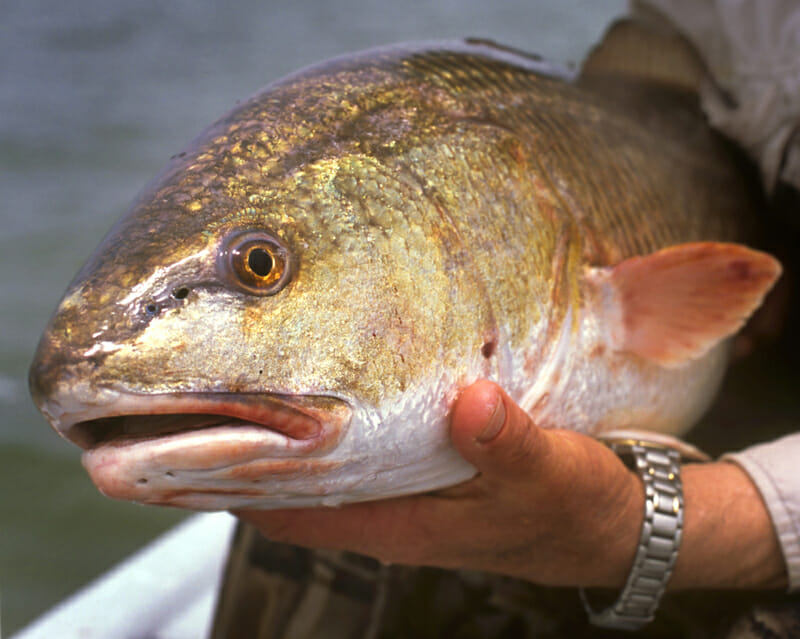 –Redfish, or Red Drum is a delicious fish that we get farm raised where they use no hormones, no antibiotics and no mercury. They are bred and hatched on a family owned and operated inland farms located between Port O'Connor and Palacios, Texas. Fingerlings mature in earthen ponds filled with saltwater sourced from the Matagorda Bay system and saline aquifers. Water quality is monitored around the clock to maintain the healthy growing environment that produces a premium fish.
The most distinguishing mark on the red drum is one large black spot on the upper part of the tail base. Having multiple spots is not uncommon for this fish but having no spots is extremely rare. The color of red drum ranges from a deep blackish, coppery color to nearly silver. The most common color is reddish-bronze.
#FrugeSeafood
________________________________________________________________________________________________
[button link="https://www.facebook.com/FrugeSeafood" newwindow="yes"] Like us on facebook[/button]
________________________________________________________________________________________________
Notes from our buyer
Availability from East Coast and Canada is looking good with great pricing. Alaskan halibut is not having many landings right now due to fisherman concentrating on Wild Salmon. Call your sales rep for pricing and availability.
Availability is much better this week.  Prices are down. We have a good amount arriving just in time for the weekend. Call your sales rep for pricing and availability.
American Red Snapper
Catch volumes have not been affected from the recent storms as of yet. Fish ranging in size from 1-2, 2-4, and 4-8 are available. Call your sales rep for pricing and availability.
Fresh Crabmeat
is back in full swing. Jumbo, Lump, Claw Meat, Fingers are all readily available.  Fresh Non-Domestic Crab pricing is up. Fresh crab is great alternative to the increase pricing on pasteurized crab.  Call your sales rep today for more information.
Availability on littleneck clams and Mussels is looking great!  We have shipments arriving twice a week.
Availability is still limited due to Iceland's holiday. This has caused prices to increase as well.  Call your sales rep for pricing and availability.
Arctic Char is a unique strain of saltwater char sustainably farm-raised in Iceland. Often compared to salmon and trout, Arctic Char has a distinct, sweet buttery flavor and firm pink flesh that sets it apart from other fish on the market. We get this in twice a week; ask your sales rep for more info.

_
Recent Hurricanes will affect availability early next week.  We will continue to monitor the situation. We have a great selection of oysters this week. Make sure you are on our East Coast oyster list that we send out every week. We have access to several varieties each week.
Availability on sacks and gallons is looking good.  All public leases are closed in Texas and Louisiana. The only areas available to harvest are Private Leases in both, Texas and Louisiana. Some private leases in Texas are still trying to recover from the damage of the past hurricanes.
Still waiting for Murder Points to come back in season. The recent tropical storm didn't help either.  We continue to get weekly updates and will let you know once they are available.
Murder Point Oysters are out of Porterville Bay in Alabama near what was once called Myrtle Point. Oysters are limited right now due to all the fresh water run-off from all the storms in the past few weeks. We hope to have more next week.
_
Redfish & Striped Bass
Extra Jumbo Redfish (3lb and up) have a good availability right now. Jumbo Redfish(2.5-3 lb.) availability is starting to not be as plentiful. Striped Bass is a great option this time of year as well.
 
Farmed Salmon
Chile Salmon prices are starting to maintain. We have seen a slight increase in North Sea Salmon. Canadian Salmon prices have been holding steady.
Current fish is being caught in Cook Inlet. We will have Coho salmon available for the weekend. Call your sales rep for pricing and daily availability.
_
This salmon is naturally raised; Antibiotic Free, Chemical Free, Preservative Free, and Hormone Free. The feed is comprised of all natural and sustainable resources. And unlike other farm raised salmon Wild Isle Natural Salmon is raised in the open ocean of the Shetland Islands, and not in a Loch or Bay like other farms raised salmons.

_
Scallops
U10 Dry Scallop prices are are starting to come down. We expect decent supplies for the coming weeks.
Tuna
Tuna availability is improving with prices still up. We will have a good amount of 2+ and #1 fish for the weekend.
Black Drum
The catch of Black Drum out of Hackberry, LA, is looking good.  We we plan to have new shipments arriving later this week. Call your sales rep for pricing and availability.
Seabass
We currently carry H&G 10-20 KG & 20-30 KG  Chilean Seabass. Seabass prices are holding steady.
Swordfish
Availability has improved, and pricing is looking better. Call your sales rep for pricing an availability.
Rainbow 'Green' and Ruby Trout
The shortage of Rainbow trout has not improved. The farms are experiencing slow growth, which is causing farms to run short.  The Ruby trout farms are not having this issue. Ruby Trout is a wonderful substitute during this time. Get with your sales rep for pricing and availability.
_
Skye Ocean Trout
The All Natural Ocean Trout (Steelhead) is an amazing sashimi quality ocean trout with a higher fat content then salmon and a great flavor that lends itself to any type of cooking or smoking.