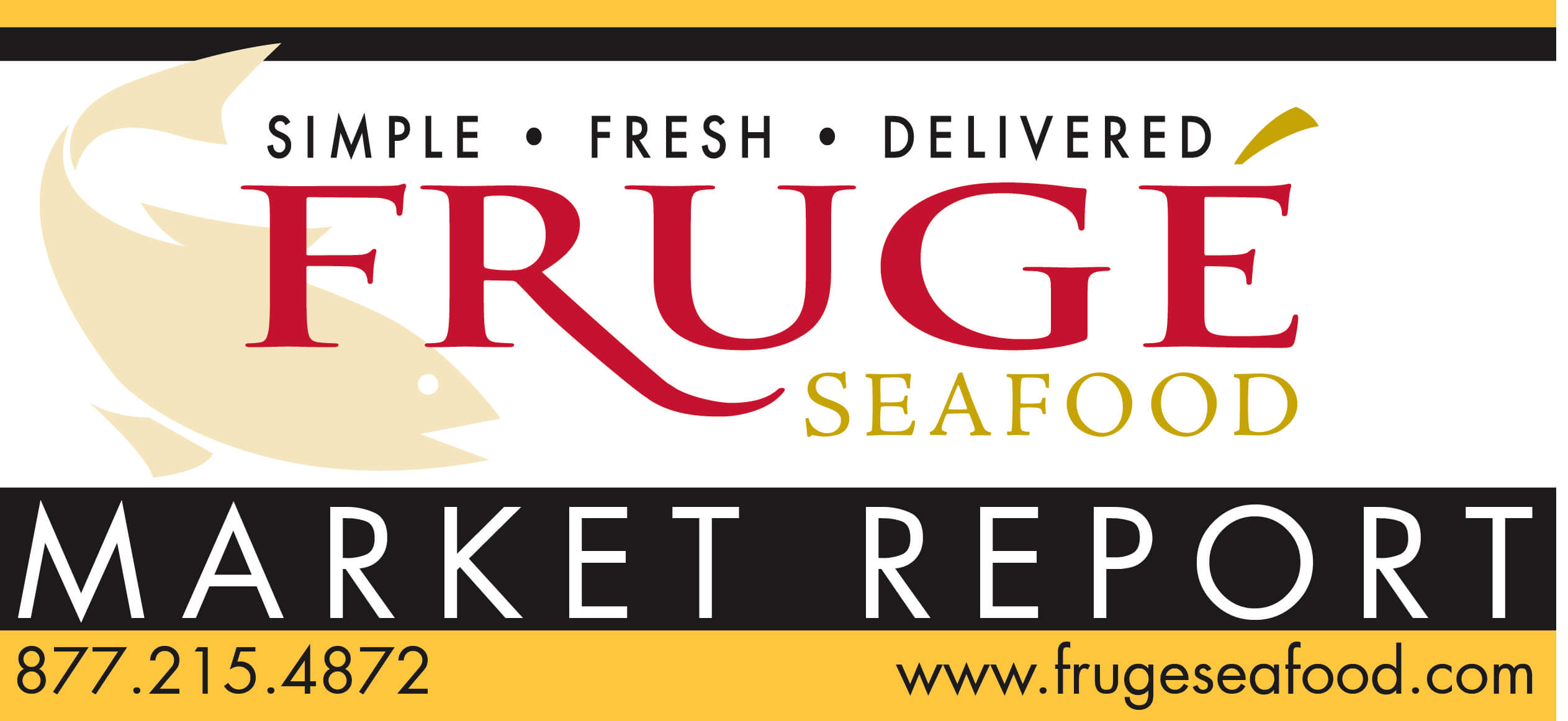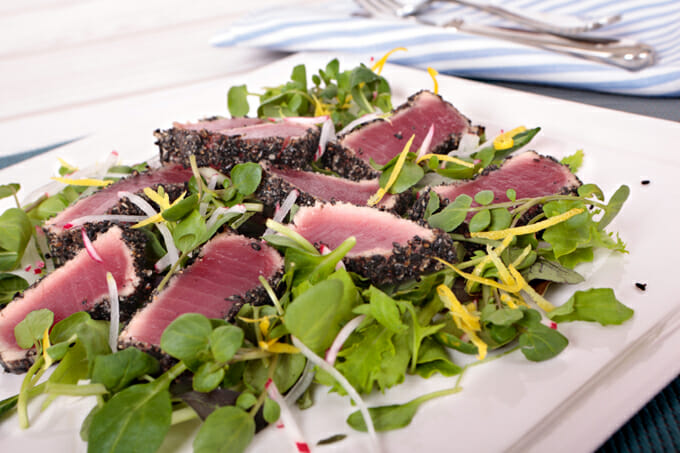 –
– Yellowfin Tuna
The yellowfin is a beautiful fish, named for its bright yellow dorsal and anal fins and the yellow stripe along its sides. Its average weight is 20 to 100 pounds. Its distinct flavor helps it to stand out on any menu, but when you mention the health benefits you have a definite sale.
Tuna is an excellent source of heart-healthy niacin, free radical-scavenging selenium, and muscle-building protein. Some of the selenium is found in the form of selenoneine, which may be especially valuable in terms of its antioxidant properties. Tuna is also a very good source of energy-producing vitamin B6 and thiamin. In addition, it is a good source of anti-inflammatory omega-3 fatty acids, bone-healthy phosphorus and magnesium, and heart-healthy potassium. Tuna, a must for all menus.
#FrugeSeafood
_______________________________________________________________________________________________
[button type="big" color="red" newwindow="yes"] Reminder[/button]
Orders must be placed by 4:00 PM for next day morning delivery.
All orders placed after 4:00 PM will be delivered the next business afternoon.
If you have any questions please give us a call at 877-215-4872.
________________________________________________________________________________________________
[button link="https://www.facebook.com/FrugeSeafood" newwindow="yes"] Like us on facebook[/button]
________________________________________________________________________________________________
Notes from our buyer
We will have Coho this week.  This is a seasonal product, so make sure you are maximizing this fantastic product on your menus while it is available. Please let your Frugé Seafood sales representative know your needs.
___
Several varieties of east coast oysters are available, including Chesapeake Bay, Malpeque and James River. Blue Points are back, we have a good supply of them this week.
____
Redfish
Redfish is a great farmed product for your menu. Quantities are limited, but we have been able to fill all of our customer's needs. Please get with your sales team and place your orders.
____
Halibut
Beautiful fish direct from Alaska are still in stock, prices are increasing as the supply is still tight but the larger fish are still available (40-60). The Alaskan Halibut season ends November 15.
____
Cod, Sole, and Haddock 
We bring these delicate fish direct to our customers from Boston and only order what you need in order to provide you with a beautiful, fresh product every time. Get your pre-orders in early.
____
Salmon
Chilean salmon prices continue to soften. We are also getting in large whole salmon from the North Sea (country of origin can be Scotland, Faroe Islands, or Norway).
____
The Red Tide in Texas has continued to cause major problems in the supply.  Waters have tested clear and we are expecting to start to see Gulf Oysters become available again in early October.   Check out our great selection of East Coast oysters.
___
American red snapper supply remains to be tight, but we do have them.  We also have beautiful lanes and yellowtail snapper as a great alternative.
___
Scallop prices have remained flat. Our sources seem to still have a great selection of product available ranging from U/10 all the way down to pieces.
___
The market remains very tight on the Yellow Fin but we have been able to keep a good selection of both #1 and #2+.
___
Mahi is still available. We have just received some great looking fish.
___
Grouper prices are down a little; let's hope this trend continues.  There seems to be a good supply of fish this week.
___
Our farmed striped bass is from right here in Texas, this allows us to give our customers the longest possible shelf life possible.  Prices have soften a little and we feel that they should remain stable through the end of the year.
Many of you may be considering black drum as an alternative to redfish.  The product is available, but can be limited in the summer, so make sure we know your needs.
The domestic crabmeat has started to pick up with the cooler weather.  Venezuela crab comes off conservation October 1st. So we expect to see a good supply in the near future.
___
Our catfish is farmed right here in Texas.  Prices continue to stay consistent with last week. It appears that all sizes should be available this week.
___
Escolar, Opah, and Barracuda
Opah landed this week from Hawaii! If there is something that you looking for from that regions let us know.
We have a variety of seabass options.  We continue to carry H&G (20-30 kg) As always we are happy to cut fillets from that size.  Get with your sales rep for details.
___
We offer a full range of sizes of live lobsters straight from Maine and Canada.  Order today, and we will get them to you tomorrow.
___
Rainbow 'Green', Golden, and Ruby trout
Trout supply seems to remain tight. The low water supply this summer has created a shortage on the larger red meat fish from Idaho.  The water supply is back up now, and the product will be more plentiful toward the beginning of October.