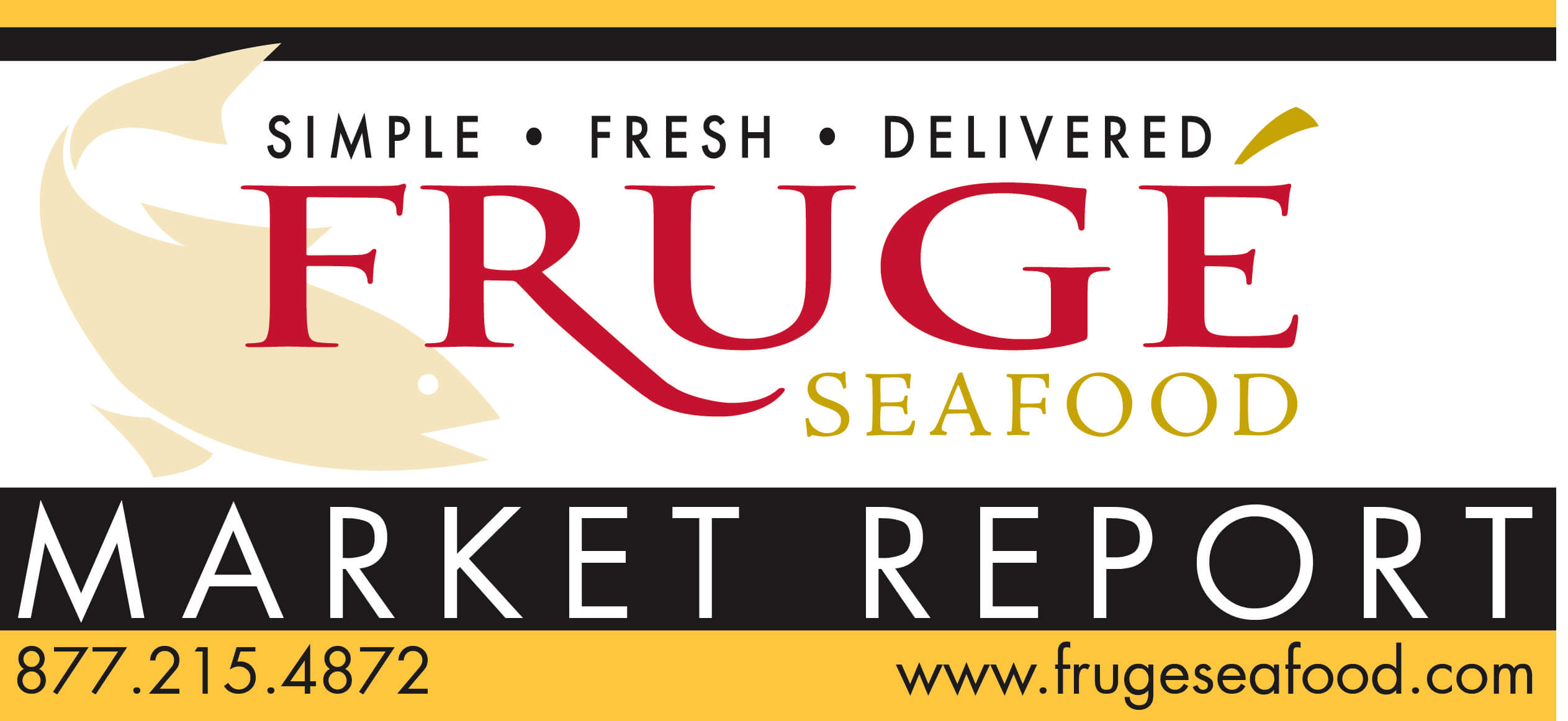 –
 Grouper

Found in the waters of Florida and the mid-Atlantic states as well as South America, Central America and the Gulf of Mexico, the grouper belongs to one the largest fish families in the sea, the sea bass family. The most popular being red grouper (found in most markets/restaurants), but there is also black, yellow edge, scamp and snowy grouper found in limited quantities. The grouper fish has a mild but very unique flavor, somewhat of a cross between bass and halibut. Red grouper is not quite as firm and has a milder, sweeter flavor than the black grouper. Grouper meat cooks up very firm, with big flakes and holds its moisture better than many other fish. Since Red Grouper is a leaner fish you might need to baste it when broiling or baking it. #FrugeSeafood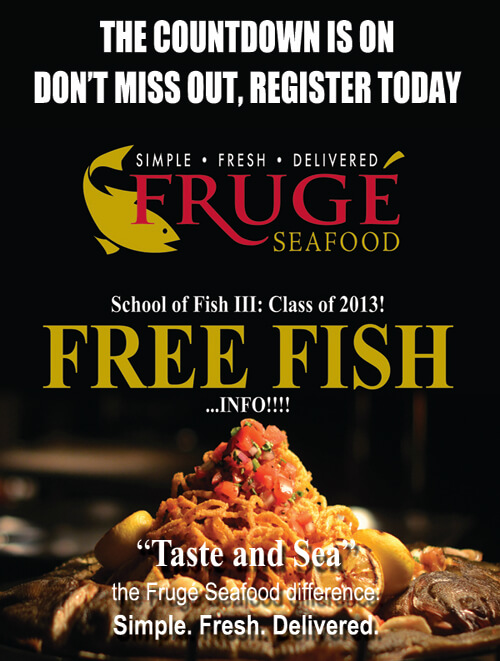 Make your seafood decisions based on facts, not guesswork!
Come to the 3rd Annual Frugé Seafood School of Fish to learn moneymaking ideas, sell fresher product, and ultimately have happier customers!
 Monday, September 23, 2013
Las Colinas Country Club 
5:00 p.m. sharp
4400 North O'Connor Road / Irving, Texas 75062
Please RSVP to Denise @ 972.606.0800
________________________________________________________________________________________________
[button type="big" color="red" newwindow="yes"] Reminder[/button]
Orders must be placed by 4:00 PM for next day morning delivery.
All orders placed after 4:00 PM will be delivered the next business afternoon.
If you have any questions please give us a call at 877-215-4872.
________________________________________________________________________________________________
[button link="https://www.facebook.com/FrugeSeafood" newwindow="yes"] Like us on facebook[/button]
________________________________________________________________________________________________
Notes from our buyer
Wild Salmon
We will have Coho this week.  This is a seasonal product, so make sure you are maximizing this fantastic product on your menus while it is available. Please let your Frugé Seafood sales representative know your needs.
___
Several varieties of east coast oysters are available.  Ask your sales rep about your options, and they can also assist you with flavor profiles.  Blue Points are trickling back in.  This situation should rectify itself by the end of next week.
____
Redfish
Redfish is a great farmed product for your menu.
____
Halibut
We have beautiful fish direct from Alaska.  The price is looking better for next week.
____
Cod, Sole, and Haddock 
We bring these delicate fish direct to our customers from Boston and only order what you need in order to provide you with a beautiful, fresh product every time. Get your pre-orders in early.
____
Salmon
Chilean salmon prices are improving.  We are expecting the trend to continue through the wild salmon season.  We are also getting in large whole salmon from the North Sea (country of origin can be Scotland, Faroe Islands, or Norway).  The shortages in Europe appear to have stabilized, and we are seeing improvements in price.  Ask your rep about New Zealand Farmed Ora King Salmon.  A planned Chilean Customs strike and a holiday are making September supply look a little uncertain.
____
The first three weeks of September are usually the worst for oysters.  The Red Tide in Texas has made an already bad situation worse.  We are seeing very few Gulf Oysters and no Fresh Meat is available.  This will continue for at least two more weeks. We are offering frozen meat to existing customers.
___
American red snapper continues to be tight, but we do have them.  We also have beautiful lanes and yellowtail snapper.
___
Though price has increased, demand for scallops has not decreased in the market.  We continue to have the larger product available but also offer a U/12 product for customers who are more price-sensitive.
___
Tuna prices are still up, but we are seeing some great quality fish.
___
Mahi appears to be showing up a little more in the market.  However; prices are not much better, yet.
___
Grouper is a little tight this week as the fishermen seek out octopus, but we do have the product.  Ask your sales rep about the pre-cut Mexican fillets; these are great for your more price sensitive dishes.
___
Our farmed striped bass is from right here in Texas.  It is harvested, transported, prepared, and shipped under controlled temps.  This increases the quality and shelf life for you.
Many of you may be considering black drum as an alternative to redfish.  The product is available, but can be limited in the summer, so make sure we know your needs.
The domestic crabmeat has really been hard to find lately.  As soon as the cool fronts start coming through, the supply should improve.  This product is very sensitive to extreme hot or cold water temperatures.
___
Our catfish is farmed right here in Texas.  Prices are going up next week.  As the summer heat continues, the larger sizes of fish are tightening up a bit, so if you use a large fillet, please make sure we know your needs.
___
Mongchong, Opah, and Barracuda
Looking for something from Hawaii?  We have a great partner over there that supplies us with fantastic fish from the Hawaiian waters.
We have a variety of seabass options.  We have H&G sized 20-30 kg as well as fillets cut from that size.  Get with your sales rep for details.

___
We offer a full range of sizes of live lobsters straight from Maine and Canada.  Order today, and we will get them to you tomorrow.
___
Rainbow 'Green', Golden, and Ruby trout
The low water supply this summer has created a shortage on the larger red meat fish from Idaho.  The golden is also very scarce right not.  The water supply is back up now, and the product will be more plentiful towards the end of September.