By Pat Bonin
Photos by Raymond Quezada, Raving Design Photography
IRVING, TEXAS – It was a packed house Monday night for Frugé Seafood Company's 2nd Annual "School of Fish" at Los Colinas Country Club.
Four vendors addressed more than 80 chefs and restaurant executives from throughout the Dallas metroplex on a wide range of topics, including tuna inventory, premium domestic shrimp, farmed Atlantic salmon and the wide variety of whitefish available from the U.S. east coast.
Additionally, a representative from the Louisiana Seafood Promotion and Marketing Board presented information on the recovery of the Gulf of Mexico fishery since the 2010 oil spill.
Company President and CEO Mike Frugé was pleased with the turnout, as well as the quality of content presented to the attendees.
"This event really showcases Frugé Seafood Company's business philosophy: we work hard to develop real partnerships with our customers and our vendors," he said. "We want to be more than just a seafood supplier. We want to become an information source and a trusted partner who always provides a high-quality product."
Presenting vendors included Kane Kendall with Raw Seafoods in Fall River, Massachusetts; Andrew Lively and Catherine McLatchie with True North Salmon Company in New Brunswick, Canada; Kristen Baumer with Paul Piazza & Son shrimp processors in New Orleans and Richard Carroll with Jensen Tuna in Houma, Louisiana.
Ewell Smith, executive director of the Louisiana Seafood Promotion and Marketing Board, said the shrimp, oysters, crabs and finfish harvested from the Gulf of Mexico continue to pass all government tests and are perfectly safe to consume.
Attendees said learning about the origin of the seafood, as well as the family aspect of the companies involved in the harvesting and distribution process, were enlightening.
"It was a great opportunity to actually meet the vendors," said John Franke, corporate chef with Front Burner Restaurants. "We normally just call a salesperson and order fish. But tonight it was really interesting to see where the seafood actually comes from, as well as the history of the companies. Learning about tuna and shrimp coming from the Gulf of Mexico and how to share that information with our guests was really valuable."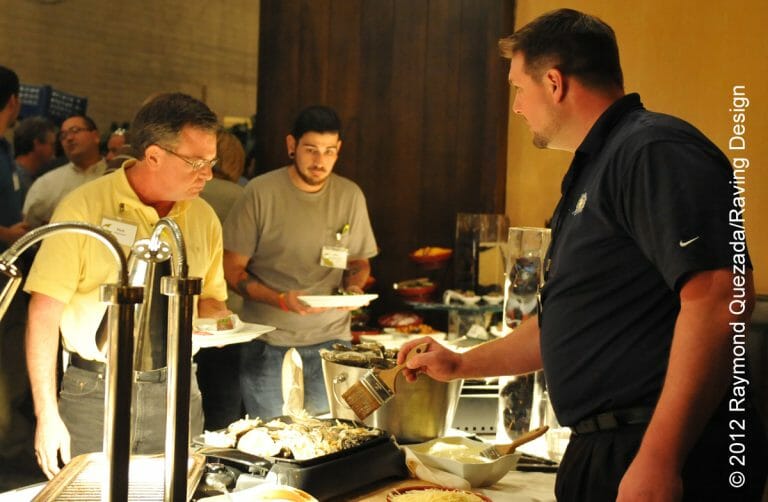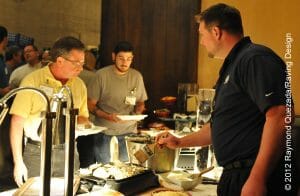 After the vendor presentations, guests were treated to a buffet prepared by the Los Colinas Country Club staff, as well as grilled oysters from Greg Voisin with Motivatit Seafoods.
View some Testimonials: 1/2/3/4