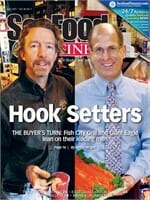 This year, "Seafood Business Magazine" is celebrating the careers of industry veterans through an annual feature they are calling "THE BUYER'S TURN." This new feature will shine a light on retail and restaurant seafood buyers who are on top of their games. This issue features one of our own Dallas restaurants, Fish City Grill. Here's an excerpt:
 It is important to my wife and I that we have great relationships. We just want this to be an awesome place to be.
–Bill Baynes, chief seafood officer, Fish City Grill 

There's one concern that restaurateurs of any stripe share, and it's how to fend off the high turnover rates that badger the industry. Chefs and servers are always looking for whiter tablecloths despite the time, money and trust their employers invest in them.

So why does Bill Bayne shrug off these worries as if they're somebody else's problem? The soft-spoken and courteous Texas panhandle native surely isn't one to gloat — it's just truly somebody else's problem.

"We figure people can steal our recipes but they can't take our culture," says Bayne, the leader of Fish City Grill with the über-cool title of Chief Seafood Officer. As CSO (and essentially CEO) of Neighborhood Ventures, the veteran restaurant operator's top duty is to procure a wide variety of fresh fish for 22 casual restaurants. Bayne loves the "challenge" of seafood and its many mysteries.