BRANCH, LA.
By Patrick D. Bonin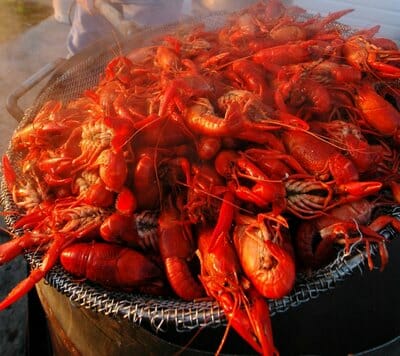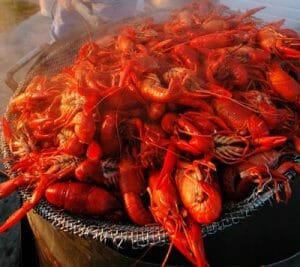 The groundhog may have seen his shadow and predicted six extra weeks of winter, but don't tell that to south Louisiana's crawfish population.
Mild temperatures, timely rains and ideal water conditions have resulted in a perfect storm of plentiful crawfish that even Punxsutawney Phil couldn't have predicted.
"For 2012, everything I'm seeing right now indicates we're lined up for a high production year," said Mark Fruge', co-owner of Fruge' AquaFarms in Branch, located about 15 miles from Lafayette. "With these mild temperatures, the crawfish are ahead of schedule on their rate of growth and production levels because they've been so active. The industry as a whole is probably producing double where we'd normally be right now."
And while the calendar says the first day of spring is still almost six weeks away, the tasty crustaceans raised in rice fields and ponds throughout Cajun Country are making the most of the mild, wet conditions.
"The temperatures that we've been experiencing are like March temperatures, so the crawfish in the field are reacting as though it's March," Fruge' said. "Industry-wide, the people I've spoken with are all having similar outcomes. Everyone is doing well production-wise, and we should see strong poundage-per-acre production numbers."
That means good news for consumers, who could see reduced prices compared to recent years when below-average rainfall negatively affected production.
"It should be a great year with abundant and affordable crawfish," said Mike Fruge, Mark's older brother and fellow co-owner of Fruge AquaFarms. "I'm predicting a very high volume season. The quality right now couldn't be better, and it's only going to improve as we head into the spring."
The Fruge' Difference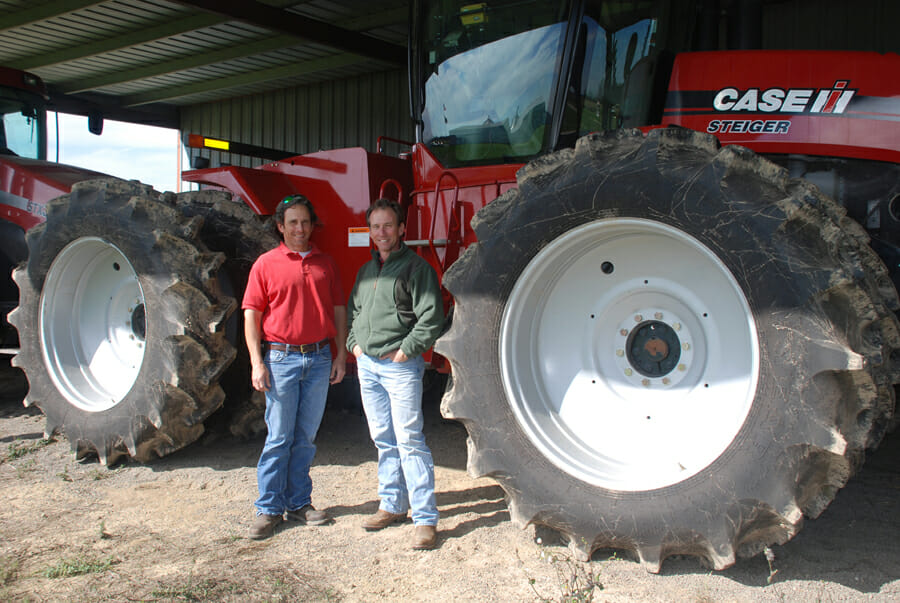 Over the past 26 years, the Fruge' brothers have seen their small 20-acre crawfish farm expand into a major full-service seafood company covering major markets in Texas, Oklahoma and Louisiana. Three times each week during crawfish season, their trucks make the 400-mile trip to the company's Grand Prairie, Texas Distribution Center in the Dallas Metroplex with up to 10 tons of crawfish onboard.
"Even though they're metropolitan cities located hundred of miles from south Louisiana, the markets are crawfish savvy. The restaurants we service expect large, fresh, high-quality crawfish, and that's exactly what we provide," said Richard Hotard, Fruge's Sales Manager.
"We were fishermen before we were distributors, so we know this business like very few others. And we understand how vitally important every order is for our customers. So we grow 'em, we catch 'em, and we deliver 'em. And we've done it successfully for more than 20 years."
Those three factors highlight the Fruge's model for success, and set them apart from other distributors, wholesalers and crawfish farmers.
"We're different and better because we control all three key phases of getting the crawfish to market," Mike explained. "We grow them ourselves, we operate a wholesale dock and we distribute them. We control the entire process, which is crucial with a highly perishable crop like crawfish that is subject to supply issues. We simply have a lot more flexibility to meet our customers' needs than someone who only controls one phase."
Crawfish Over a Bed of Rice
The groundwork for this year's bumper crawfish crop was actually laid last March, when Mark and his crew planted rice on about half of the farm's 2,400 acres. (In addition to the crawfish crop, the farm produces 8,000,000 pounds of rice annually.)
When the rice crop grows tall enough to provide shade to cool the water, typically in May, the fields are flooded and mature crawfish are seeded into the ponds.
"After the seeding is complete, we simply manage the fields for rice production and we usually release the water in late June or early July," said Mark, who readily admits to enjoying life in the fields much more than sitting behind a desk. "Rice is harvested in August. By that time, the crawfish have burrowed deep into the ground and go into hibernation during the heat of summer."
After the rice harvest, maintenance work is performed in the fields to repair any levees damaged either by wildlife or equipment. The ponds are flooded again in late September or early October to create prime crawfish habitat.
"When we flood, the stubble is regenerating and growing, so the female crawfish come out with the hatchlings on their tail and begin feeding on the rice," Mark said. "At that point, the young crawfish are about the size of ants. It typically takes about three months for the crawfish to grow to marketable size."
Crawfish harvesting begins around the first of the year and normally goes through the 4th of July. At that point, the rice harvest is right around the corner, and the process starts all over.
"In late May, the crawfish harvest usually starts to decline. At that point the fields are getting barren because the crawfish have consumed almost all of the available food source," he said. "When the water temperature gets too high, it becomes lethal to the crawfish and they can actually start dying in the fields. So when we start getting 90 degree days, the harvest typically begins to go down."
And although the winter has been unusually mild so far, Mark knows that could change – quickly.
"You just never know what Mother Nature has in store," he said. "If we get a cold snap, even though the crawfish have grown and are much more advanced right now, they'll still shut down and go dormant if the water temperature drops below 50 degrees. They don't burrow again, but they go to the bottom of the field and get under the stubble and kind of just sit in the mud. It just stops their activity so they quit feeding. At that point, production becomes much more of a challenge."
A Day on the Farm
At the height of harvest season every spring, Fruge Aquafarms employs eight to ten fishermen who harvest crawfish every morning. With about ten traps per acre and each fisherman responsible for harvesting 100-150 acres, they each empty, re-bait and reset about 1,000 traps every day.
"At the peak of the season, you try to average about one pound per trap per day," Mark said. " Under our model, our 'Holy Grail' if you will, is to produce 1,000 pounds per acre throughout the course of the season."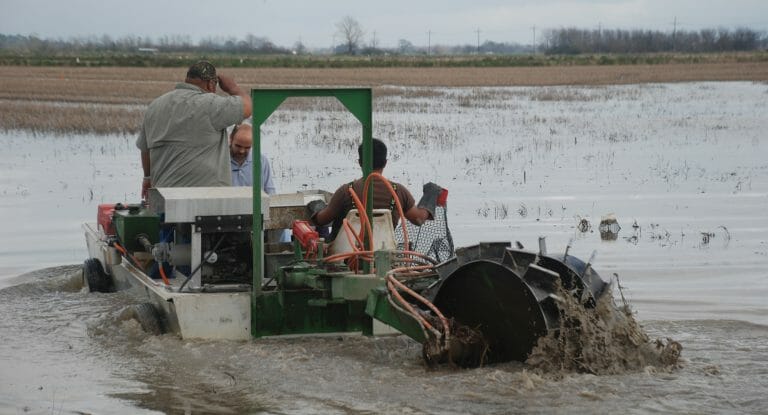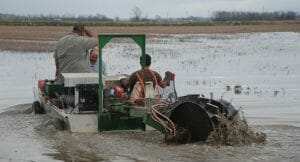 Fisherman set out every morning about 7 a.m. with enough bait and gasoline to finish their run of traps. Each man uses a 14-foot aluminum boat outfitted with a large paddlewheel in the back that actually rolls over the pond bottom and propels the boat forward. A trap is picked up and emptied onto a sorting table, then re-baited and set down when the boat arrives at the next trap.
In a process where the boat never stops moving, the fishermen steer the boat with foot pedals for hands-free operation, and the crawfish go from a sorting tray to a sack before making their way to the farm's dock in the early afternoon. They're weighed in, and each man's production is entered into the catch register so every field's production can be monitored.
"We use a pyramid-style trap with three funnels about four inches from the bottom," Mark said. "The crawfish enter to eat the bait fish. It's made of mesh, so the smaller ones will eat and pass through the wire. The ones that are marketable size stay in the trap because of the diameter of the wire."
After the crew eats lunch, the crawfish are washed and graded into three sizes. That's where coordination between sales and production is crucial: it's vital to have enough crawfish on-hand to fill customers' orders, but it's also critical not too have harvested too many. With the crustaceans' relatively short shelf life, mistakes can be costly.
"Harvest-wise, we try to plan two to three days in to the future. So we speculate on what we can produce and what our customers will need," Mark said. "We try to make the dock process flow because if you're not planning out, you can get nailed by having too much or not enough… And either one of those scenarios can cost you quite a bit of money."
What's Up, Dock?
The man in charge of managing the dock is Operations Manager Ed Guidry, who literally grew up on the farm and has been there his whole life. His mom still lives in the house he was raised in, adjacent to one of the rice fields visible from the farm's main warehouse. His mother actually helped to raise both Mike and Mark, and the three were childhood friends.
"I've done just about every job there is to do out here," he said with a chuckle.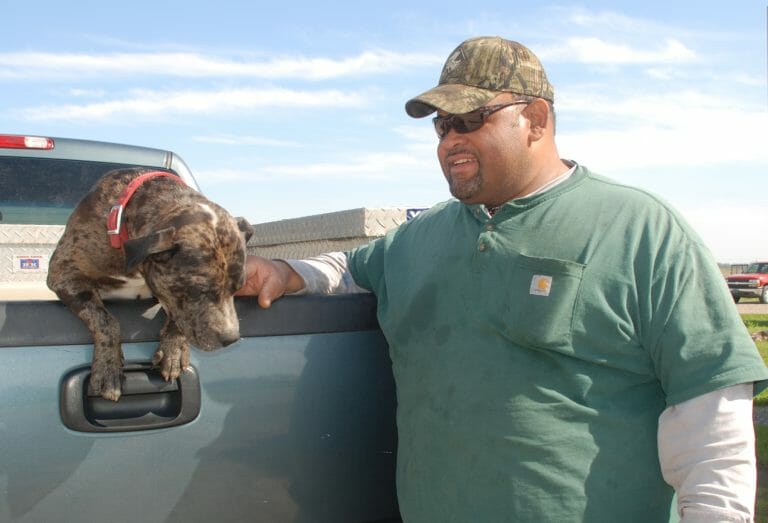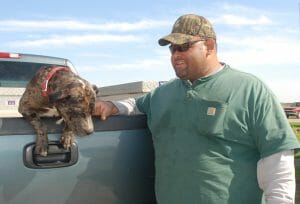 Taco, his bulldog/Catahoula hound mix, never seems to stray too far from his side as he constantly works the dock and instructs the workers on grading, packing, weighing and loading the day's catch.
"The main thing is water: keeping the crawfish wet and keeping them cool," Guidry said. "If you can keep them wet, you keep them healthy and provide your customers with the freshest product possible."
To that end, the crawfish are kept cool and moist from the time they arrive back at the dock until they are placed onto a truck bound for the Grand Prairie Distribution Center. In the large walk-in coolers, where the crawfish are kept at a chilly 40 degrees, steady mists of water shower down on the sacks to clean up the catch and keep them wet. The grading machine also gives them another bath as they are grouped and sacked according to size.
The season rolls on, and the daily routine of fishing, weighing, grading and shipping plays itself out each and every day on the Fruge' dock. Mark and Ed work together to keep their fingers on the pulse of the business, always making sure enough crawfish are available to ship to anxiously waiting customers. All while trying to prevent having too many crawfish on hand, which might have to be sold to a peeling house at a loss.
"The market changes almost daily," Mark explained. "It's all based on a perishable product with a limited shelf life. Because of that it can be volatile, with pretty good swings. Mother Nature could go from cold to hot and all of a sudden your production level can literally double early in the season and you flood the market. Or she might put you in the deep freeze, and you're looking at a cold weather shut down."
So despite the incredible amount of work and preparation that goes into creating and harvesting a successful crawfish crop, both brothers know they're at the mercy of something they ultimately have no control over.
"It's definitely more an art than a science, and the weather drives it," Mike said. "I think it's a matter of getting the right timely rain at the exact time the crawfish need it, which allows them to survive in their burrows over the summer. We could do everything exactly according to plan, but if we don't get the right weather, it just won't work"
It's a delicate balancing act every day between production crew and sales team, along with one big unknown factor that always has to be accounted for: Mother Nature.
"Well, I have enough for today," Guidry proclaimed with a smile one day in early February as he monitored the day's production against the number of pounds that had to be on the truck bound for Texas in a couple of hours. "But every day changes and it's something different. We'll come back and do it all again tomorrow."