Shellfish
Crab, Blue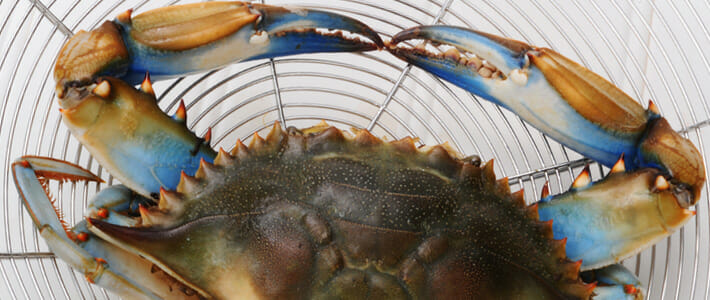 Marked with blue tinges on its shell and blue patches on its legs; males ("jimmies") have blue claws and females ("sooks") have orange-tipped claws. The average length of a blue crab is 5 to 7 inches. Cooked meat is off-white. Known as a delicacy, soft-shell blue crabs are taken within an hour after molting when the shell is in fact soft. The molting only lasts for a couple of hours, so it is important that the crab be processed quickly. Jumbo lump meat is made up of large pieces of meat; backfin contains smaller pieces of meat; special contains the remaining body meat with some lump and flake meat; cocktail claws are scored with the tip left on. The body meat is white, and claw meat is brown.
Product pdf for download
3.5 oz (100g) raw edible portion
Calories 87

Calories from Fat 14
Total Fat 1.5g /2%

Saturated Fat 0.2g /1%
Cholesterol 85mg/28%

Sodium 237mg/10%
Total Carbohydrates 0g/0%

Protein 17g/34%;
Monounsaturated 0.2g/1%

Polyunsaturated 0.6g/3%
Potassium 275mg/8%

Vitamin A 0%
Pantothenic Acid 4%

Vitamin B-6 8%
Vitamin B-12 103%

Vitamin E 9%
Texture
The texture of hard-shells is tender while the soft-shells are crispy since they are eaten with the shell on.
Quality Control
Like all crab, blue crabs must be kept alive until they are cooked. Live crabs should be held in a cool environment but should never be iced. To maintain live crabs, they must be dipped in iced water for 20 seconds daily.
Preparation
Hard-shell crabs are best boiled and served whole. They, along with soft-shells, are also delicious in soups or stews. The blue crab meat is also good in salads, pasta dishes, or any recipes calling for crabmeat. Soft-shell blue crabs are best broiled, grilled, deep fried or sautéed.
Interesting fact
The blue crab begins its molting season with the first full moon in May to accommodate its summer growth.
Alternatives
Alternatives to blue crab are other crabs.
Source
Blue Crabs are harvested from Cape Cod to the Gulf of Mexico; most blue crabs are harvested in the East Coast.
Harvest Method
Traps, pots and dredges are used to catch hard-shell blue crabs. Soft-shells (crabs that have recently molted) are caught in nets.
Harvest Season
Fresh and frozen hard-shells are available year-round, though supplies are limited in the winter. In the winter, the blue crabs bury themselves in the sand to avoid the cold water temperatures. These crabs will contain a lot of sand and are less desirable than those caught in the summer. Soft-shells are available May to September. Order your blue crabs from Frugé Seafood and have them delivered directly to your business.
Flavor
Blue crab has a rich and sweet flavor.
Market Segments
Blue crabs are appropriate for casual dining, fine dining, hotels, and resort/country clubs.
Crab Parts
Meat… most processed blue crab is marketed as picked meat, in three basic grades: Jumbo or jumbo lump… The largest unbroken pieces of white meat from the body, connected to the swimming legs. Lump, backfin or special… White body meat, containing smaller and broken pieces of lump and flake meat. Claw and claw fingers… The darker meat from the claw.