Shellfish
Crab, Dungeness
scientific name:
Cancer magister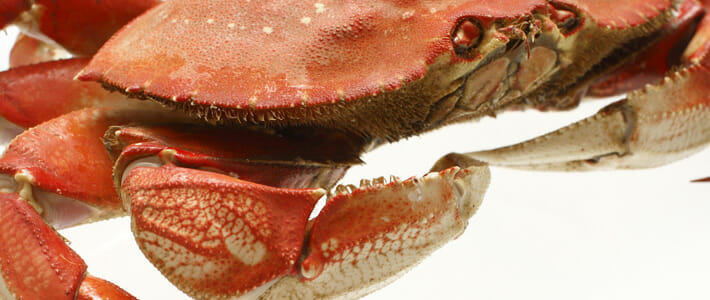 The raw shell of a Dungeness crab is light, reddish-brown on the back, and the underside is white to light orange with white tips on its pinchers. The meat is bright white when cooked.
Only male Dungeness crabs measuring at least 6 ¼" are harvested. Undersized males and females are thrown back to the sea alive.
Product pdf for download
3.5 oz (100g) raw, edible portion
Calories 87

Calories from Fat 5
Total Fat 1.2g

Saturated Fat 0.17g
Cholesterol 0

Sodium 266mg
Total Carbohydrates 0g

Protein 17.3g
Texture
The texture of Dungeness crab is tender and flaky; leg meat is somewhat firmer than the body meat.
Preparation
Dungeness crab lends itself to a variety of preparations including steaming, baking, microwaving, sautéing, and simmering. Simply thaw and heat gently for hot menu items or heat and chill for cold dishes. On the West Coast, Dungeness crabs are traditionally eaten whole, freshly cracked with melted butter and sourdough bread. Its meat is good in stews, soups, salads, pasta dishes, seafood cocktail, omelets, cioppino, and crab cakes.
Quality Control
Live crabs that show no movement when handled should be discarded. The meat should be white, moist, and smell fresh.
Interesting Fact
Named after a Washington State fishing village, Dungeness crab was the first crab fishery established in the Northwest.
Alternatives
King crab and snow crab can be used as substitutes for this species.
Source
Dungeness crabs are harvested from Southern Alaska to Southern California. We ship fresh Dungeness crabs directly to our distribution centers.
Harvest Method
Dungeness crabs are caught in pots in shallow water and brought live to processing plants.
Harvest Season
Live and fresh-cooked Dungeness crabs are available November through February. Frozen product is available year-round with peak availability during the winter harvest months based on annual catch. You can order wholesale seafood from Frugé Seafood today.
Flavor
Dungeness crab is sweet and mild.
Market Segments
Dungeness crab is appropriate for casual dining, fine dining, hotels, and resort/country clubs.