Shellfish
Snow Crab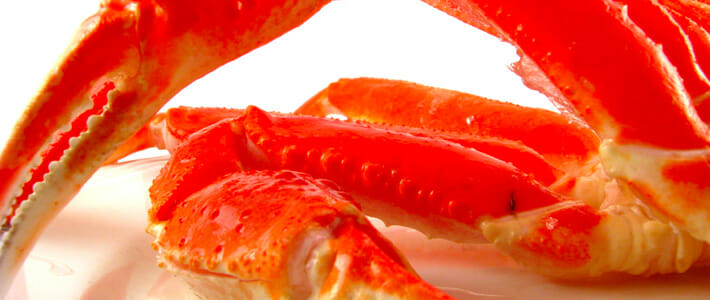 Snow crab is somewhat similar in appearance, but smaller than the king crab. The snow crab averages 5 pounds and measures 3 feet from claw to claw. The cooked meat is snowy white with red to pink tinges. There are four species of snow crab: bairdi, opilio, tanneri, and jaconicus. The opilio is the main commercial species. Virtually all snow crabmeat is marketed frozen.
Product pdf for download
3.5 oz (100g) raw edible portion.
Calories 90

Calories from Fat 11
Total Fat 1.2g

Saturated Fat 0.1g
Cholesterol 42mg

Sodium 539mg
Total Carbohydrates 0g

Protein 18.5g
Texture
Snow crab has a firm, but delicate texture. Its texture is also more fibrous than king crab.
Preparation
As snow crab is sold and pre-cooked, it needs to only be thawed for chilled applications, or thawed and heated for hot applications. Split legs are best prepared broiled, grilled, or served cold as an appetizer. Whole legs and clusters are best steamed or sautéed as an entrée. Snow crab meat is very good in omelets, crepes, quiches, soups, salads, pastas, and casseroles. A convenient appetizer is the cocktail claw, cap removed and ready to eat. Any part of the snow crab can be used to make a dish more visually appealing. The snow crab meat should be well glazed in order to avoid dehydration. Legs or clusters that are to be heated should not be thawed in a microwave, instead, they should be put in a poly bag or covered with a damp towel to prevent moisture loss, then heated for 5 minutes on a defrost setting.
Alternatives
Other crabs.
Source
Snow crab is harvested in cold waters of the north Pacific Ocean and the east coast of Canada in the North Atlantic. Some product is also harvested around Greenland, Argentina, and Chile. You can order snow crab online year round with Frugé Seafood. Give us a call at 877-215-4872 for any wholesale seafood needs you have.
Harvest Method
Snow crabs are caught in traps. They are kept alive in saltwater holding tanks until they are processed. Females and under-sized male crabs are returned live to the sea.
Harvest Season
Snow crabs are generally available year-round. The snow crab season depends on quotas issued by region, and the season ends when quotas are met. In Alaska, the season usually runs between January and March, and in Canada, it runs from late April or early May to November.
Flavor
Snow crab has a sweet and tender flavor.
Market Segments
Snow crab is appropriate for buffet, casual dining, fine dining, hotels, and resort/clubs.