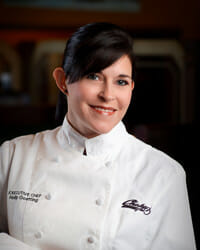 Charley G's Executive Chef Holly Goetting
Holly is a native daughter of Lafayette, Louisiana, with parents of German and Cajun heritage. When she was only ten years old, she fell in love with cooking and dining, and (although she doesn't remember saying so) she declared her wishes to be a chef.
After working in the kitchens of Lafayette restaurants while attending the University of Louisiana at Lafayette, Holly made the decision to pursue a culinary career and began her studies at the John Folse Culinary Institute at Nicholls State University in Thibodaux, La. As a component of her culinary curriculum there, she chose to work at Goose Cove Resort on Penobscot Bay in Maine for an externship. After her graduation from Nicholls in 2000, Holly worked briefly in Vail, Colorado, at the Mirabelle Restaurant where she was introduced to classical French cooking and culinary techniques.
Since 2001, Holly has worked at Charley G's Seafood Grill in Lafayette, LA. starting as a cook in the kitchen, she worked her way up to the position of sous chef in 2002 and to executive chef in 2003. In 2005 Holly received the "Chefs to Watch" award from Louisiana Cookin Magazine, which gave her the opportunity to cook at the James Beard House in New York City. In 2007 Holly won best of show at Palates & Pate, a fundraiser for the Acadiana Outreach Center and in 2008 Holly was named Best Chef by the Times of Acadiana. In her position as chef at Charley G's, Holly enjoys most the freedom of creativity and self-expression of working with fresh ingredients. The monthly wine dinner is high on her list of favorite activities at the restaurant. When she is away from the kitchen she generously gives her time to various charity organizations in and around Lafayette.
Although her travels have taught her different culinary customs, she appreciates the special flavors and tastes of Louisiana—especially Lafayette and Acadiana.
See Chef Holly Goetting's "Wood Grilled Seabass"
Executive Chef Holly Goetting
Charley G's
7300 Dallas Parkway
Plano, TX
972.398.2221