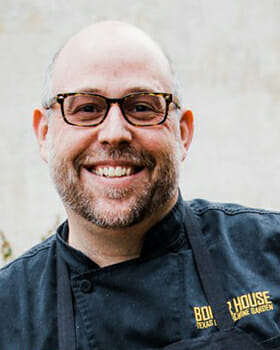 Jarrad Gwaltney has taken over the helm at the Boiler House Texas Grill & Wine. Jarrad started out as a busboy when he was 18 years old. Twenty-five years later he's loving being a chef. "I'm proud that my roots are here in San Antonio when it comes to my culinary knowledge and skill. Working under chefs like Jeff White, Bruce Auden and Martin Stembera have really molded me and prepared me for the next level." said Chef Gwaltney in an interview with Jessica Elizarraras of SACurrent.
Born in Charleston, South Carolina into a military family, Jarrad found himself moving around, taking in the sights and tastes of places like St. Louis, Hawaii, and Washington D.C. However Jarrad's experience has been more of a Texas and Mexican influence that he brings to the Boiler House. He makes a mean duck mole. It's a duck confit leg, smothered in a homemade black mole sauce. The menu will slowly start to change by injecting dishes here and there seasonally. The core items such as Cracking' pork belly with pickles radish will continue to stay the same.
When not cooking, chef spends a lot of time working in his garden, mostly ornamental, not edible. He loves to go to local art shows and the theatre.

312 Pearl Pkwy., Bldg. 3  |  San Antonio, TX 78215  |  210.354.4644