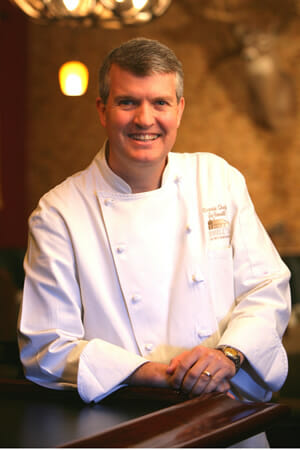 After graduating from Vanderbilt University in 1994, Fort Worth native Jon Bonnell taught science and math for two years in Dallas before deciding to pursue his love for cooking. He followed his dream and enrolled in the New England Culinary Institute (NECI) in Montpelier, Vermont.
During his tenure at NECI, Jon completed a six-month culinary internship at Mr. B's Bistro in the historic New Orleans French Quarter, where he acquired his Creole flare. He graduated from NECI in 1997 and returned to Fort Worth where he honed his cooking skills. After two years at local upscale restaurants, Jon initiated plans to open his own signature restaurant in his beloved hometown of Fort Worth, and in 2001 Bonnell's Fine Texas Cuisine opened its doors to the public.
Jon Bonnell's cuisine is an upscale look at the foods of Texas. His recipes are enhanced with regional Creole, Southwestern, and Mexican spices to bring truly authentic, well-loved cuisine from the Lone Star State into homes all over the world.
Chef Bonnell has cooked at the prestigious James Beard House in New York City in 2004, 2005 and 2008. He has also been featured on NBC'sThe Today Show, CBS's The Early Show, ABC's Nightline, ABC's GMA Now, Better TV, as well as The Food Network's BBQ with Bobby Flay and The Food Network's Meat & Potatoes. Bonnell's has continued to win the "Award of Excellence" from Wine Spectator from 2004 to 2010 and currently hold the highest food rating in the Dallas/Fort Worth Metroplex by the Zagat Survey of Texas Restaurants.
See Chef Bonnell's recipe for Pecan-Crusted Texas Redfish
[button link="http://www.texaschefsassociation.org/" newwindow="yes"] Texas Chef's Association[/button]