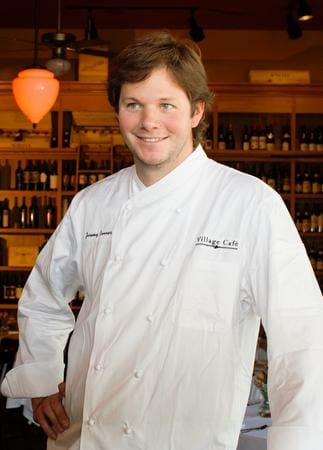 Chef Jeremy Conner has been overseeing the kitchens at Village Cafe in Lafayette, LA since a concept change brought the restaurant to its current state in 2009, and earned a recent promotion to the post of Executive Chef.  Unique to Lafayette, Village Cafe features both a casual lunch menu and a refined white-linen dinner experience.  The restaurant boasts the area's most extensive and prestigious wine list and draws from all the world's cuisines in addition to local ingredients and regional influences to synthesize a singular seasonal dining experience.
A transplant from Pensacola, FL where he previously worked at Jubilee and The Global Grill, Chef Conner brings together flavors from the entire Southeast.  From the beautifully bright flavors of the Emerald Coast to the heartiness of Cajun cooking, all are represented in his innovative locally sourced cuisine.
Chef Conner lives in Lafayette where he enjoys spending time with his daughter and indulges in the local heritage and cuisine.  Whenever possible, he enjoys fishing in the Louisiana marsh and the Gulf of Mexico, and makes frequent trips back home to Pensacola to visit friends and family and for a change of fishing and dining scenery.
Summertime Softshell Crab – Frugé Seafood
Village Cafe
On the Square in River Ranch
1 Degaulle Square
Lafayette, LA 70508 USA
337-981-8085 work
337-456-8341 fax