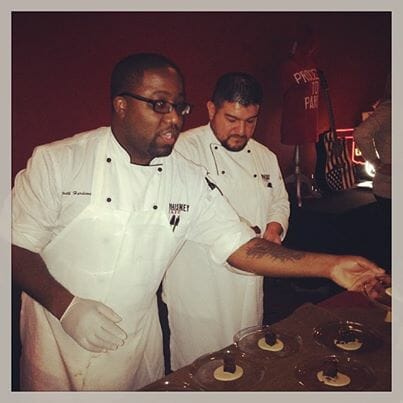 [button link="https://www.frugeseafood.com/redfish-recipe/" color="red" newwindow="yes"] Redfish recipe[/button]
Executive Chef Kenneth Hardiman is responsible for the skillful cooking of Whiskey Cake Kitchen & Bar's seasonally-rotating farm to fork menu. Born in Kansas City, Missouri in 1979, Kenneth's love for food blossomed at a very a young age. A curious kid, Kenneth was fascinated by his family's culinary heritage and would continually mature his palate with a variety of cuisine influences. He was also very inspired by art and drawing, and decided he would pair these skills together by applying for culinary school after high school graduation.
Hardiman attended the Brown Institute to study in the Le Cordon Bleu Program in Minneapolis, Minnesota. In his years here, he learned the philosophy of traditional French cooking and mastered the essential cooking techniques. After graduating in 2001, Hardiman jumped right into the role of Sous Chef for Fedora Café in Kansas City. From there, Hardiman spent the first decade of his culinary career in a variety of kitchens across the county, where he grew in discipline and began to hone in on his personal cooking style. After years of hard work, promotions and critical experience, Hardiman landed the role of Executive Chef at Westside Tavern in Los Angeles, California under Warren Schwartz and Brenton Hammer. Hardiman worked at Westside Tavern for two and half years and during that time, the restaurant received many accolades and awards.
After his success in Los Angeles, Hardiman transferred to Dallas, TX where he became the Executive Chef and eventually Managing Partner of The Porch Restaurant. During his three years there, Hardiman met the guys behind the original Whiskey Cake in Plano. Hardiman was soon offered the position to lead up the second Whiskey Cake location in Oklahoma City. Kenneth's belief in the Whiskey Cake concept led him to pack his bags and make the move.
Since Whiskey Cake Oklahoma City opened in May 2013, Kenneth has thoroughly enjoyed being in a restaurant that takes such great efforts to be locally sourced, innovative and seasonal. He feels blessed to live near his family and beautiful wife who have all supported him in his journey through the culinary world.
Executive Chef, Kenneth T. Hardiman
Whiskey Cake Kitchen & Bar
http://www.whiskey-cake.com
3601 Dallas Pkwy.
Plano, TX 75093
972.993.CAKE