by Leah Tieger
Frugé Seafood's third annual School of Fish, held September 23 in the Las Colinas Country Club's Grand Ballroom, gathered five expert speakers and over one hundred of Dallas-Fort Worth's best chefs, restaurant managers, buyers, and distributors. Guests mingled beneath high-beamed ceilings while taking in stunning views of the golf course and chatting over appetizers of oysters and ceviche. Company president Michael Frugé welcomed attendees and said that the 2013 School of Fish was their "best event so far." There's "no sales pitch. It's purely information, and we're here to help you learn about seafood." Dan Light of Panagea Shellfish Co., the evening's first speaker, also noted that it's "nice not to have a sales pitch and just talk about oysters."
Topics covered over the course of the evening included fishing and aquaculture, wild-caught fish versus farm raised, sustainability, and tips for successful ordering. Light remarked that farmed oysters are more sustainable than wild-caught, and he detailed his farmers' various methods, explaining that each region offers oysters with differences in flavor as distinct as wine varietals. Light, like many of the evening's speakers, stated that informed diners are just as important as informed chefs and buyers, and he highlighted Pangea's Oysterology tags, which feature varietal, flavor, and regional background on every bag of oysters they sell.
Jonathan Eddy, who spoke on behalf of Beacon Fisheries, remarked that he usually works with suppliers, and "it's really been an opportunity to see so many of the buyers." Eddy covered grouper and a little bit of snapper, highlighting the different types of each fish and the waters where they are harvested. Like oysters, every member of the grouper family has a distinct flavor profile. Eddy shared a calendar that tracks typical grouper and snapper availability by type and pointed out that flexible chefs and buyers are the ones who get the best deals.
The evening's third speaker, Chuck Anderson of Pier Fish Co., covered "Seafood 101," providing "information for seafood managers, chefs, and new, young buyers." Anderson focused on fisheries management and challenges, highlighting sustainability and efforts to design nets that allow endangered species to pass through them unharmed. He touched on world seafood production and the shift toward farming, offering tips for fresh fish procurement, pricing, and negotiating, as well as helpful criteria for evaluating suppliers and keeping costs down.
Jim Ekstrom spoke on behalf of the family-owned Ekstrom Farms, which runs the largest hybrid striped bass farm in the United States. Ekstrom covered seasonality and farming practices for striped bass and redfish, and he also touched on harvesting and packing, permitting, and food safety practices. He additionally stated that Ekstrom Farms is teaming with Frugé Seafood to host the upcoming Silver Streak Showdown cooking competition.
John Nagel Co. speaker Scott McDonald offered a comprehensive overview of salmon, calling the wild-caught fish "salmon by God." McDonald compared farmed and wild-caught varieties, and he outlined fishing practices, processes, and sustainability before offering wine pairing suggestions for different types of salmon. Ultimately, he noted that it's about helping customers enjoy seafood more.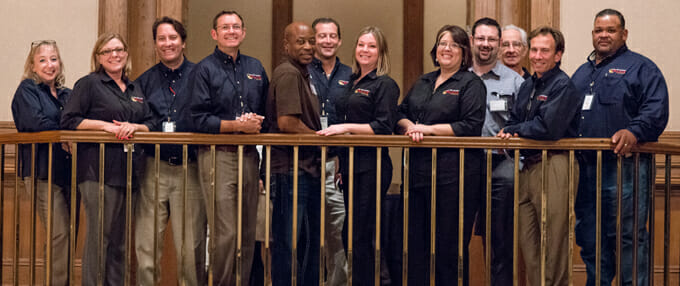 After Nagel spoke, Frugé took the podium once again, introducing his staff and acknowledging their hard work. He invited School of Fish "students" to enjoy the buffet, which featured all of the fish discussed over the course of the evening, along with julienned vegetables, salad, and succotash. Four different varieties of oysters on the half shell were served (Mayflower, Pemaquid, St. Simon, and Wellfleets), allowing guests to taste the subtle differences between them. Seared striped bass was dressed in a red curry coconut cream and Achiote grouper was paired with a light green apple sauce. A baked United Kingdom Salmon was served, whole, with creamy smoked tomato butter.
Phil Levinson from Guckenheimer praised School of Fish. "It's neat to get so many different people involved in different parts of food service together at one time," he commented. "There is no way I could ever know what these guys know" and "what I can take away and bring into my restaurant is so impactful." The School of Fish is "a means to give back to our customers" and "share some of our fish knowledge," Frugé explained. "This is our third one and each has been progressively better."

Photos by Ray Quezada
Videos of each presenter can be found at the links below.
The introduction of the show by Michael Frugé
Dan Light with Pangea Shellfish on East Coast Oysters
Jonathan Eddy with Beacon Fisheries on Grouper/Snapper
Chuck Anderson spoke about seasonality of the Seafood Industry
Jim Ekstrom with Ekstrom Enterprises on Striped Bass
Scott McDonald with John Nagel Co. on wild Salmon