Recipe supplied by Chef Chris McCabe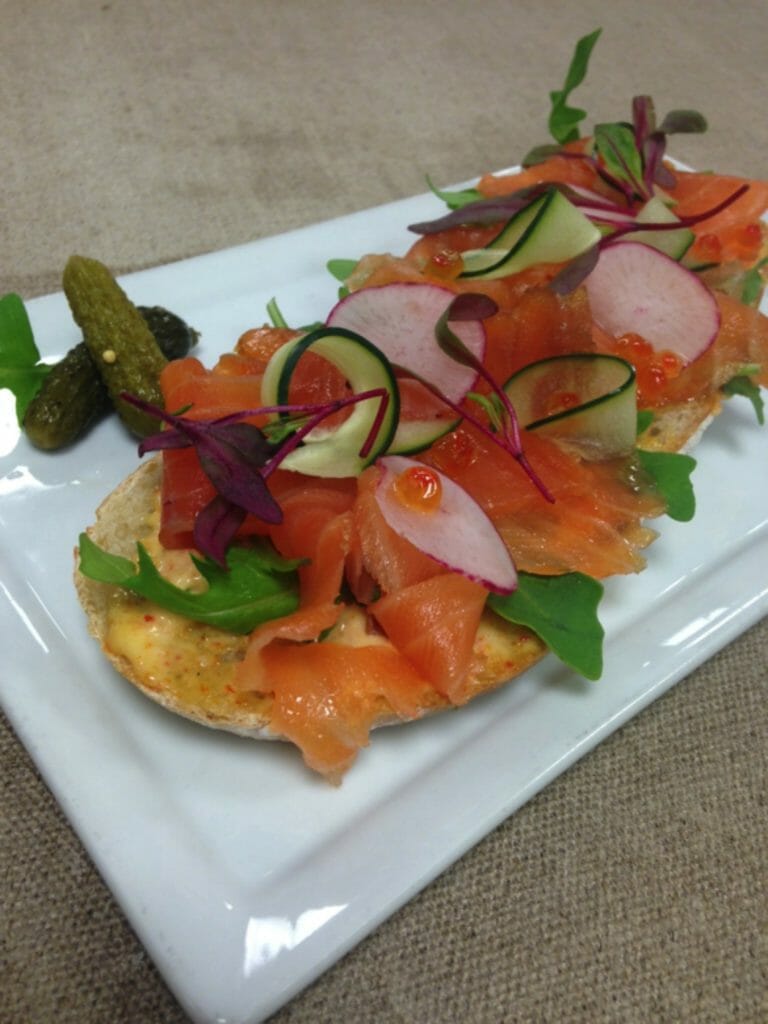 Smoked salmon
1 cup brown sugar
1 cup kosher salt
¼ Fresh Thyme chopped
4 Bay Leaves
2 Sides Scottish Salmon
Place everything except salmon in robot coupe and pulse to mix. Generously coat salmon, both sides, and cure in walk‐in for 3 days. Rotate salmon every day. Rinse salmon then pat dry. Cold smoke for 30-45 minutes. Store in walk-in, tightly wrapped.
Togarashi Mayo
2 Garlic Cloves
1 Egg Yolk
½ Lime Juiced
1 T Togarashi Spice
1 tsp Sugar
1 Cup Extra Virgin Olive Oil
In a robot coupe, blend together, garlic, yolks, juice, sugar and spice. Slowly drizzle oil into mixture with the machine running. Season with salt.
Plate Spec
3 oz Thinly Sliced Smoked Salmon
1 Slice of Buttered and Toasted Sourdough
2 T Togarashi Mayo
Garnish:

Arugula
Salmon roe
Bulls Blood Micro Greens
Cucumber
Red Radish
To assemble, spread mayo on toasted sourdough. Top with smoked salmon. Garnish with arugula, salmon roe, micro greens, cucumber and radish. Serve with gherkins on the side.