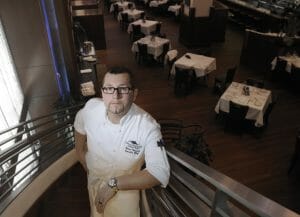 By
Leslie Brenner, Restaurant Critic
lbrenner@dallasnews.com | BioThe Capital Grille is set to open in Plano on Thursday, August 4 in the Shops at Legacy; Aaron Valimont, who recently left the Oceanaire Seafood Room, is executive chef. When I learned in April that Valimont was leaving Oceanaire to head up the Capital Grille kitchen, I felt it was a great loss for Oceanaire, as his cooking had lately really taken off.
His new menu at Capital Grille Plano is almost identical to that of the Capital Grille in Dallas; he'll showcase his own dishes as daily specials. There will also be a summer "plates" menu offered at lunch, with a choice of three soups or salads, three sandwiches and three sides for $18.
Chef Valimont began his culinary career in Tacoma at The Lobster Shop, later working under Executive Chef Will MacNamara at Seattle's Washington Athletic Club before taking his knives to the TPC Snoqualmie Ridge Golf Club. He then trained under Food and Wine "Best New Chef" Gordon Naccarato, opening The Pacific Grill in Seattle first as sous chef and ultimately being promoted to Pacific Grill's executive chef.
"In addition to providing our guests with the finest and freshest seafood and beef along with absolutely the best accompaniments and skilled preparation, it is of the utmost importance to me that we give our Oceanaire guests excellent value for their dining dollars," said Valimont, an Eastern Washington native who cut his teeth in the restaurant business in the South Puget Sound area.
When not in the kitchen, you will find the chef talking to dining guests about everything from cocktails to dessert, as his ultimate goal is to provide a dining experience that is above and beyond guests' expectations.
"Each day is a culinary adventure as we create our menu with the fresh seafood the market provides while emphasizing the simplicity of seasonal preparations, regionally inspired dishes and generous portion sizes," Chef Valimont said. "In addition, our seasoned wine stewards will help select the wine that best compliments our guest's meal."
Valimont's time at The Pacific Grill enamored him to the industry and developed his reputation as a well respected individual who stresses the importance of using sustainable foods and approved selection method. Since coming to Dallas, Valimont reports that he is already becoming involved in sharing his time and expertise to various community groups.
The Capital Grille
7300 Dallas Parkway
Plano, TX
972.398.2221