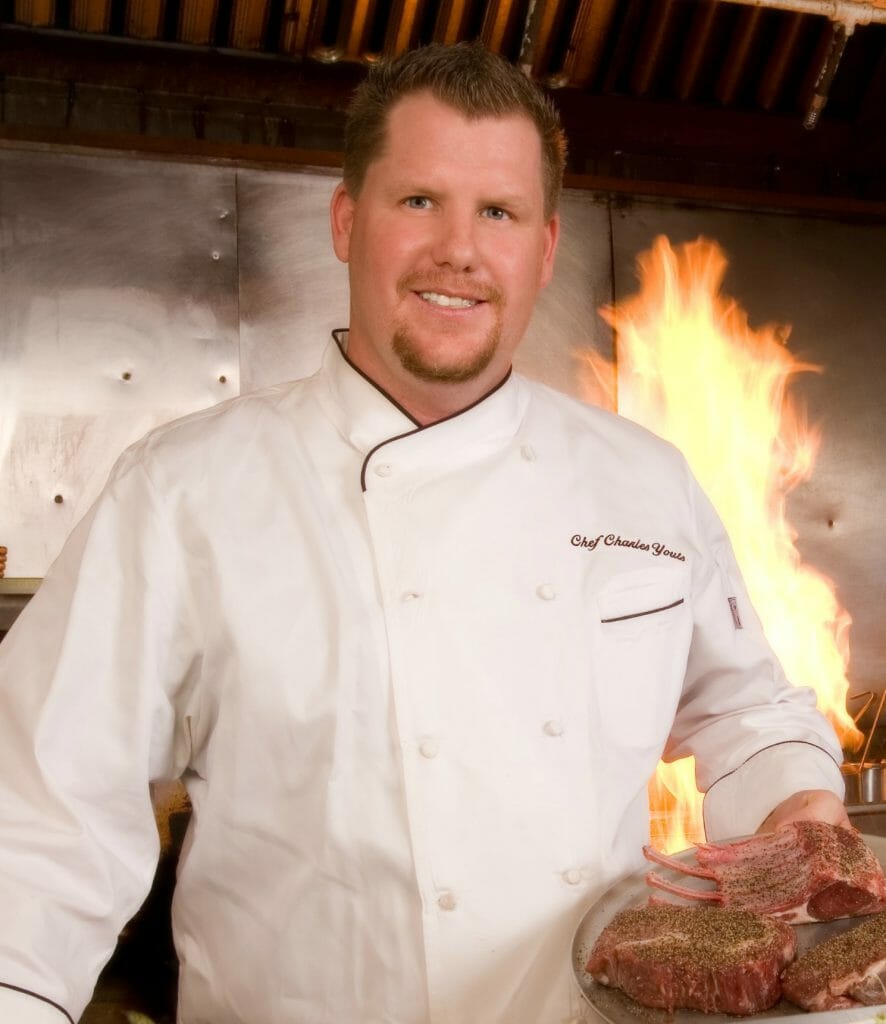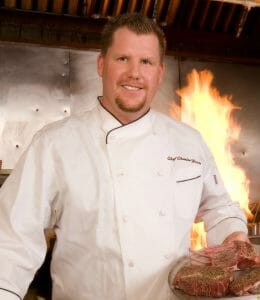 [button link="https://www.frugeseafood.com/quinoa-crusted-pollock/" newwindow="yes"] Recipe for Quinoa Crusted Pollock[/button]

–
Chef Charles grew up just outside San Angelo in Grape Creek, TX.  He and his family were actively involved in the FFA programs growing produce and raising livestock.  Charles enjoyed family hunting and fishing trips throughout west Texas and participated in chuck-wagon style cook-outs winning many competitions ranging from chili and brisket to "complete meals" in open fire Dutch ovens.  Charles continues to teach children cooking and grilling techniques today, feeling lessons learned around the campfire are even more pertinent in today's fast paced "drive thru" world.    
Although Chef Charles has an innate ability to combine tastes and flavors for maximum enhancement, he wanted to improve his overall culinary skills and techniques.  His desire to be a world class chef led him to enroll in The Art Institute of Dallas and complete an Associates of Applied Science degree in Culinary Arts in the summer of 2001.   Charles continues his connection to The Art Institute by serving as a mentor to recent graduates.
Since joining forces with independent restaurateurs, Chris and Curtis Wells, at The Classic at Roanoke, Chef Charles has risen quickly in the culinary landscape of the Dallas Fort Worth metroplex.  As an independent restaurant located between Fort Worth and Denton, TX, The Classic stands alone in providing Northeast Tarrant County and Denton County with outstanding quality and impeccable service.  Chef Charles leads the team of dedicated professionals seeking to provide award winning favorites while introducing patrons to a world of new flavors and cooking techniques.  Chef Charles maintains his love for open fire cooking, smoking many of the menu staples for The Classic, such as smoked salmon and smoked pork tenderloin.  Additionally many of the weekly features at The Classic are derived from Chef Charles' experimental techniques with smoking and infusing.  Patrons have the opportunity to learn cooking techniques and participate in hands-on cooking classes conducted by Chef Charles on the patio at The Classic.  Classes range from basic grilling and smoking to regional specialties, like caribbean or pacific rim to wild game and kids classes.  
The Classic is committed to serving the community that supports it and provides numerous opportunities for Chef Charles to "show off" his culinary skills.  Each year The Classic participates in tasting events like Safe Haven's Celebrity Chef Charity event, the Taste of Denton, along with Lena Pope's Sweetheart Dessert Fantasy.  Additionally, the Metroport Meals on Wheels Annual Wine Dinner provided by Chef Charles and The Classic Café is an exceptional four course wine dinner where patrons show their support for both the Classic and MMOW.   
Chef Charles also lends his hands to teach cooking classes at Market Street in Colleyville and Williams-Sonoma in Southlake.  Although many chefs teach cooking, class members say Charles demonstrates a laid back, approachable style that makes the classes both fun and memorable.  Chef Charles readily shares any recipe with patrons both at the restaurant and during classes so that students can begin using the skills learned in the classes at home with their families.  
Experience for yourself the passion for quality, the desire to share with others and the quiet confidence from knowing you are your own worst and BEST critic, of executive chef Charles T. Youts at The Classic at Roanoke.