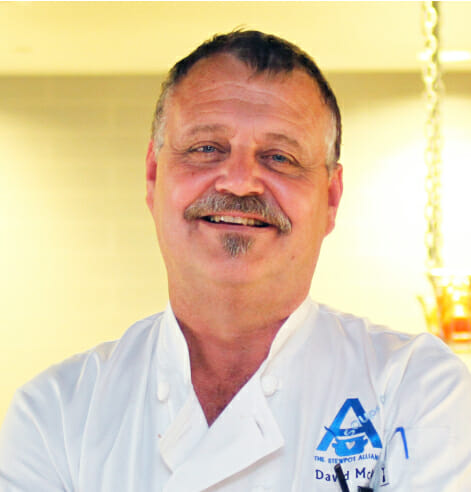 Chef David McMillan, a California native, studied fine arts and sculpture at Boston University before a stay in Europe re-set him on a culinary course which has taken him to St Augustine, Atlanta, Beverly Hills, Boston and LA as well as the wine country in France and California. Playing multiple roles, David has been chef, owner, and caterer for top rated restaurants, hotels, Hollywood celebrities and world dignitaries.
Growing up in the Berkeley area during the beginning of America's culinary revolution David was strongly influenced by the likes of Alice Waters, Jeremiah Towers, Jonathan Waxman and Mark Miller. David balanced his California culinary roots with time in Europe beginning as a commis at Café Konig in Baden Baden, one of Germany's finest resorts and has worked with some of Europe's most prestigious wine chateaus including Petrus, Pontet Canet & Chateau St. George. Stateside, McMillan has been associated with some of the country's leading hotel companies in addition to being executive chef at Beverly Hill's famed Peninsula Hotel, which was awarded both five stars and five diamonds during his tenure. As partner and executive chef of Legacy Restaurant, which opened in 1995, David presided over what LA Magazine voted one of the Ten Best New Restaurants in LA.
At the 1996 Olympic Games in Atlanta, David served as partner & executive chef for World Broadcasters division of the Atlanta Committee of the Olympic Games.
After a highly successful tenure with Nana (DMN 5 Star) in Dallas where he put a new spin on Upscale New American Cuisine, David was chef and owner of 62 Main in Colleyville. David created a neighborhood restaurant that he felt comfortable in as owner and guest. The food was shaped from McMillan's Northern California roots and times that he spent working in Bordeaux, Burgundy, and Napa. National & local reviews were glowing and appreciative of the chef driven local restaurant.
After 62 Main had run its course David collaborated with The Billingsley Co on Screen Door in Dallas in the new Arts District. This was his very comfortable & soothing interpretation of Southern food.
David has since joined with Shannon Wynne & Keith Schlabs. Based at Meddlesome Moth, recently named "The Best Beer Place in the World ". David will help to develop & oversee the restaurant side of new projects
David lives in Colleyville Texas with his wife Denise and son Ryan.
[button link="https://www.frugeseafood.com/kevin-bucks-famous-shrimp/" newwindow="yes"] Recipe for Kevin Buck's Famous Shrimp[/button]
_
–
____
Meddlesome Moth
621 Oak Lawn Ave., Dallas, TX 75207
214.628.7900