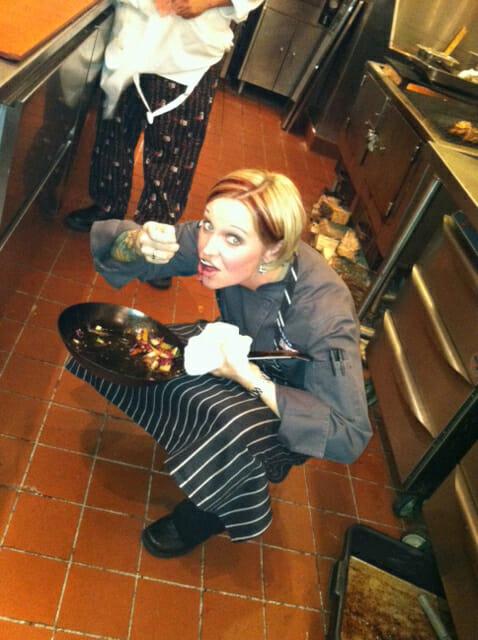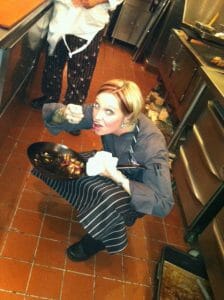 Age 36
Born and raised in Tacoma, WA just outside of Seattle
Self taught, no culinary schooling.
Started cooking 17 years ago.
Started as a prep cook and worked my way up.
Restaurant stints:
Mizuna, Spokane, WA fine dining vegetarian restaurant in downtown, featured in Gourmet magazine as one of the best restaurants in the area. Worked under chef Tonia Buckmiller
St. Louis Fishmarket, Downtown St. Louis, MO. Started as a line cook and within a year was promoted to Sous Chef. First professional experience working in a seafood restaurant. Worked under chef Phillip Paris
Bluepoint Coastal Cuisine, Downtown San Diego, CA. Started as their pastry chef, over the course of 4 years worked my way up to being Chef de Cuisine. Was offered the Executive Chef position just before my husband was transferred to Texas. Worked under chef Jonathan Hale. Bluepoint has been recognized as one of San Diego's top seafood restaurants. Owned and run by the Cohn Restaurant Group.
Other stints, country club, golf course, baking, pastries, mom and pop Italian, catering, weddings while working at an historical mansion in St.Louis, MO.
Being born and raised in the PNW, I developed a love for seafood at a very young age. Would hunt and fish with my father as well as foraging for mushrooms such as chanterelles. As a child I remember clam digging with my grandmother, trout fishing and "crawdadding" with my father. My family always had gardens growing up so I also developed my love for fresh seasonal food at a young age as well. My father also grew his own grapes and currants and dabbled in making his own wines and home brew.
Being a chef is something that just "Kinda happened." I was actually going to school for psychology with an emphasis in forensic studies when I met my husband at the young age of 18. He then joined the United States Air force and I decided to quit school to be with him. I started working in a busy full service bakery-coffee shop in downtown Spokane, WA by the name of Fitzbillies at the age of 19. I started off as a barista, then I went on to be their prep cook, then their baker, and then next thing I knew I was managing the whole place. That is where I first developed my passion for food. While working there I decided to take on a second job at Mizuna so that I could develop my skills as a cook. My husband's now 16 years in the service has allowed us to move around from WA, to IL, to CA, to TX, and next onto Denver, CO in the fall. People often ask me if it's hard as a chef to work hard in a city and develop the following and credentials that I do and then have to leave and start all over in a new city. Sure it's hard to leave, but I always look forward to learning the ins and outs of a new city both on a personal level as well as a culinary level.
Being a chef that has a passion for seafood can be tough knowing how much our rivers, lakes, and oceans are being depleted. I always try and make the best decisions when it comes to what I am serving and I try and be as educated as possible about where my seafood is coming from. Sometimes I upset people because I refuse to have something on my menu that I know I shouldn't. As chefs, it's our job to make the right decisions about what we are serving our guests and to educate them as much as possible about what they are eating or why I don't have certain items on my menu.

Jennifer Newbold | Chef
Rathbun's Blue Plate Kitchen
6130 Luther Lane | Dallas, TX 75225
p. 214.890.1103 | f. 214.890.1104 |c. 214-843-7530
www.kentrathbun.com