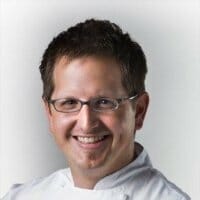 Chef Tauzin grew up in Opelousas, La., watching his mother and grandmothers cook, always trying to lend a helping hand. He landed his first restaurant job as a cook under Chef Marty Cosgrove at Oakbourne Country Club in Lafayette in 1990; it was there that he decided turn his childhood passion into a culinary career.
Tauzin left Louisiana in 1992 to attend Johnson & Wales University in Charleston, S.C., graduating in Culinary Arts. He returned to his hometown and went to work for Tony Chachere's Creole Foods, testing recipes for the Second Helping cookbook. Tauzin later accepted the Sous Chef position at Charley G's in Lafayette, before moving to Atlanta to help open Comeaux's Louisiana Bar & Grill as Executive Chef.
In 1997 Tauzin returned to Lafayette to become Executive Chef at Oakbourne Country Club. Over the next several years he worked at a variety of restaurants, including Rockfish Grill in Dallas and in Houston, Lafayette's Restaurant and Le Triomphe Country Club.
In January 2007 Tauzin took over Catahoula's restaurant in Grand Coteau and a year later was voted one of five "Chefs to Watch" by Louisiana Cookin' magazine. (http://www.louisianacookin.com/chefs-watch-2008)Located in a former general merchandise store, Catahoula's became one of the premier eateries in the area after Tauzin took over the kitchen. Tauzin garnered accolades from foodie journals like Southern Living and Gourmet magazine.
"Focusing on first-rate ingredients with a sensibility toward layering tastes is one of Tauzin's strong points," writes Independent Weekly food critic Mary Tutwiler. In November 2008, Catahoula's made The Independent's "Top Ten Restaurants" list. The recommendation, in part, read: "There's a lot to love on this menu, from the rich crab and corn tart to the seared foie gras or a beautifully executed dish of scallops paired with creamy shrimp and black truffle rice. Tauzin plays on Louisiana themes. His seared lamb tenderloin is glazed in citrus fig demi glace, and the grilled fish of the evening, topped with crabmeat in a lime-tequila sauce, comes with a sweet potato grits cake."
In 2009 Chef Tauzin took his successful formula — along with many new recipes — to new heights at Village Café  and POUR wine bar in Lafayette's River Ranch neighborhood
Chef Tauzin is currently the Corporate Chef for Tony Chachere's Creole Foods
Tauzin is the current President of the Acadiana Chapter of the American Culinary Federation and is active in numerous charitable events throughout Acadiana.
2008 Louisiana Cookin' Magazine
Chefs to Watch
2008 Restaurateur of the Year
LOUISIANA RESTAURANT ASSOCIATION, Acadiana Chapter
2010 Acadiana Culinary Classic
Best of Show Winner
[button link="https://www.frugeseafood.com/pan-seared-redfish-with-mixed-grens-and-a-louisiana-crawfish-vinaigrette" color="red" newwindow="yes"] Pan Seared Redfish Recipe[/button]
5604 I-49 North Service Rd.
Opelousas, LA 70571
337-407-4816