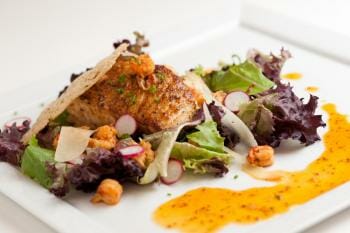 –
–
–
–
–
–
–
Recipe compliments of Chef Jude Tauzin
Yield:  4 servings
–
Ingredients:   
Redfish filet- scaled-skin on (5oz.), 4 each
Olive Oil, 2 Tablespoons
Tony Chachere's Herb and Spices Seasoning, 2 Tablespoons
Drizzle the 2 Tablespoons of olive oil into a large skillet on high heat once pan is hot place in the seasoned Redfish and reduce heat to medium high…  Allow fish to caramelize (about 2 minutes) then flip the fish and repeat the process. Place in oven and roast for 8 minutes. Remove fish from oven, and reserve for plating.
Warm Crawfish Vinaigrette
Butter, 1 Tsp
Louisiana Crawfish Tails, 1/2 Lb
Tony Chachere's More Spice Seasoning, 1/2 tsp
Creole Mustard, 1 Tabl
Rice Wine Vinegar, 2 oz
Olive Oil, 4 oz
Place the Sauté pan with butter on the stove over high heat, Add Crawfish tails and toss occasionally until heated throughout season with Tony Chachere's, remove from heat and add the Creole mustard and the rice wine vinegar, then slowly add the olive oil to create an emulsion. (Reserve for plating)
Place a small handful of mixed greens on the plate, place a piece of Redfish on top of the greens and spoon over the crawfish. Garnish with your favorite tomatoes or fresh vegetables.