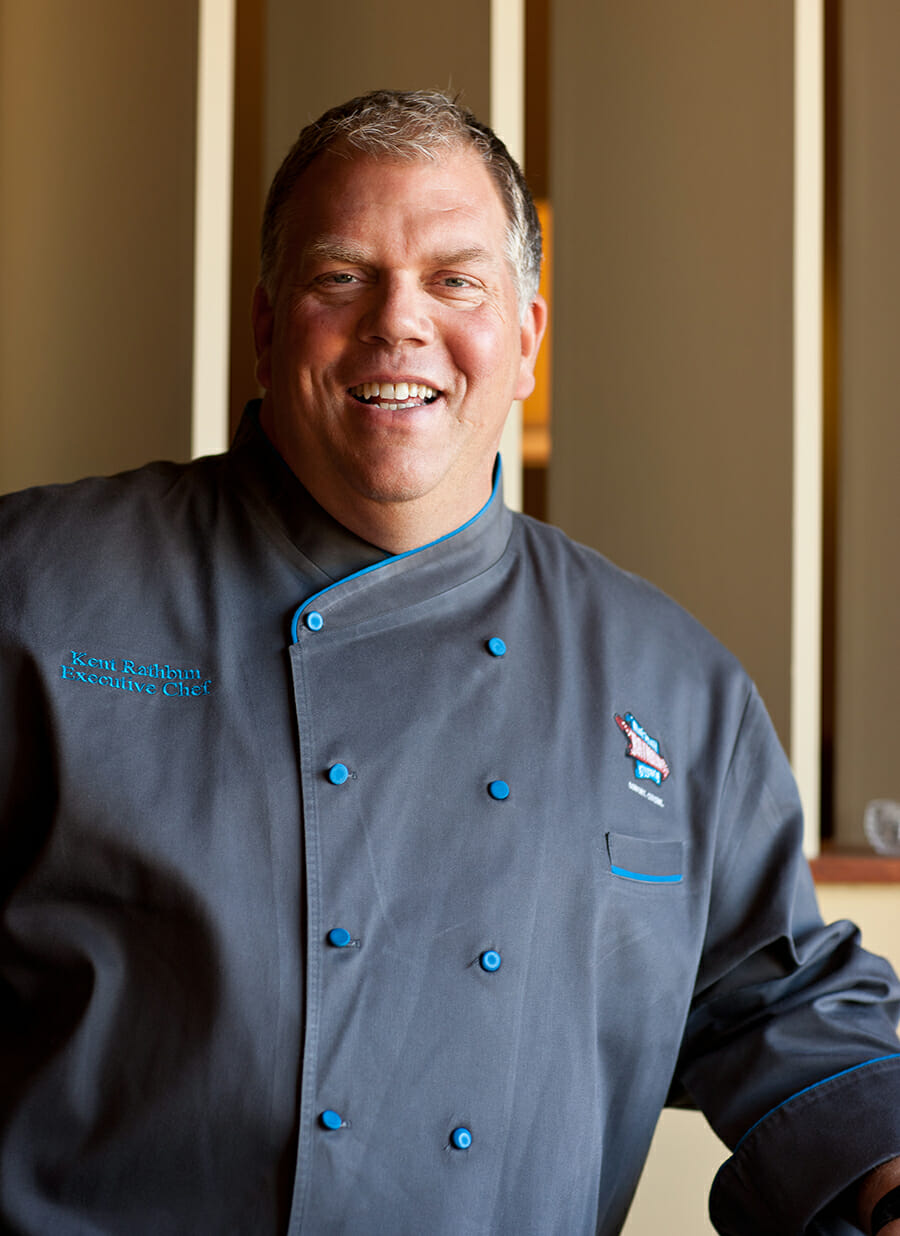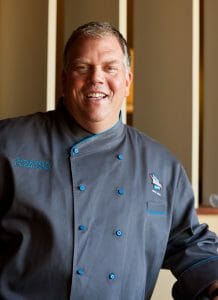 ABACUS, JASPER'S, RATHBUN'S BLUE PLATE KITCHEN, KB'S, KENT RATHBUN CATERING AND KENT RATHBUN ELEMENTS
After rapidly rising through the ranks of some of the world's finest restaurants, Chef Kent Rathbun continues to demonstrate his culinary skills not only with the expansion of restaurant concepts but also with his full-service catering company and newly launched line of products, Kent Rathbun Elements. Rathbun's roots are firmly set in food. At the age of nine, he discovered his passion for culinary creativity and began learning the skills and techniques needed to become the renowned and impressive chef that he is today. Starting as an apprentice at La Bonne Auberge, a five-star French restaurant located in Kansas City, Missouri, Rathbun gained the experience of working with high-end ingredients and learning the art of perfect preparation. Preparation was something Rathbun came to value, and that sense of significance continued with him as he moved from kitchen to kitchen, working with some of the best chefs in the country.
Most notably, Rathbun worked in the kitchens of Mr. B's in New Orleans, American Restaurant and Milano in Kansas City, The Mansion on Turtle Creek in Dallas and the Landmark Restaurant in the Dallas Melrose Hotel. While at the Landmark, Rathbun had the opportunity to make annual trips to Bangkok, Thailand, which provided him the resources and research to create his own spectacular style of Contemporary Global cuisine. Drawing on Southwestern, Mediterranean, American, Cajun/Creole and Pacific Rim influences, Rathbun's signature blend of flavors became the foundation of Abacus. In 1997, Rathbun decided to follow his dream, draw on his eclectic and distinctive style and establish his own world-class restaurant. Within months of its opening in the heart of Dallas' uptown district, Abacus began to be recognized as a pinnacle of fine dining and has received numerous accolades, including Mobil Four-Stars; AAA Four Diamonds; Bon Appetit's Best of the Year 2001 issue, which named Abacus' Chef's tasting menu a "Top Pick;" "Best Chef" by D Magazine; and "One of the Top Meals Around the World" by USA Today. Abacus' design, wine list and menu have also been recognized and featured in publications such as Elle, Southern Living, Veranda, Texas Monthly, and The Rosie Magazine. To date, the most prestigious of its recognitions has been Abacus' induction into the Nation's Restaurant News Fine Dining Hall of Fame. With a flourishing five-star restaurant exceeding his expectations, Rathbun decided to begin research for his second concept, Jasper's. Keeping with Abacus' level of ingredients and design, Rathbun wanted to add a touch of "home cooking" flair featuring a "modern outdoors" theme. Focusing on the best of America's regional cuisine, including steaks, chops, fish, rotisserie chicken, pasta, pizza and his mother's famous sink salad, Jasper's "Gourmet Backyard Cuisine" quickly became a location with distinction. With the opening of its first location in Plano, TX, Jasper's recognition helped kick-start Rathbun's idea of expanding to additional locations in The Woodlands and Austin, TX. Jasper's has been named one of Esquire Magazine's Top 20 Best New Restaurants in America and has been touted by various regional publications in all three of its locations, including Tribeza, Austin Chronicle, Austin American-Statesman, Austin Monthly, Modern Luxury, Texas Highways, Diversions Magazine, ReviewIt Magazine, PaperCity and the Houston Chronicle.
The successes of Abacus and Jasper's have foreshadowed the imminent legacy Rathbun's Blue Plate Kitchen, his third concept, has created in the Dallas area. Drawing influences from family recipes while focusing on the "roots" of cooking, Chef Rathbun uses the freshest ingredients from local/regional purveyors to create an eclectic yet comforting menu of home-cooked favorites with a touch of elegance. This new Mecca of casual, cuisine has already generated plenty of positive buzz, securing its place in Chef Rathbun's family of highly acclaimed restaurants.
KB's in Plano, TX. provides a perfect venue for special events. It has restaurant style atmosphere with a full bar, ample parking, and patio with a fireplace. It is Plano's premier spot for hosting wedding receptions, birthday parties, business functions and much more.
With demand for Rathbun's award-winning cuisine expanding beyond just his restaurants, Kent Rathbun Catering brings Rathbun's gourmet creations directly to consumer's homes, offices and events. The full-service company handles everything from menu planning and wine pairings to securing locations and décor, ensuring clients a stress-free event. The word has gotten out about Kent Rathbun Catering, with notable clients including Ross Perot, The Goss-Michael Foundation and even Oprah.
To give home cooks an advantage in the kitchen, Rathbun launched his own exclusive line of products. The Kent Rathbun Elements collection offers an assortment of products, all designed with the home cook in mind. Ranging from sauces and dressings to spices and marinades, the assortment captures Rathbun's signature style with a unique blend of flavors needed to make easy and affordable meals every day. By creating an astounding culinary legacy in Texas, Rathbun has thrived in the national scene. He has cooked at the James Beard House in New York on several occasions and was nominated as the James Beard Foundation's Best Chef: Southwest in 1999, 2002, 2003 and 2004. He has repeatedly appeared on a number of TV shows, including the Food Network's "Chef du Jour", Cooking Live with Sara Moulton, "Ready Set Cook", the CBS Early Show, the Rosie O'Donnell Show and NBC's Today Show. In 2008, Rathbun competed on Food Network's hit series "Iron Chef America" and defeated grill master Bobby Flay in a frenetic culinary battle.
Rathbun was honored to be one of the featured chefs for the Bush 2001 Inaugural Ball and has participated in the Pre-SuperBowl Event, "Taste of the NFL" for the past seven years. Passionate about charitable organizations, Rathbun is actively involved in the American Cancer Society, March of Dimes, Zoo to Do, the North Texas Food Bank and the American Heart Association.