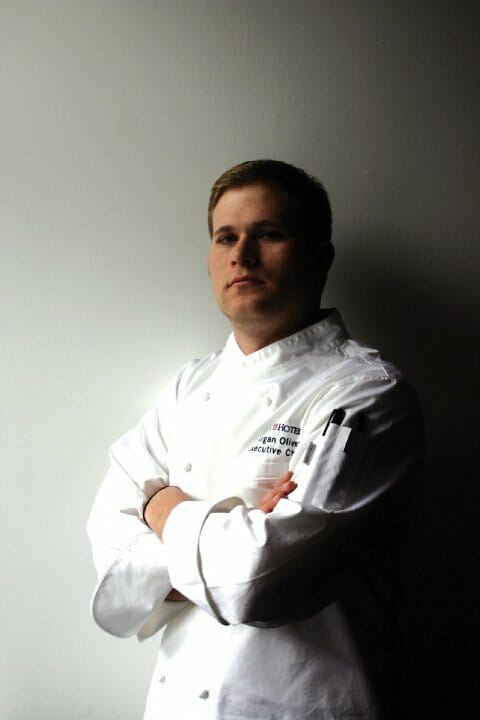 Morgan Oliver, Executive Sous at the Omni Dallas Park West. Morgan moved to Dallas a little over a year ago from Charlottesville, VA where he was Executive Chef of the Omni Charlottesville Hotel.
Morgan began working at the age of 15, gaining experience in a variety of food service establishments. While in school at East Carolina University, he worked at the Greenville Country Club and the City Hotel and Bistro. Morgan credits the majority of his experience to his time spent at City Hotel and Bistro, where he worked as a line cook and then as sous chef. After graduating college, he began working with the Newport Hospitality Group as head chef. A year later, Morgan was offered a job in Charlottesville, VA, as Executive Sous Chef at the Omni. He was promoted to Executive Chef just eight months later at the age of 24. At that time he was the youngest Chef in the company and continued to be until 2011 when he decided to make the move to Dallas. Now at 29, he brings 12 plus years of experience to the Dallas Park West Hotel where he is the Executive Sous Chef. Dallas is the corporate headquarters for Omni Hotels and Resorts, and last year saw the opening of its newest property the Omni Dallas Convention Center Hotel. In his six years with Omni Hotels and Resorts Morgan has be awarded Manager of the Quarter recognition in 2007, 2009, 2010, 2011, and in 2008 was awarded Manager of the Year.
Working for Omni Hotels has given me some great experiences. I have done numerous task force chef assignments for other properties and with other Omni Chefs. I have gotten the chance to experience unique world food and wine programs that have included Chile, Spain, Argentina, and France. Omni is consistently in the fore front of Food and Beverage trends in upscale hotel chains. They make it a point of focus for every hotel in the company.
"I love cooking and being in the kitchen,says Morgan." I am passionate about what I do, and I think that my passion translates into my work. Hospitality is an unbelievable business because you get to work with and around so many different people. Your ultimate goal in hospitality, no matter what area, is to make sure that your guests are happy, and that is very rewarding." In closing, "The one thing I try to take with me and pass on to other upcoming Chefs is the value of knowledge. If we learn something new everyday then when we look back years from now we will be able to see the vast amount of knowledge we have gained. I think that if we stop learning then we in a sense stop creating."
I look forward to what the future holds for me here in Dallas.
[button link="https://www.frugeseafood.com/southwestern-shrimp-and-grits/" color="red" newwindow="yes"] Southwestern Shrimp & Grits recipe[/button]

Morgan Oliver
Executive Sous
Omni Dallas Park West
1590 LBJ Freeway
Dallas, Texas 75234
972.869.4300