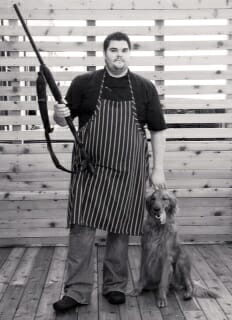 When Nathan Tate was a young boy a family friend asked him, "What do you want to be when you grow up?" He replied, "I don't know what I want to be, but I want my own refrigerator."
Nathan has had a passion for food since an early age. His main culinary influences stem from his mother Nancy and grandmother, Lucile. Nancy owned Goliad House Restaurant in Rockwall, catered for the Dallas Cowboys and wrote a food column in the local newspaper.  She instilled the flavors of New England while Lucile cooked classic southern cuisine.
Nathan was born and raised on his family's farm and is a third generation Rockwall native.  He has been involved in the restaurant industry for more than eleven years. In 2002, he entered El Centro College and soon graduated with a degree in the culinary arts. He later worked with Randall Copeland and Executive Chef Keith Champy at Eastern Hills Country Club where he became a Sous Chef.  In the summer of 2007, Nathan assisted in opening Dean Fearing's namesake restaurant, Fearing's, at the Ritz Carlton Dallas.
Nathan decided to leave Fearing's to pursue his dream of opening a restaurant in his hometown of Rockwall, Restaurant Ava.  Nathan and partner Randall Copeland joined forces with Veritas Wine owners, Brooks and Bradley Anderson to open Boulevardier in July 2012.  Boulevardier, located in Oakcliff's Bishop Arts District, is neighborhood-friendly bistro serving rustic French fare.
Unfortunately, with the untimely death of Randall Copeland Restaurant Ava closed in the spring of 2013.  In the summer of 2014, Nathan and the Anderson brothers announced a new concept, Rapscallion.  The new concept, slated to open in the spring of 2015, is heavily influenced by Tate's southern roots, and will draw on classic cooking over wood burning grills and rotisseries.
Nathan currently resides in Rockwall with Laura, his wife of nine years, son Grayson  and his golden retriever Reese.
[button link="https://www.frugeseafood.com/crawfish-beignets/" color="purple" newwindow="yes"] Crawfish Beignets Recipe[/button]

Boulevardier, A Neighborhood Bistro
Nathan Tate, Chef/Owner
408 N. Bishop Ave. #108
Dallas, Texas, 75208
(214) 942-182