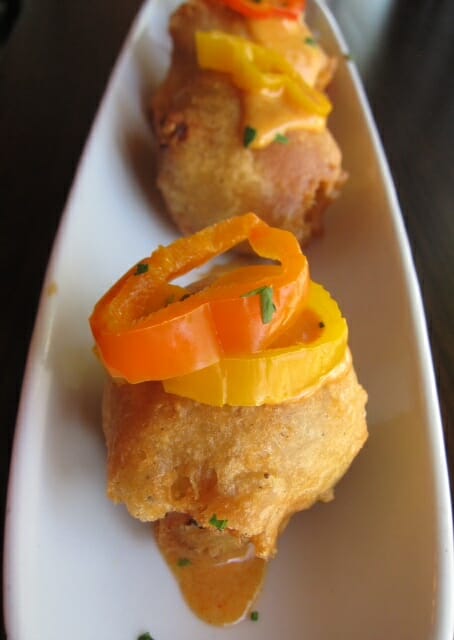 Recipe courtesy of Nathan Tate of Boulevardier Dallas
For the Filling:
1 lb of crawfish tail meat (drained and chopped)
1 lb of mascarpone
1/2 c chopped shallots
2 cloves garlic minced
1 lemon juiced
1/4 cup chopped fines herbes(parsley, chives, chervil)
Salt to taste
Be sure to mix everything by hand.  Fold the chopped crawfish, shallots, garlic, lemon juice, and herbs into the mascarpone.  Season with salt. Do not over mix or the mascarpone could break.  Scoop the mix into balls approximately the size of ping pong balls and put on a sheet tray in the fridge to chill and set up.
Batter:
3c flour
1c cornstarch
1 tbsp of baking powder
1 tsp salt
About 2 beers
Combine all of the dry ingredients and whisk in the beer.  It should be the consistency of pancake batter.  Drink whatever beer is left and then open another one.
Smoked pimenton aioli:
1 whole egg
1 clove garlic
1c extra virgin olive oil
1c canola oil
1tbsp smoked paprika
1 lime juiced
Salt to taste
In a food processor add the egg, garlic clove and paprika.  Purée the ingredients, and with the machine running slowly drizzle in the oils.  Season the emulsion with lime juice and salt.
Pickled peppers:
3c sliced sweet peppers
4 garlic cloves sliced
1qt white vinegar
1/2 c sugar
1/4 c salt
1/2 c water
Combine the vinegar, water, salt and sugar in a non reactive pot and bring to a boil.  Chill the brine and pour over the sliced garlic and peppers.  Give the peppers at least a day to pickle.
To serve:
Heat a fryer to 350 degrees (we like peanut oil)
Using a spoon dip the mascarpone balls into the batter making sure they are fully coated.  One by one carefully place them in the hot oil.  Fry until golden brown and hot inside.   Top each beignet with a dollop of aioli  and a few pickled pepper slices.