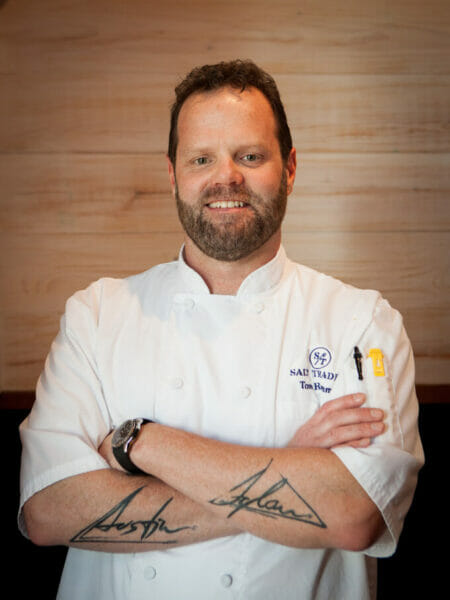 Salt Traders Coastal Cooking chef, Tom Rummel, grew up in Colorado, with parents who exposed him to food through family travels. This, combined with a particularly memorable experience at a fine dining restaurant, The Greenbriar Inn in Boulder, Colo., jumpstarted his interest in the culinary world. 
Choosing to pursue cooking professionally, Rummel graduated with an Associates of Culinary Arts degree from the California Culinary Academy in San Francisco. He got his big start in the late 1990s at Z'Tejas Southwestern Grill, first in Tempe, Ariz., and then in Costa Mesa, Calif. During this time, he worked as an executive chef and a bar manager, and it was at Z'Tejas that he met co-owner/chef of Salt Traders Coastal Cooking, Jack Gilmore. In the mid 2000s, he teamed up with King's Seafood Company and worked as a chef and manager at several of the restaurant group's establishments across the state of California, such as Water Grill in both Los Angeles and Santa Monica, and King's Fish House in Calabasas. In 2013, Rummel took up the position as executive chef at Rainforest Café in Anaheim, Calif., then made the move to San Antonio, Texas, as the executive chef at Chart House, a fine dining restaurant located within The Tower of the Americas. Rummel arrived in Austin, Texas, as the executive chef at the now closed Liberty Kitchen. 
As the chef at Salt Traders Coastal Cooking, Round Rock location, Rummel assists in menu and recipe development, as well as daily operations of the kitchen. His duties are not, however, exclusive to back of house as he works closely with the management team in terms of the restaurant's overall operations. 
When approaching his craft, Rummel is an advocate of simple and bold flavors. He believes that one should keep it fresh and let the ingredients speak for themselves. A big fan of southwestern flavors, he developed an affinity for fresh seafood while living in California and enjoys marrying the traditions together for the Salt Traders Coastal Cooking menu. 
Rummel has been married to his wife, Kristee, for 21 years and they have two sons, Dylan and Austin, two cats and one dog. Rummel likes to spend his free time drawing with a sketch pencil or hiking with his family. 
Chef Tom Rummel
Salt Traders Coastal Cooking  |  2850 IH 35 N  |  Round Rock TX  |  (512) 351-9724 (restaurant)