Fin Fish
Halibut
Recipe for Herb encrusted Halibut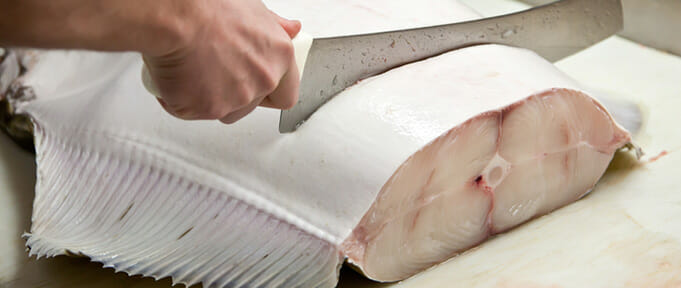 Halibut is the largest in the flat fish family. There are two kinds of true halibut, the Atlantic or the Eastern halibut and the Pacific or Western halibut. One can distinguish the Atlantic from the Pacific halibut in that the Atlantic halibut has a darker belly than the Pacific. Halibut meat cooks up bright white.
Product pdf for download
3.5 oz. (100g) raw edible portion
Calories 128

Calories from Fat 18
Total Fat 2g

Saturated Fat 0g
Cholesterol 41mg

Sodium 70mg
Carbohydrates 0g

Protein 27g
Interesting Fact
The female halibut is usually larger than the male.
Other Information
Almost all Atlantic halibut and a good deal of Pacific halibut is sold fresh. An individual boat quota system for the Pacific fishery (called ITQs), allows fishing vessels to fish their quotas throughout the March 15-November 1 season, bringing a steady stream of fish into the market.
Alternatives
Other steak fish such as tuna and swordfish can be substituted for halibut.
Source
The Atlantic halibut is found primarily around Atlantic Canada, and the Pacific halibut can be found in the Gulf of Alaska and south to California. Frozen product also comes from Japan and Russia.
Harvest Method
The majority of halibut are caught by longliners with the fish being dressed on-board immediately after they are caught.
Harvest Season
Fresh Pacific halibut is available from March to November, and Atlantic halibut is available year-round.
Flavor
Halibut meat is very mild and sweet.
Texture
Halibut meat is fine-grained with firm flakes.
Preparation
Halibut can be grilled, baked, broiled, sautéed, or poached, and because its meat is so firm, it is perfect for kebabs.
Quality Control
The belly cavity of a fresh halibut should always be filled with ice or gel packs to prevent the growth of bacteria.
Market Segments
Halibut is appropriate for casual dining, fine dining, hotels, and resort/clubs.