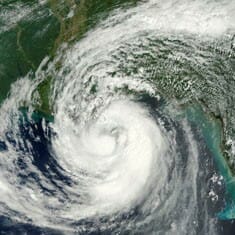 By Christine Blank, SeafoodSource contributing editor
31 August, 2012 – Widespread flooding from Hurricane Isaac is causing significant problems for residents and fishermen in Mississippi and Louisiana. Rural fishing villages in Louisiana bore the brunt of the high winds and heavy rain from Isaac, according to published reports. In Plaquemines Parish, La., today, officials are cutting several openings in a levee to drain water from the flooded parish.
There are also reports of tar balls that washed up on the shore near Grand Isle, La., likely remnants of the BP oil spill. However, no fishing closures have been announced by government officials.
Despite the heavy rainfall and tornadoes from Hurricane Isaac, the property damage to docks and fishing areas is not significant, according to reports received so far.
"Most of the industry fared well; I don't know of any plants that suffered damage," said C. David Veal, executive director of the American Shrimp Processors Association in Biloxi, Miss. However, some shrimp plants in Grand Isle, La., suffered dock damage and fishing docks in other areas received some damage.
Shrimpers and fishermen from Louisiana to Alabama have been back fishing again since yesterday, according to Veal. "Many of these boats were doing well with catches just before the storm, so they want to get back as quickly as they can," Veal said. Hurricane Isaac's winds are also expected to stir up additional fish and shellfish for fishermen.
Houston, Tex.-based Omega Protein, which manufactures fishmeal for aquaculture and other industries, said its facilities in Louisiana and Mississippi did not suffer "material" property damages. "The company suffered only some immaterial impact that is not expected to affect its overall operations, although the review is ongoing," according to a statement from Omega Protein.
The manufacturer expects its fish catch for 27 August through 2 September to be "significantly lower than normal" due to Hurricane Isaac.