Recipe submitted on behalf of Jerrett Joslin, Executive Chef and Owner of The Wild Mushroom Steakhouse in Weatherford, Texas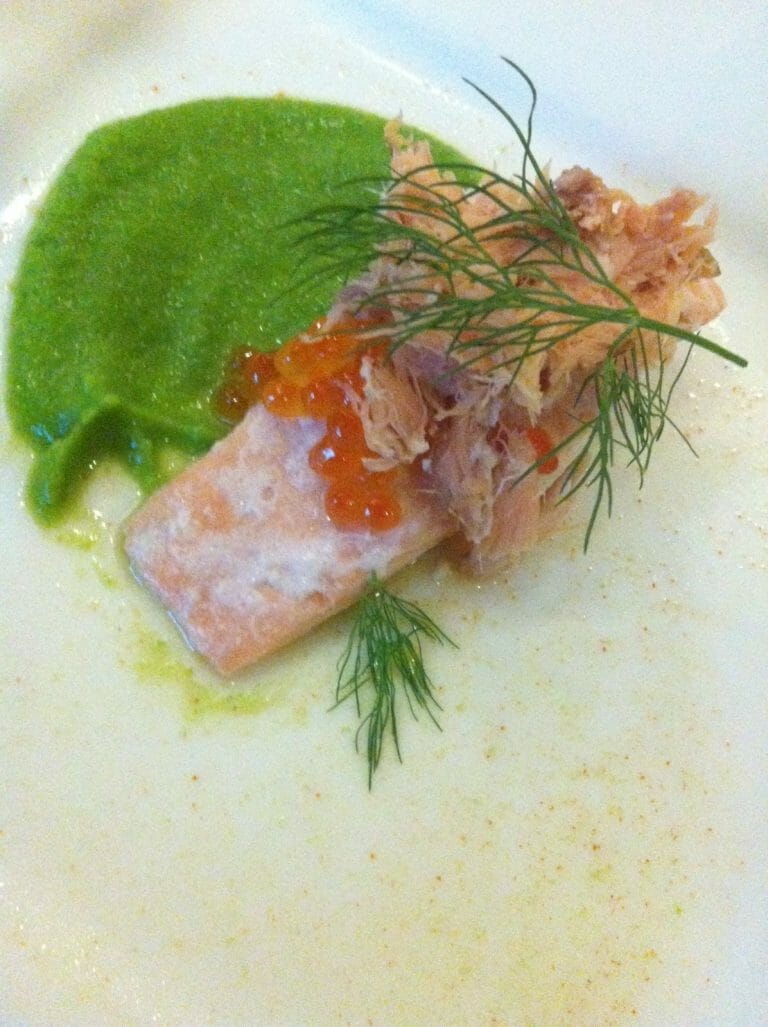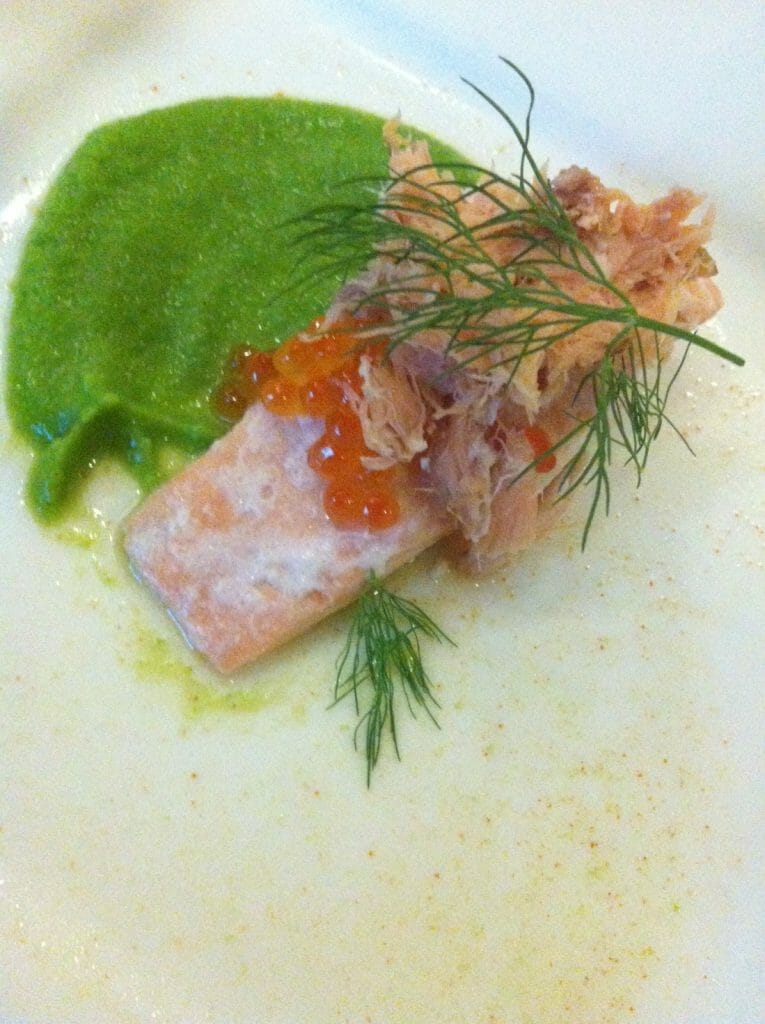 Ingredients:
1 1/2 cups fresh or frozen peas, thawed
1 tablespoon plus 1 teaspoon wasabi paste
Fine sea salt
Freshly ground white pepper
2 sticks unsalted butter, cut into tablespoons
1 tablespoon yuzu juice or mandarin juice
1 teaspoon finely grated lime zest
Pinch of piment d'Espelette  if you can't find use cayenne powder
Eight 3-ounce skinless Organic/Fresh Alaskan salmon fillets
4 ounces salmon roe (6 tablespoons) not necessary used for flavor and garnish
2 ounces smoked salmon, diced (2 tablespoons)
2 tablespoons finely diced celery
2 teaspoons finely chopped chervil
Directions:
1.  In a medium saucepan of boiling water, cook the peas until just tender, 5 to 7 minutes. Drain and transfer to a blender. Add the wasabi paste and 6 tablespoons of water and puree until smooth. Season with salt and white pepper. Strain the wasabi pea puree through a fine sieve; discard the solids. Transfer the wasabi pea puree to a small bowl, cover and keep warm.
2.  In the same saucepan, bring 1/2 cup of water to a boil. Whisk in the butter, 1 tablespoon at a time, until fully incorporated. Whisk in the yuzu juice, yuzu zest and piment d'Espelette. Season with salt and white pepper and keep warm.
3.  Line a baking sheet with paper towels. In a large skillet, bring 1 cup of lightly salted water to a boil. Season the salmon with salt and white pepper. Place the salmon fillets in the skillet and reduce the heat to low. Cover and cook at a gentle simmer just until the fish is warm to the touch, about 3 minutes. Drain the fish on the prepared baking sheet.
4.  Spoon the wasabi pea puree onto plates and top with the salmon fillets. Drizzle the yuzu emulsion over the salmon and garnish with the salmon roe, smoked salmon, celery and chervil. Serve immediately.
[button link="https://www.frugeseafood.com/chef-jerrett-joslin/" color="red" newwindow="yes"] Chef Jerrett Joslin[/button]