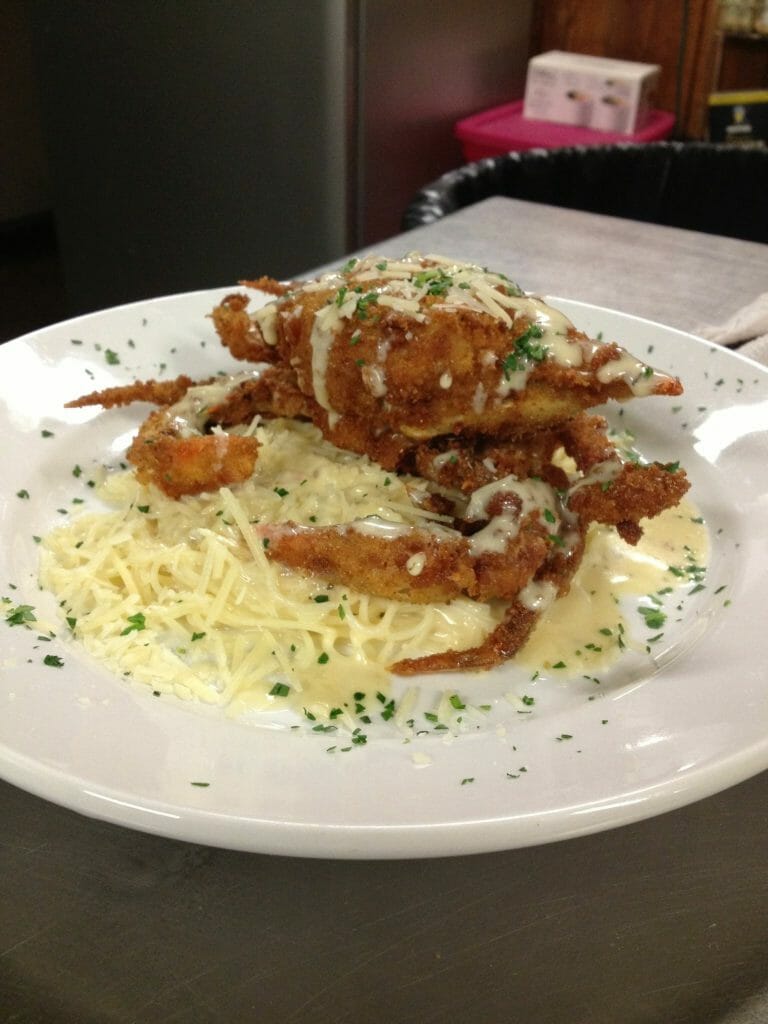 –
Ingredients:
2 Whaler size Soft Shell Crabs
1 lb of fresh all lump/backfin lump crabmeat
1 stick real butter (unsalted)
2 ribs celery (finely diced)
1 small onion (finely diced)
2 T minced garlic
2 T mayo
salt & red/cayenne pepper to taste
about 1/4 bread crumbs
2 4 oz servings of cooked angel hair pasta
Herb Cream Sauce (as needed) *see recipe attached fresh shredded parmesan cheese as needed
freshly chopped parsley as needed
For batter:
seasoned white flour
seasoned bread crumbs
egg wash
Take the 2 Softshell crabs & clean them, pulling off the eyes, lung parts etc. then set aside. Melt the butter in a large skillet. When the butter is hot, add the onion, celery & garlic. Allow to saute' for about 3-5 minutes on a medium flame. Then add the crabmeat, and allow it to cook for another 3-5 minutes. Remove the pan from the heat, then add the salt & red or cayenne pepper to taste, and the mayo, stirring until all is incorporated. Add the bread crumbs, you can add more or less depending on how moist or stiff you like it. Usually just enough to pick up the excess moisture from the pan. Allow the crabmeat stuffing to cool.
Once the stuffing is cool take the 2 crabs & stuff them. This is done by taking each crab, find the location where the eyes were removed and separate the top & bottom membrane of the 'crab back', running your finger inside creating a pocket. Fill the pocket with the stuffing. Season the crabs, then batter them by placing them into the flour first, eggwash second, then
lastly the bread crumbs. Drop them into 330° vegetable oil & fry them for about 3 to 4 minutes or until golden brown. Remove them from the grease & drain them, then place them on each serving of the cooked pasta. Smother each dish with the herb cream sauce, garnish with the fresh shredded parmesan cheese & chopped parsley.
Annette Sauce
2 qts Heavy whipping cream
l T clam base
approx. 1/2 C of palmetto mix (see recipe)
all purpose seasoning to taste
Add the heavy cream and the clam base to a small magnalite pot and reduce till sauce consistency is achieved. Add the palmetto mix, and all purpose seasoning to taste & set aside, making sure mixture stays hot.
Palmetto Mix
4 C diced onion (1/4 inch)
4 C diced bell pepper (1/4 inch)
3 red bell peppers (finely chopped)
3 yellow bell peppers (finely chopped)
l (5 oz.) piece of smoked tasso (minced)
3 cups extra virgin olive oil
3 C Italian seasoning
Heat the oil in a small magnalite pot. Add the vegetables, tasso and seasoning, then mix well. Allow the contents to "smother" down on a low flame, stirring occasionally, until wilted. Approximately 25 -30 minutes. When completed, allow the mixture to drain in a colander to rid of excess oil.