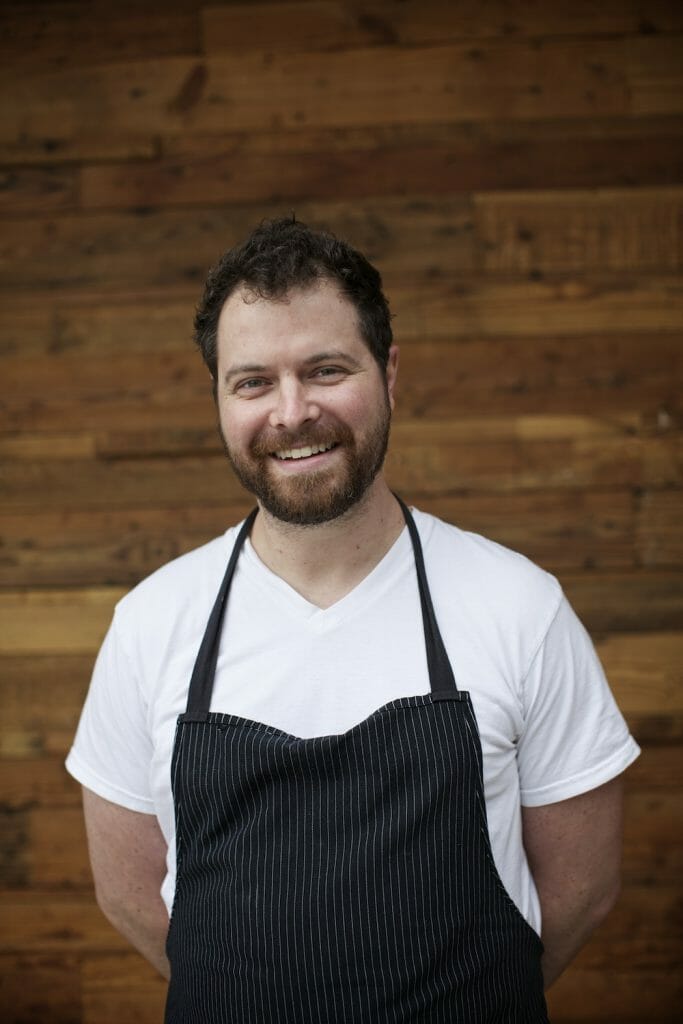 Executive Chef / Owner
After moving and roaming in and out of Texas, Bryce Gilmore, owner and executive chef of Barley Swine and Odd Duck, finally settled down and allowed his roots to grow in Austin. His journey from bussing tables to managing a restaurant has been one that has spanned over ten years and had him migrating from Texas to San Francisco, to Colorado and back. With all his experience and knowhow, Gilmore was honored in 2011 to be named a Food & Wine Best New Chef and a 2011 James Beard Foundation Award (JBFA) semifinalist for Rising Star Chef. In March 2012, Barley Swine was named one of GQ Magazine's Best New Restaurants. Gilmore was again honored by JBFA as a semifinalist Rising Star Chef 2013 and was finalist in the Best Chef Southwest category in 2013, 2014, 2015 and 2016.
Growing up in the restaurant industry with a chef and restaurateur father, Jack Gilmore of Jack Allen's Kitchen, Gilmore's destiny was in cooking. He started bussing tables at 14 and began serving at restaurants throughout high school. Ready to move behind the line, he moved to San Francisco after high school to attend the California Culinary Academy. Following graduation, he returned to Austin and worked at two well-known local institutions, Wink and Moonshine Restaurant Patio Bar & Grill, before working as a sous chef at Café 909 until 2007. Missing the west coast, Gilmore headed back to San Francisco to work at Nancy Oakes' Boulevard Restaurant. After a year, the travel itch returned, this time leading him to the Rocky Mountains, where he worked at the former Montagna Restaurant and Bar (now element 47) at famed hotel, The Little Nell, in Aspen, Co. His time in Aspen proved to be a great one, where he learned the importance of quality ingredients and where he met future business partners, Sam Hellman-Mass and Mark Buley (both co-owners and chefs at Odd Duck). After a year in Colorado, Gilmore was ready for 300 days of sunshine a year and came back to Austin. The food trailer scene was booming and Gilmore jumped on the bandwagon with one stand-a-part element: a focus on local purveyors and ingredients. In 2009, when all of his ducks were in a row, he opened Odd Duck Farm to Trailer in South Austin.
Odd Duck Farm to Trailer was a place where Austin foodies flocked for fresh, gourmet small plates. At the trailer, Gilmore created his dishes with fresh and locally sourced ingredients; this philosophy would become the cornerstone to all of his restaurants moving forward. Gilmore has received major recognition from both local and national media and was featured on Anthony Bourdain's No Reservations and Andrew Zimmern's Bizarre Foods America. Following much success with his acclaimed cooking, Gilmore decided to open his first brick and mortar restaurant that encompasses his
love of beer and food, especially pork. And thus came the aptly named Barley Swine in December 2009. Gilmore's duties cover all aspects of running a successful business, including managing personnel, sourcing and prepping ingredients, overseeing service from the kitchen, maintaining the financials and making sure "he has no life outside of the restaurant." He has the best of both worlds: experience to execute dishes at a high level and the ability to still get creative with food. After closing the trailer in 2010, Barley Swine eventually became a tasting menu-only restaurant,
also known for its hard-to-find beers and wines. Partners: Gilmore, Buley, Hellman-Mass along with B.Gilmore/two Jason James, and brother Dylan Gilmore, began making plans for the rebirth of the trailer, in brick and mortar form. In December 2013, Odd Duck opened its doors as a more casual version of Barley Swine with traditional à la carte ordering and a full bar. Odd Duck currently serves lunch, dinner and Sunday brunch. In 2014, Odd Duck was named one of Bon Appetit's Top 50 Best New Restaurants and Eater's Restaurant of the Year.
As a cook, Gilmore always enjoys playing around with new techniques and flavor combinations. "By working with the farmers on their new crop or the animals they raise, we have a passion to create something that will bring joy to our customers, while still being true to the ingredient," Gilmore says of the importance of using local ingredients.
When not at either restaurant, Gilmore can be found shopping at farmers markets, supporting local food charities and planning his next culinary venture. When moments of freedom arise, Gilmore enjoys spending time with his wife, Molly, and son, Field, watching football and relaxing by the lake with a beer in hand; a quintessential Austinite.
[button link="https://www.frugeseafood.com/barley-swine-red-snapper-2/" color="teal" newwindow="yes"] Recipe for Barley Swine Red Snapper[/button]