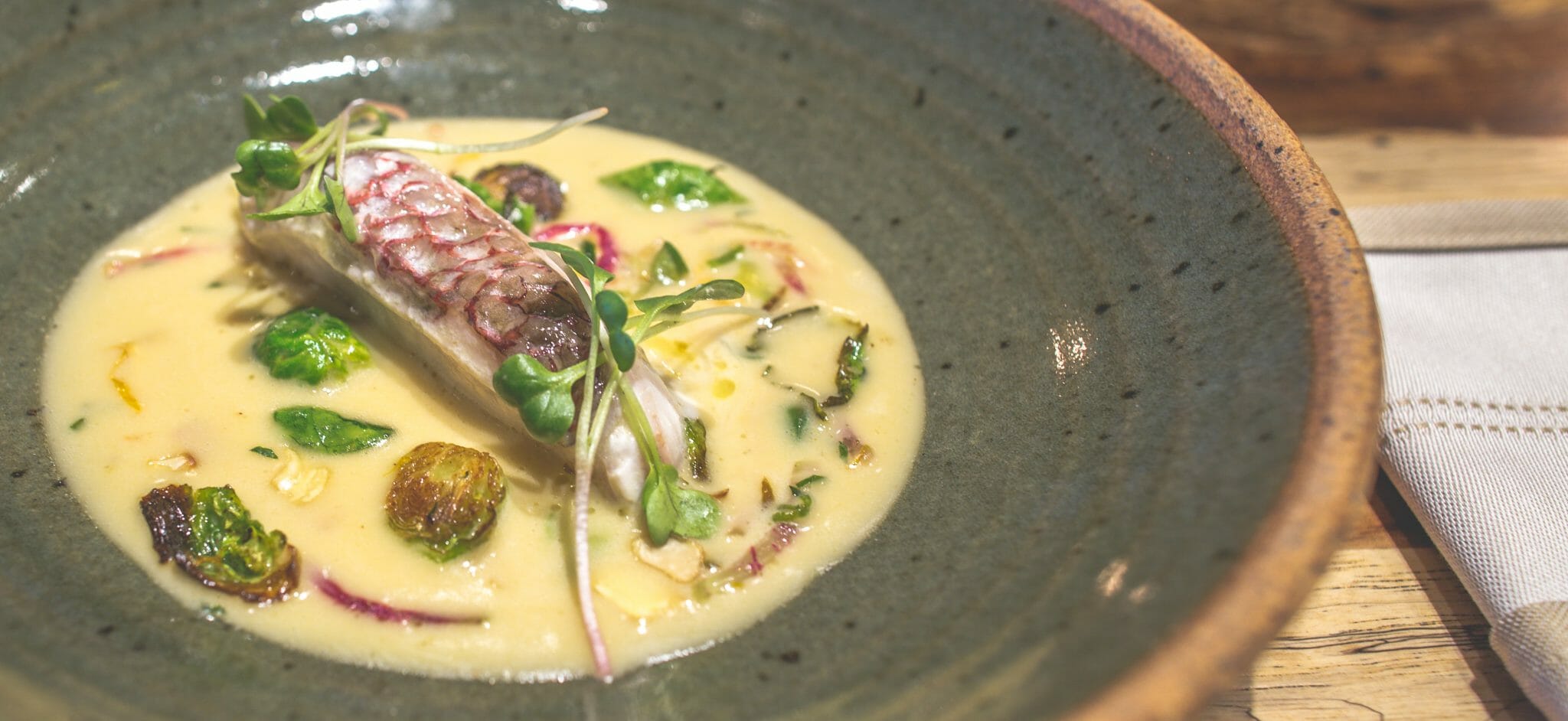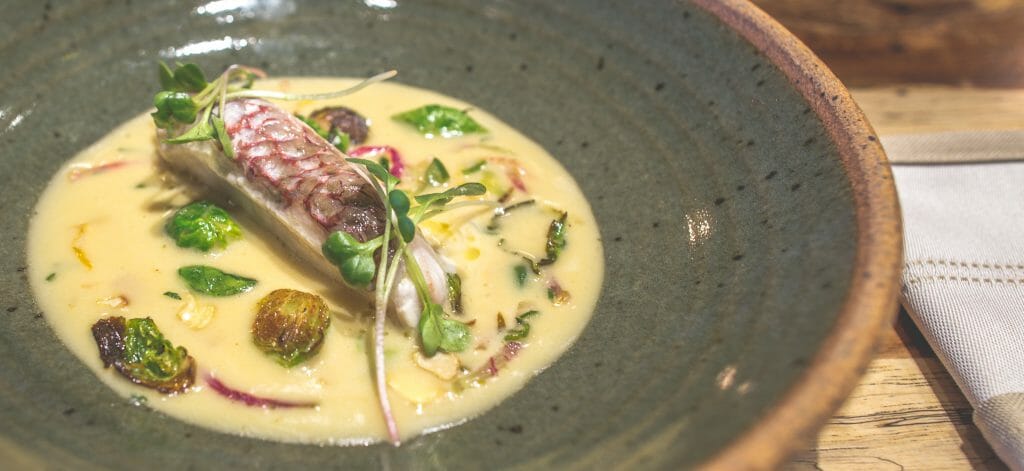 Courtesy of Charles Zhuo
Please note that most pantry Items such as misos and vinegars are all house made at Barley Swine, therefore recipe might not be completely replicable.
SNAPPER:
2 oz. Gulf Red Snapper Filet, Brined (7% Salt, 5% Sugar for 4 hrs), Poached in Olive Oil at 65 degrees Celsius for 8.5 mins.
1.5 oz. Koji Butter (Recipe Follows)
10g Brussels Sprouts, Roasted in Butter
8g Radish Condiment (Recipe Follows)
3g Toasted Marcona Almonds
1g Micro Radish Sprouts, Dressed in Lemon Juice
Poach Fish, while fish is cooking, roast brussels sprouts. Spoon onto plate, plate brussels sprouts, Radish Condiment, and almonds, rest cooked fish, place fish on top of veg, pour Koji Butter around around the fish and garnish with radish sprouts.
Koji Butter
100g Butter
100g Koji
400g Fish Stock, Infused with Tarragon
70g Lemon Juice
150g Butter, Cubed
70g Miso (We use House made Miso but store bought is also fine, adjust amount according to salt content of miso)
1.2g Xanthan Gum
To make Koji, rinse rice and oak in water for 8 hrs. Drain well and steam for 1 hr. Cool steamed rice to below 30 degrees celsius, inoculate with aspergillus oryzae spores. incubate at 30-35 Degree Celsius for 72 hrs. They should be fragrant and crumbles to the touch.
Toast Koji in butter until foamy. Add tarragon infused fish stock. Bring to simmer and kill heat. Blend into Koji Stock lemon juice, cubed butter and miso on high until smooth and emulsified. Add Xanthan Gum to stabilize. Strain through chinoise.
Radish Condiment
80g Watermelon Radish, Julienned
10g Salt
10g Olive Oil
5g Lemon Oil (We use House made infused Oil but store bought is also fine)
10g Green Onion, Sliced thin
1/2 clove Garlic, Microplaned
Add salt to julienned radish, and let sit for 20 minutes, Strain out water that has leeched out. Combine radish with the rest of ingredients. Reserve.