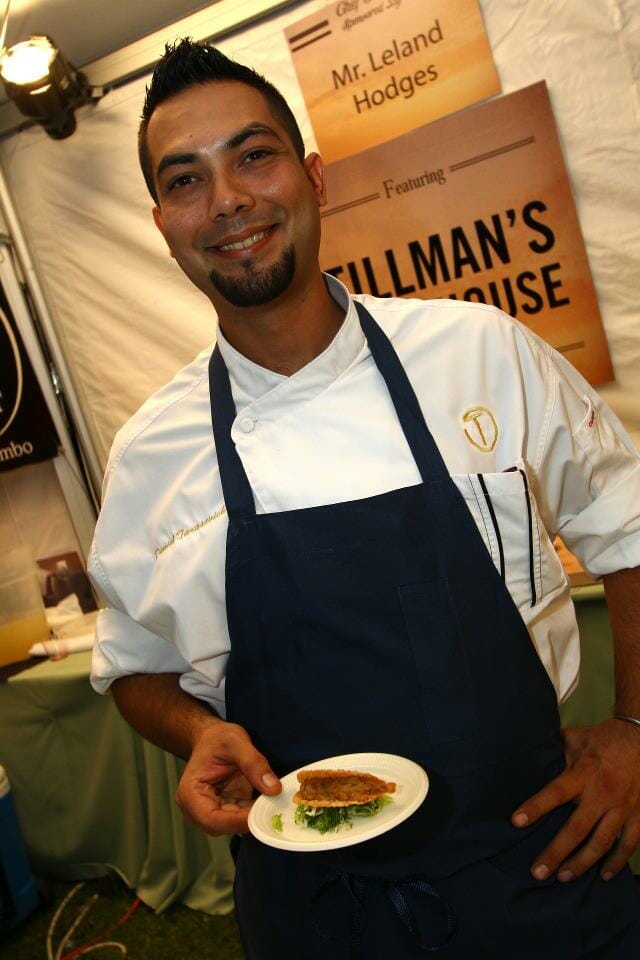 Daniel Tarasevich, executive chef at Tillman's Roadhouse in Fort Worth, likes to let his food do the talking.
"I feel it's important to add complexity to seemingly simple dishes, yet allow the ingredients to speak for themselves," he said. "I do not believe in unnecessary garnishing; everything on my plates is there for a reason."
That same direct approach helped Tarasevich become an executive chef before age 30 –without attending college!
Daniel Tarasevich started his cooking career in 1999, at "J'Mac's", on Saint Simons Island Georgia.  Not knowing what to do after high school, (college was not in the picture), Daniel applied at, "J'mac's", as a dishwasher, and met the new chef, Frank.  All he had open was a salad making position, and that is how it all started.  In less than two years he was Franks' sous chef, and remained so for almost three years before moving to San Diego.
San Diego brought the opportunity to work at such places as, "Hotel LaValencia", "Solei @K", and "House of Blues," where he started to develop his eclectic cooking style.  San Diego was short lived, and he went back to Georgia to join a band.
Back in Georgia, Daniel managed a suhi bar, "NiKoi", while also being heavily involved in a rock band as the lead guitarist.  When the drummer bailed, and Georgia got boring, it was time for Fort Lauderdale.
Fort Lauderdale is were Daniel met his wife, (a Dallas native), who charmed him into moving to land-locked Dallas.  Then it was, sous chef at "Sushi Samba", saucier tournat at "Charlie Palmer's", and fine dining chef at "Royal Oaks Country club" which have all been wonderful preparation for his current position as executive chef, at Tillman's Roadhouse.
"My cooking style reflects the eclectic group of restaurants I have worked at," he said noting that he's been employed in a wide variety of places, from sandwich shops and sushi bars to fine dining and bar food. "This has given me experience with a wide assortment of ingredients and the ability to fuse food of different cultures seamlessly."
Tillman's Roadhouse has a "from scratch" kitchen that combines French technique with Southern comfort food.
"For example, we cherry wood smoke chicken thighs and then confit them in duck and bacon fat," he said. "We also use seasonal, local ingredients whenever possible."
Tarasevich, who would like to see more guest-chef interaction in the future, like hibachi, said his specialty dishes are a spicy tuna crunchy taco with sour cream, as well as the cherry wood smoked half chicken.
You can visit Daniel at Tillman's Roadhouse, located at 2933 Crocket Street in Fort Worth, or call for reservations at 817-850-9255.