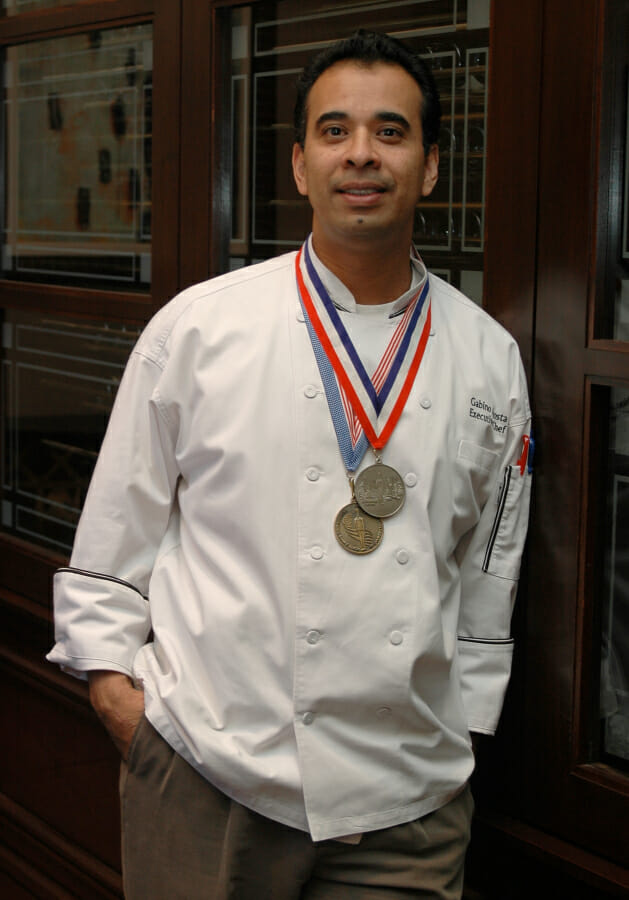 Gabino Acosta began his culinary journey at an early age preparing typical Latin fare for Chi-chi's Restaurant in Houston, Texas. After a couple of years at Chi-chi's, he  eventually moved to Dallas to work at Colonial Jaton's Cafe as both cook and manager in the mid 80s.
Eager to learn more about the culinary business, Gabino applied for employment at the Marriot located in Las Colinas. There he worked along side great chefs from the US's world wide culinary team such as Patrick Mitchell and John Vasquez. The chefs didn't hesitate to teach him the ins and outs of culinary art. In 1985, Omni Hotels and Resorts acquired the property and brought in a French Chef by the name of Marc Gouronc. Chef Marc, who Gabino considers to be his culinary mentor, took him under his wing and taught him the fine art of food preparation as well as the administrative aspect of the hospitality industry.  After acquiring a wealth of knowledge from Chef Marc, Gabino was promoted to a management level position.
In 2000, Gabino landed his first Executive Chef Position at the Westin Tabor Center and moved to Denver, Colorado. After 3 years of valuable learning experience, he moved back to Dallas to be closer to his family where he became the Executive chef of the Westin Stonebriar resort in Frisco, Texas.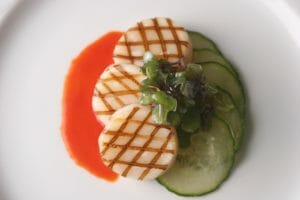 Despite the experience gained at the Westin Stonebriar, Gabino aspired to return to where it all began and partnered up with his longtime friend, Mike Jackson at the Omni Mandalay. There he became chef for Trevi's Restaurant and also managed all the hotel's outlets. Having an award winning chef that was trained in European cuisine, made Trevi's not only one of the best places to eat in the Las Colinas area, but also one of the best restaurants in the entire Omni brand. Trevi's featured a variety of flavors from all over Italy, giving it its nickname, "Little Italy".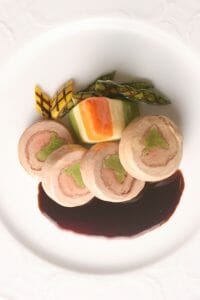 Currently, Gabino oversees a 337 room Omni hotel that includes Dover's Restaurant and several additional outstanding outlets including the Wine Thief and Hunter's Lounge. Dover's Restaurant has been named #1 in food quality for the past two years in all of Omni Hotels. Also, one of his major accomplishments at the Park West has been becoming one of the top two hotels in food and beverage for the entire brand. In 2010, the Park West finished 1st place and in 2011, 2nd place overall. Gabino was named manager of the year and has been awarded several manager of the quarter awards as well. During his tenure, Dover's has featured exquisite cuisine from around the world such as Spain, Argentina, and Italy.
Gabino's major focus at Dover's is to feature Southwestern style cuisine. The most recent promotion of French Cuisine has allowed Gabino the opportunity to take a trip with other chefs from around the company to learn French cooking techniques.
Chef Gabino has two recognition by the Texas chef association, by competing against other top chefs around Texas. Gabino is a fruit of what omni is all about and proud of  Omni Culture.
[button link="https://www.frugeseafood.com/pan-seared-redfish-with-plantain-custard/" color="red" newwindow="yes"] Pan seared redfish with plantain custard[/button]
Gabino Acosta
Executive Chef of The Omni Park West
1590 LBJ Freeway
Dallas, Texas 75234
Phone: (972) 869-4300