By Patrick Bonin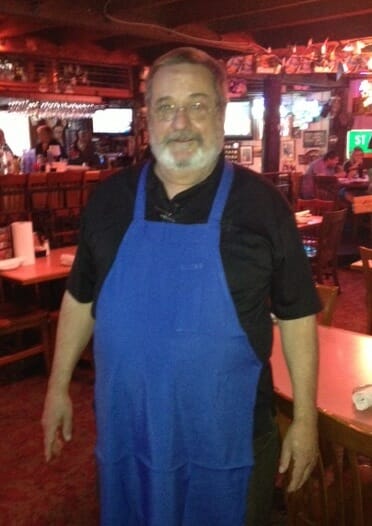 After more than 40 years in the restaurant business, Nate Peck still follows a simple rule in the kitchen.
"I like to think that I could serve every dish that I pass over my line to my mother," said Peck, who is affectionately known as "Seafood Nate," owner of Nate's Seafood & Steakhouse in Addison, Texas.
A native of Lafayette, Louisiana, Seafood Nate's specialties include gumbo, redfish on the half shell and a delicious assortment of fried foods (which are all prepared in cottonseed oil, by the way.)
"I'm known for good food at a fair price," Nate said with a chuckle. "I'm the poor man's five-star restaurant. Twenty-four years ago I hung a sign in here that's still hanging: It says 'If it Ain't Good, Don't Pay… But Don't Ask for Seconds!' "
In 1988, after stints at several Houston landmarks, including Landry's Seafood, Willie G's and the Magnolia Bar and Grill, he opened up Nate's Seafood & Steakhouse at its current location, 14951 Midway Road in Addison.
As a true Cajun from the heart of south Louisiana, Nate, 65, said the national "Cajun Food Craze" in the 1980's created a false impression of the culture's cuisine in the minds of consumers.
"Everybody thought we shoveled red pepper in our mouths and washed it down with hot sauce. Nothing could be further from the truth," he said, noting that he refers to some chefs as "Playjuns" instead of Cajuns because they're just 'playing like they're Cajun.'
He described his cooking style as "culinary gymnastics," noting that his menu featured more than 700 possible combinations. All of them, including authentic Cajun, are sure to please.
"Cajun food is a of spices and ingredients – you shouldn't be able to pick out just one of the spices," he said. "It's a total unification of all ingredients that's almost alive when you bite into it… It's like having a party in your mouth."
For good food, good fun, good music, good times and good friends, eat at Nate's! Call 972-701-9622 for more information.
Nate's Seafood & Steakhouse
14951 Midway Rd
Addison, TX 75001