Recipe by Chef Scott Curtis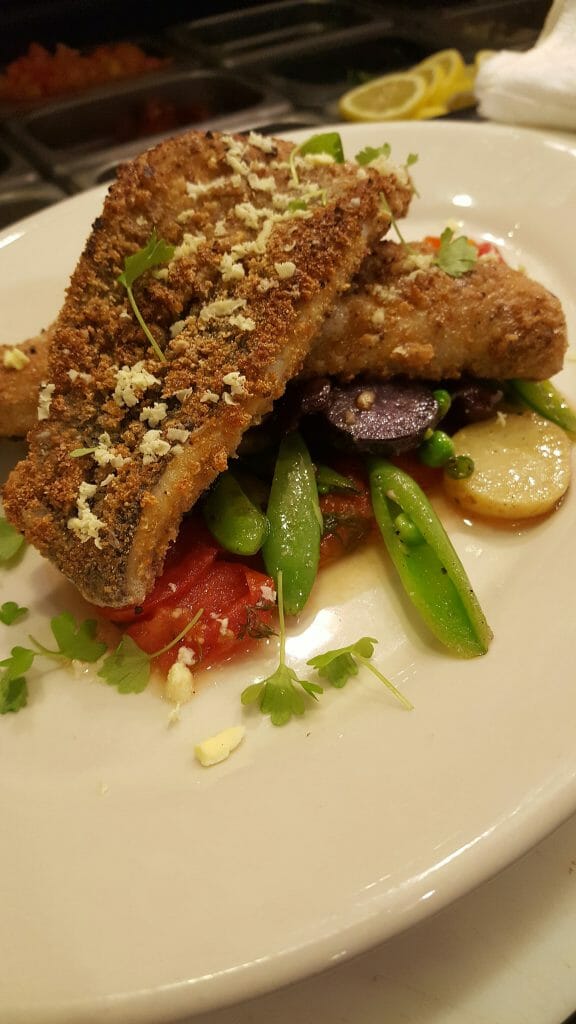 Ingredients
---
2 ea. Branzini (scaled,gutted,filet)
---
1/4 c. Marble potatoes (quartered)
---
1/4 c. Snow peas (bias cut)
---
2 oz. Kalamata olives, split
---
1 c. Poached Tomatoes
---
Egg yolks(H.B. Grated)
---
Whole Eggs
---
Olive breadcrumbs
---
1 sprig Dill, Fresh
---
1 tbl. Bacon Fat
---
Directions
---
1. Dip Branzini Filets in egg wash then lightly coat with the seasoned olivebread crumbs.
---
2. Lay the crusted filets skin side down in a lightly oiled saute pan. Do not heat your pan to smoking point, or you will burn the crust! Cook until skin is nicely crisp and finish in the oven.
---
3. With a little of the bacon fat carmelize the marble potatoes first. Then add garlic, shallots, and snap peas lightly saute and finish with crushed olives. Season.
---
4. For plating, scoop one 8oz. ladel of poached tomatoes on plate first then top with potatoe, peas, and olive mixture. Finish with two filets skin side up stacked on top and garnish with grated egg yolks, and fresh dill sprig.