(Gluten Free) madras curry infused oil, roasted summer corn polenta, green tomato relish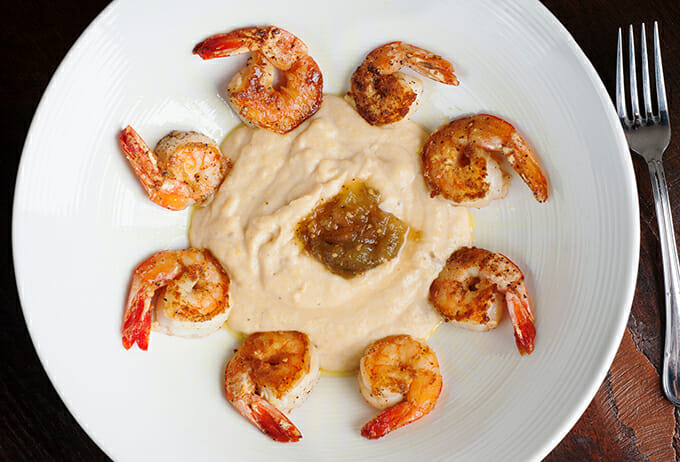 Recipe supplied by Executive Chef Marc Krampe of Social
[button link="https://www.frugeseafood.com/shrimp/" color="orange" newwindow="yes"] Shrimp[/button]
Polenta:
2/3 cup coarse cornmeal
1 cup while milk
1 cup cream
2 tsp salt
3 tablespoons fresh grated parmesan
Combine milk and cream in a pot and bring to a simmer. Add the salt and whisk in the cornmeal. Turn the heat down to low and cover. Let cook for 2-3hrs stirring often until cornmeal is cooked and the polenta is rich and creamy. Stir in parmesan before serving.
For the Curry oil:
2 cups neutral oil
2 tablespoons curry powder
1 lemon grass chopped
1 Granny Smith apple chopped
1 yellow onion chopped
Combine all ingredients with oil and bring to a simmer until vegetables begin to caramelize. Let cool to room temperature and strain through cheese cloth.
For the smoked shrimp:
Cold smoke the shrimp at 80°F. Season with salt and black pepper and sauté with curry oil.